The best things to do in Colchester, England, are memorable, accessible, and unique. If your time in England is short, consider a day trip from London. Have a few extra days in your travel itinerary? Colchester and the surrounding Essex countryside have more than enough attractions to keep you busy. Filled with quaint charm and intriguing stories, Colchester, England history makes this location a history buff's dream destination. Never heard of Colchester before? You're in the right place to learn about it. Get insider tips for getting around and seeing the Colchester, England points of interest right here!
The Colchester Visit Backstory
When my parents invited me to accompany them on their 50th wedding anniversary tour of Europe, I didn't realize I would be visiting the oldest city in Britain. What is Colchester famous for? It was noted as early as 77 AD by the Roman writer Pliny the Elder. That makes Colchester older than London. Colchester boasts ancient Roman walls and remnants of a famous English Civil War battle fought during the 1600s. Despite its rich history, we were drawn to Colchester, England and the surrounding Essex area for an entirely different reason. The fascinating history of Colchester was a bonus. Here are some amazing things we found there.
***Disclaimer: This post contains affiliate links, which means I earn from qualifying purchases at no additional cost to you.*** Already know what you'd like to get from Amazon? Here's a handy way to get to the website, linked to one of my favorite books about Colchester. Just click on the link, then browse around and do your shopping.
Why Colchester?
My dad is a huge fan of the British painter John Constable, an artist who depicted life in and around Dedham Vale, a rural region near the Essex-Suffolk border, during the early 1800s. One of his most famous works, The Hay Wain, was painted in a tiny village called Flatford Mill.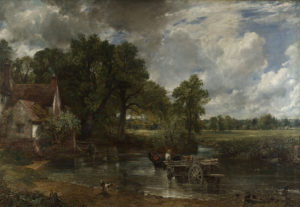 Flatford Mill was our true destination, and Colchester just happened to be the nearest city. My dad had always dreamed of paying a visit to Flatford Mill, and the time had finally arrived.
Getting to Colchester, England
Colchester was to be our first overnight stay after arriving in England on the train from Paris. We disembarked at St. Pancras station, then took the subway to the Liverpool Street Station. From there, we journeyed northeast by train through Wivenhoe to the Colchester Town rail station. Just a short distance away was our lodging for the next two nights.
1. The Historic Red Lion
My dad (travel planner extraordinaire) had made reservations at a place called the Red Lion. This historic inn was located in the middle of the oldest part of the city.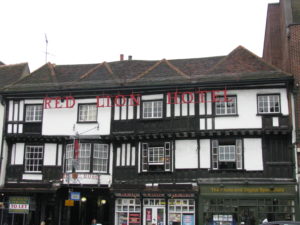 Built in 1465, it was the most interesting hotel I had ever stayed in. Where I come from, the west coast of the United States, anything 200 years old is rare. I even got to stay in my own cozy little room. That first evening, I snuggled up in bed with a cup of tea and a biscuit. I watched lovely British television shows (Call the Midwife was on) to my heart's content. In the hotel lobby the next morning, I read that Oliver Cromwell's body had been stored in the hotel cellar for a few days after his death in 1658. Amazing! Kudos to my dad for choosing such an interesting place for us to stay. No room at the Red Lion? Here are some other Colchester, England hotels to consider:
There are also a number of bed and breakfast establishments in Colchester, including:
2. Hop on the Hopper Bus to Tour John Constable Country
We were up early the next morning to venture out into John Constable country. We took a taxi to the Manningtree train station so we could board the Dedham Vale Hopper bus. What a fun experience that was! Everyone was so friendly and informative. After giving us helpful details about the local area, the taxi driver promised to be available to pick us up later in the day. Colchester, England tourism seems to be thriving, and the friendly folks we encountered seemed eager to show us around.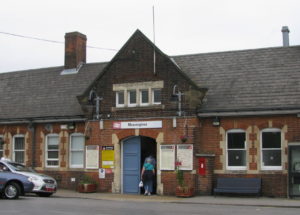 The bus driver was a wealth of information. There was only one other passenger, so the driver asked some friendly questions. I shared my anxiety about driving on the left side of the road, which I knew I would be doing in a few days when we rented a car. (If you would like to see a photo of the enormous Vauxhall station wagon I ended up driving, check out the post about my visit to Downton Abbey.)  The driver was very reassuring as she patiently answered my queries about British road signs and symbols. Before we knew it, we arrived at Flatford Mill. It was so tucked away in the countryside, we would have had difficulty locating it on our own.
3. Flatford Mill
Flatford Mill was surprisingly quiet. The sky was overcast, which was perfect for the pictures my dad wanted to take.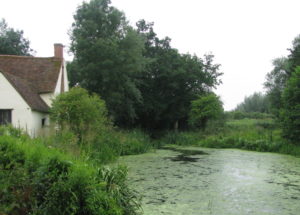 After walking around the village, I meandered along some marked trails, climbing over stiles, venturing around the countryside.
When it was time to depart, we boarded the Hopper with the same driver, and headed to the town of Dedham.
4. The Village of Dedham
In Dedham, we wandered around the village high street, peeking into shops. We ate a picnic lunch in front of Dedham Parish Church, which is featured in a number of Constable paintings. While there, we encountered two energetic ladies from the Netherlands who were biking around England. I think they were both grandmothers. It was inspiring to hear of their adventures.
5. Colchester Castle Museum
Located just a short distance from the Red Lion Inn, Colchester Castle, sight of the largest castle keep in all of England, is filled with interesting exhibits. Tours and interactive exhibits help history to come alive in this treasure trove of marvels. Visit ancient Roman vaults below the castle, view stunning displays of precious metal unearthed nearby, and be amazed by incredible historical finds.
6. Castle Park
The lovely gardens around Colchester Castle are worth a visit all on their own. There is a boating lake, cricket ground, play area, and bandstand. The 27-acre park is a hub of activity in a variety of seasons, extending downward to the River Colne.
7. Hollytrees Museum
Within Castle Park lies Hollytrees Museum, a Georgian townhouse that was once home to a member of Parliament. Inside you will find clock exhibits and toy displays. Visitors are encouraged to try on costumes to experience what life was like during the days before electricity and modern conveniences.
8. The Oldest Remaining Roman Gate in England
I explored the castle gardens, then walked to the ancient Balkerne Gate, built in the first century. (The first century!) It's the largest remaining Roman gate in England from that era, and I was the only one there visiting it at the time.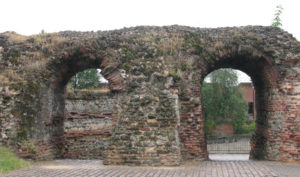 I touched the stones and wondered about the many people who had walked through the gate all those centuries ago. Feeling thirsty? Grab some refreshment at the nearby, appropriately-named Hole in the Wall pub.
9. St. Mary's by the Wall and the Real Story of Humpty Dumpty
St. Mary's by the Wall, an old church, was my next destination. I wanted to visit this particular edifice, built in the 15th century, because of a nursery rhyme. Many people associate the Humpty Dumpty rhyme with an egg, but Humpty Dumpty was actually a large cannon. Yes! During the Battle of Colchester in 1648, the cannon was sitting on top of the church tower, ready to defend the city. After a devastating blow to the tower from opposing cannon fire, Humpty Dumpty had a great fall and tumbled down, irreparably damaged. Here is a picture showing the tower today. If you look closely, you can see the difference in the brick color showing where the tower was rebuilt.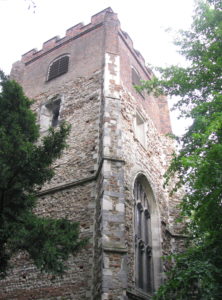 10. The Historic Taylor Residence
Humpty Dumpty is not the only nursery rhyme associated with Colchester. "Twinkle, Twinkle Little Star" was written by a young lady named Jane Taylor in 1806.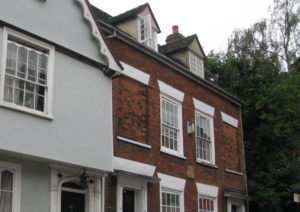 I read the plaque on the building where she lived and composed the song. It was one of my many discoveries as I traversed the streets of the old part of town. What else would I find?
11. St. Botolph's Priory
Located just a short distance from the Colchester Town train station, St. Botolph's Priory dates back to approximately 1100. Like many other ancient buildings in old town Colchester, the structure bears scars from the English Civil War of 1648. One of the first Augustinian religious houses in England, it is an impressive example of Norman architecture, even in its ruined state. It is FREE to visit this lovely location.
12. Roman Circus
Colchester was once the site of an ancient Roman chariot racecourse. Although the track is no longer visible, there is a visitor's center with mock-ups and artists' renditions of what the area looked like when it was a hub of racing activity during the second century. Indoor exhibits, a cafe, and outdoor walking tours are available.
13. Beth Chatto Gardens
Located about 5 miles east of Colchester Castle, the Beth Chatto Gardens are a 7.5 acre wonder of inspirational transformation. What once was a boggy wasteland has now become five distinctive garden areas. Visit each to gain an appreciation for what can be done with the right plants in the correct location. The gardens are also a horticultural education center, with a tearoom and nursery on site as well.
14. Colchester Zoo
Over 180 species of animals reside in the Colchester Zoo, which is also a center for conserving endangered species through breeding programs.
In addition to regular park admission, the facility also offers educational opportunities such as keeper shadowing. Located about 4 miles from the Colchester town center, the zoo may be reached by bus or car.
15. Chappel Railway Viaduct
Take a scenic walk near the Victorian-era Chappel Viaduct, which is still in use today by a local railway line. Its 32 arches span an impressive 1,135 feet. If you get parched, there is a pub located conveniently nearby.
16. East Anglian Railway Museum
At one end of the Chappel Viaduct, for train fans young and old, the East Anglian Railway Museum offers visitors an opportunity to learn about vintage trains and model trains. Staffed by volunteers, the museum hosts special events throughout the year in addition to its regular admission days. The "Day Out with Thomas" events (of Thomas the Tank Engine fame) are quite popular and need to be reserved in advance if you hope to attend. Both the Chappel Viaduct and the museum are located about 9 miles northwest of the center of Colchester. The museum, a working train station, may be reached by train or car.
17. Firstsite Gallery
Winner of the Art Fund Museum Award for 2021, the Firstsite Gallery has rotating exhibits showcasing modern artists. The location also includes a cinema and an outdoor sculpture garden. A cafe and shop are located on the premises, and admission is FREE.
18. Colchester Community Stadium
Visit the Colchester Community Stadium to watch the Colchester United Football Club play. Just to clarify, British football is commonly known as soccer in the United States. Founded 84 years ago, Colchester United is a professional team that plays during the months of August through February. The stadium is located north of the main part of town.
19. Second-Hand Shops and Other Hidden Gems
I was on my way back to our hotel when I chanced upon a second-hand shop. I love visiting second-hand shops when I am traveling. It's a way to acquire some unique souvenirs. I peeked in the window of a shop after hours, and I saw something surprising. There, beside a photograph to prove its authenticity, was a lovely outfit which had been worn by Sarah Ferguson, former wife of Prince Andrew. The formal photograph looked like a christening picture with one of her daughters. Fun! Other hidden gems include the Lion Walk shopping area just off high street, near the historic Red Lion Inn.
Another Colchester Favorite
One other thing I enjoyed about Colchester was the ketchup. Maybe all of the ketchup in England has the same delicious, tangy-sweet flavor I tasted in Colchester. It was a familiar brand, one which we have in the States, but there was something different about it. I almost brought a bottle back home with me in my suitcase. What a disaster that might have been. Crazy American tourist moment!
The Essential Handbag
If I had decided to buy some special ketchup, it most likely would have ended up in my trusty, roomy travel handbag. I take it with me on trips everywhere. When traveling in cities, train stations, bus stations, airports, or wherever there are crowds, a secure handbag that will confound would-be thieves is a must. My favorite travel handbag has been with me inside Buckingham Palace, the Vatican, the Louvre, and to Colchester, England. It's the Travelon Anti-Theft Cross-Body Bucket Bag, and I have witnessed firsthand its effectiveness.
When traveling to Colchester, I wasn't as worried about theft. I did appreciate the expandable side pockets for water bottles. This amazing handbag has traveled to more places than I have, as it has been borrowed. My mom has the same handbag in brown, and her bag was put to the test while traveling on the Paris Metro, where she thwarted some would-be thieves.
Did the pickpockets give up because of the security features such as the locking zippers or the slash-resistant cable inside the shoulder strap? Theft happens, and the Travelon bag is the best way I know to be prepared. The main compartment is quite spacious (I fit an iPad in it) and the side mesh pockets are perfect for an umbrella or, as previously noted, a water bottle or two. A small compartment has RFID-blocking organization spots for credit cards and a passport. I could go on and on. It's a phenomenal bag, and I hope to take many more trips with it.
Might Colchester, England Make it Onto Your Bucket List?
Has this made you want to pay a visit to Colchester, England? Do you have your own tales of British tourism to share? I'd love to learn about your experience or any other fabulous travel experiences you have had. I have many fond memories of my visit to Colchester, Flatford Mill, and Dedham Vale. If you like what you've read today, you might also like reading about the scenic northern Oregon coast or my visit to Highclere Castle (aka Downton Abbey). For some simple travel wardrobe ideas, you can check out my post listing Wardrobe Essentials for the Savvy Traveler.
Never Overpay for Flights Again
That is the motto of Scott's Cheap Flights. If you want to get in on amazing deals to incredible destinations like London or anywhere else in the world, sign up for free flight alerts. You can save up to 90%. Try a favorite travel trick and book a flight to an interesting destination, then find all of the great reasons to visit that locale.
Avoid Overpacking
Whether you travel to Colchester or some other location, it's always nice to be organized. Do you want to avoid overpacking on your next trip? Never check a bag again when you use this Capsule Wardrobe Packing List. It's digital, customizable, printable, and FREE!
Have a fantastic week, and may you have many happy travel experiences, in person or vicariously through reliving the experiences of others. Wherever your journeys take you, I hope you make wonderful memories.  Happy travels!