Recently, I attended a family gathering in which I became acquainted with a young cousin of mine. Specifically, she is my first cousin twice removed. What? Have you ever wondered about all of the "removed" business with cousins? What does it all mean? Maybe you have never cared, but if you would like help solving the puzzle, I am here to help make sense of it all. The reason I know about the intricacies of removed cousins is because one of my cousins offered a seminar on this very subject at one of our family reunions. You might think that is odd, but my paternal grandmother had 10 siblings and 10 half-siblings. It was necessary to figure out all of the varied relationships. I've never forgotten what I learned from this dear cousin, who is actually a cousin-in-law, married to one of my first cousins. But I digress.
Like Tiers on a Wedding Cake
I like to compare cousin relationships to tiers on a wedding cake. On the top level, you have the siblings. On the next level down, you have the first cousins, the children of the siblings. The next level down contains the second cousins, the children of the first cousins. The next level down would be for the third cousins. They are the children of the second cousins. As long as everyone is on the same level of the cake, labeling the relationships is easy. The confusion arises when you have cousins from different levels of the cake.
Diagramming it Out
My sweet young cousin, whom I met at the family gathering, is the grandchild of my first cousin. I'll call my first cousin Tim. Tim has a son, whom I will call Jim. Jim is my first cousin once removed because Jim is one level below me on the cake. Jim's daughter, Kim, is my first cousin twice removed because she is two levels below me on the cake. If Kim has a child, that child would be my first cousin three times removed, since that child would be three levels below me on the cake. Wow, that is a tall cake!
You might think that this kind of relationship, first cousin three times removed, might not occur very often. In my extended family, which is quite large, this is a common occurrence because my first cousin, Tim, is about 25 years older than I am. Here's a diagram to help sort it all out: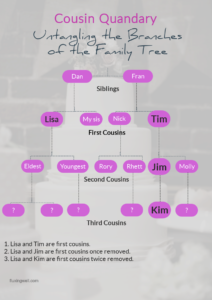 What About You?
I hope this little article has been helpful and my explanations easy to understand. Now, if anyone has a cousin quandary, you can expertly answer the question. Next time, I'll relate the story of how one of my uncles from my mom's side of the family married one of my first cousins from my dad's side of the family. Just kidding! It is a true story, but I won't confuse you with all of the details.
Need Some More Ideas?
If you like what you've read today, please consider subscribing and becoming part of the Fluxing Well tribe. You will receive fresh ideas every week, plus access to a library of free printable resources, including a free cookbook filled with the best easy recipes from the Fluxing Well website.
You can also find many other ideas on my Pinterest boards. I have boards about food, technology, family, DIY projects, gardening, and more. I hope you have been encouraged by today's post. Now you can share your knowledge about cousins twice removed and encourage others!