Are you blessed with an abundance of frozen berries? Learn how to use frozen berries in many delicious ways. Over the years I've accumulated recipes for raspberries, blueberries, and blackberries to make the most of the berry crops we grow on our small Oregon farm. Ready for some berry jam, smoothie, syrup, and baked goods recipes? Let's get started!
My Frozen Berry Backstory
Years ago, I was tasked with cleaning out a freezer full of frozen berries that had not been cleaned out in a very long time. The messiest part of the task was the berry juice that had gotten all over the inside due to the bags of berries melting then refreezing. Yes, just picture it for a moment. As a result of this experience, I vowed never to let my frozen berry supply carry over from one year to the next. I was determined to use up each year's berry harvest by the time the next berry harvest came around. If you need to get some easy and tasty ideas for how to use frozen berries, you're in the right place. These frozen berries recipes are just what you need!
***Disclaimer: This post contains affiliate links, which means as an Amazon Associate I earn from qualifying purchases at no additional cost to you.*** Already know what you'd like to get from Amazon? Here's a handy way to get to the website, linked to my favorite berry book of all time, perfect to read to any little berry pickers you know. Just click on the button below, then browse around and do your shopping.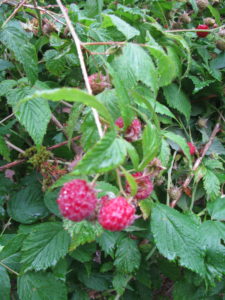 Almost Harvest Time
Well now it's almost berry-harvesting time here in Oregon, and it fills me with joy, anticipation, and a bit of dread. I am very thankful for the raspberries and blueberries we are able to grow in our garden, but I have not yet managed to use up last year's supply using my stash of frozen berries recipes. We already have a shelf full of jam and preserves in the pantry, so now I'm scrambling to turn the frozen berries into something else that is useful so they don't go to waste. Have you been wondering what to do with frozen fruit besides smoothies? What can I use frozen berries for? Read on to find out just how easy frozen berries recipes can be!
Snappy Solutions
You may be thinking that I could just give the bags of frozen berries to someone else, and I could, but it's trickier than it seems to get rid of frozen berries without creating a mess. I would have to hand the frozen berries off to someone who could then put them directly into a freezer. Since we live a few miles out of town, by the time I arrived at the house of the berry-recipient, the berries might have started to melt and make a mess. That's not the kind of thing I like to hand off to a friend. I'd like to keep the friends I have, so here are a few ideas for using up frozen berries that will (I hope) be of help to you if you need to use up your frozen berry supply. Although our berry supply consists mainly of raspberries and blueberries, any kind of berry will work in these frozen berries recipes. Blackberries, huckleberries, marionberries and any other kind of berry you have around would work!
Create a Cobbler
I happen to have the best recipe for berry cobbler. I use it most often with frozen blueberries, but any combination of frozen berries will do. To get the details and the fabulous recipe, check out the best easy blueberry cobbler. You'll be glad you took the time to click on over.
Jam It Up
Jam or preserves make excellent gifts to give away during the holidays. I already used many of our berries for jam or preserves, as noted above, but maybe you haven't. Here's one of my favorite jam recipes, Easy Raspberry Blueberry Jam. I love it because it uses both raspberries and blueberries, which we have in abundance. Looking for jam with a citrusy zing? Make some fabulously flavorful blueberry lime jam. Not a fan of seeds? Get a smooth jam experience when you make seedless raspberry jam.
Smoothies Galore
Berry smoothies are another delicious way to use frozen berries. Here's my sister's favorite recipe for a frozen berry smoothie. Bonus: She adds in some chopped zucchini for even more nutritional value. Not only is it delicious, but it's a healthy frozen berries recipe. If you're looking for ways to sneak some extra veggies into your family's diet, this is an excellent strategy. Delicious, nutritious, and refreshing!
Easy Frozen Berry Smoothie Ingredients
1/2 cup fresh or frozen blueberries or huckleberries
1 frozen banana
1/2 medium zucchini, chopped
1/2 cup almond milk
Directions for Making an Easy Frozen Berry Smoothie
Chop the zucchini. In a heavy-duty blender, such as a Vitamix, combine all ingredients. Blend until smooth.
You could also add flakes of dried kale, which is another one of my favorite ways to sneak extra vegetables into my family's diet. If you're interested in reading about my other sneaky vegetable strategies, have a look at the blog post I wrote.
Here's another easy smoothie recipe. Good news! It's fat free! The ingredients are simple, and the recipe requires just a simple blender.
Easy Frozen Berry Banana Smoothie Ingredients
2 cups frozen blueberries
1 frozen banana (peel it before you freeze it)
1 6-ounce container of Yoplait nonfat vanilla yogurt
1 6-ounce container of Yoplait nonfat blueberry yogurt
1/2 cup of apple juice
Directions for Making A Frozen Berry Banana Smoothie
Place all ingredients together in a blender and blend. I like to use the Pulse option, because I sometimes have to take the lid off and push the ingredients around a bit for adequate blending. Serves 2-4 people, depending upon the size of your servings. Enjoy!
Scrumptious Syrup
Blueberry syrup is easy to make. I like this easy blueberry syrup recipe because it is simple to can it and store it for future use. Blueberry syrup is delicious on ice cream, cake, and just about anything which could use some sweetness. I also make raspberry syrup and a friend of mine used the same method to make strawberry syrup. Got blackberries? Try making some blackberry syrup. Berry syrups are an excellent way to use up a large quantity of frozen berries. Serve the berry syrup over pancakes, waffles, ice cream or cake in a mug.
Heavenly Hand Pies
If you have an air fryer, you could make easy blueberry hand pies. As a bonus, this hand pie recipe also includes a foolproof pie crust recipe. The air fryer makes the pies a snap to make, and won't heat up the house if you're making these in the summer.
Blend Up Berry Gelato
My all-time favorite way to use frozen berries is to make this easy berry gelato recipe, which appeared years ago in the Food Day section of the Oregonian. It was adapted from a recipe used at the now-closed Mio Gelato. I could not find links to it anywhere online, so here's my version. To make this gelato, I just puree all of the ingredients in my food processor and freeze in my Cuisinart 2 Qt. Ice Cream, Frozen Yogurt & Sorbet Maker.
I received this ice cream maker as a gift from my parents, and it has revolutionized the way I make frozen treats. The recipe below literally takes only five minutes of hands-on time thanks to this machine. The rest of the time, I just let this marvelous creation do its work. The amazing secret to this easy-to-use time-saver is the freezer bowl, which is included with the machine. It may also be purchased separately.
Just keep the freezer bowl in your freezer (we keep ours in there year-round). Whenever you are ready to make a frozen treat, like ice cream or gelato, simply remove the bowl from the freezer and pour in the already mixed ingredients. Put the bowl in the machine, and turn it on. In about 20 minutes, your treat is ready!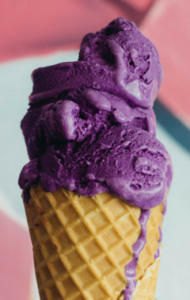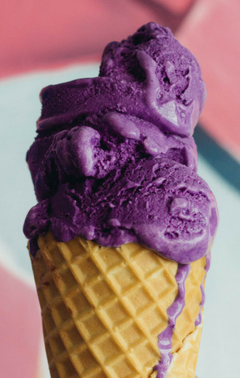 Berry Gelato Ingredients
1 pound of fresh berries (I use frozen, 4 cups)
1 ½ cups granulated sugar, or to taste
½ cup cold water
1 tablespoon lemon juice (optional)
½ cup whipping cream (sometimes I use 2% milk and no one seems to notice)
Directions
Add all of the ingredients to the food processor, puree until smooth, then take the freezer bowl component of the Cuisinart ice cream maker out of the freezer where it is stored.
Pour the mixture in, then flip a switch to turn on the machine.
About 20 minutes later, check the progress. If peaks are forming and the gelato has gotten quite thick, remove it from the ice cream maker (it will be very soft).
Scrape it into a plastic freezer-safe container and put it in the freezer to solidify. The whole process only takes about 25 minutes, including the time in the ice cream maker. So simple!
Mix in With Your Favorite Pancake Batter
Some like pancake mix that comes in a box. Add water and you're set! Others like to make pancakes from scratch. Whatever your preference, it's super easy to add in some frozen berries. Blueberries are what I've used most, but other frozen berries would work as well. When the pancakes are cooking on the griddle, sprinkle on a few berries before flipping. Yum!
Add to Your Favorite Muffin Recipe
A few berries in a muffin can add some healthy pizzazz. When you are mixing the batter, just gently fold in the frozen berries, fill the muffin tin and bake. The berries will make the muffins burst with flavor.
Berry Good Quick Bread
Mix in a few frozen berries with your favorite quick bread recipe. This chocolate chip raspberry banana bread would be great with blueberries mixed in instead of raspberries. You choose!
Superb Scones
My favorite scone recipe lends itself well to variations. Instead of making chocolate chip raspberry scones, you could easily make blueberry scones instead. Frozen, fresh, or dried berries may be used.
What Are Your Favorite Ways to Use Frozen Berries?
There you go, five easy ways to use up your frozen berry supply. So, how about you? What are your favorite berry creations? I'd love to know about them.
If you like what you've read today, please consider subscribing and becoming part of the Fluxing Well tribe. You will receive fresh ideas every week, plus access to a library of free printable resources, including a free cookbook filled with the best easy recipes from the Fluxing Well website. Have fun trying new ways to use frozen berries!