Learn about the interesting Oregon coastal town of Newport, and get insider tips on fabulous things to do and see. From quaint, tasty eateries to excellent places to stay, this guide has what you need to help you make the most of your visit. Ready to pack up your favorite beach bag with fun beach items and go on an adventure? Let's get started!
My Newport, Oregon Backstory
I'm so fortunate to live in Oregon, which has a variety of fantastic, fun beach towns along its coast. When my dad was growing up, his family always journeyed to Neskowin. One of my cousins calls Yachats her go-to Oregon beach town. For my family, it has always been Newport, located on the central Oregon coast.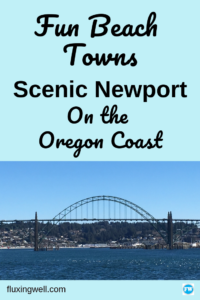 Depoe Bay and Ainslee's
The route we travel from our home takes us through Lincoln City on Highway 101. As we continue south, we pass through another one of my favorite fun beach towns, Depoe Bay. Famous for its role in the old movie One Flew Over the Cuckoo's Nest, Depoe Bay is also the home of Ainslee's Homemade Salt Water Taffy shop.
In addition to the saltwater taffy, our family loves to purchase bags of their mouth-watering caramel corn. A couple of years ago, the shop started selling a unique treat called Riptide (not available in the online shop), which is cheese popcorn covered in caramel. It might seem strange, but it's delicious! It's now my favorite beach treat, and on our most recent beach trip, we just had to grab a large bag for the road. Yum!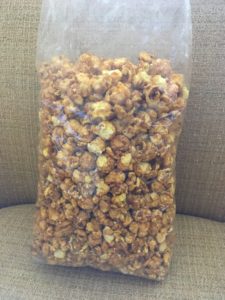 Yaquina Head Lighthouse
Continuing south towards Newport, we pass other landmarks such as Devil's Punchbowl and Beverly Beach State Park. If you like to go camping, Beverly Beach is a terrific destination. However, our goal is the fun beach town of Newport, so we keep going. We feel we are really getting close when we pass the turn to the Yaquina Head Lighthouse. For those who like to explore tidepools, the nearby Yaquina Head Outstanding Natural Area is a must-see.
Hallmark Resort
Driving through Newport on Highway 101, we pass through the historic Deco District to reach our accommodation of choice, the Hallmark Resort Newport. This family-friendly lodging includes amenities such as an indoor pool and spa. If you've visited the Oregon coast before, you likely know that the weather can be changeable and chilly at times. When our boys were younger, we spent quite a bit of time in the pool when the weather was not at its best.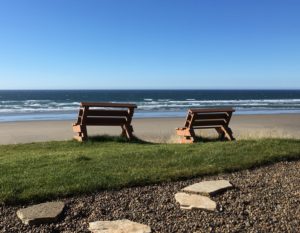 The gift shop offers complimentary DVDs (two at a time) to guests, and there are spacious sitting areas and conference rooms located onsite for gathering with groups. Years ago, my family even held a reunion here, and had a memorable time. The hotel is located right on the beach with easy beach access via trails and stairs. The hotel is ideally situated between points of interest to the north and south reachable by road or enjoyable beach hikes.
Nye Beach and the Chowder Bowl
Approximately one mile to the north of the hotel is historic Nye Beach, filled with quaint shops and a cute restaurant, the Chowder Bowl.
Although the chowder and other menu items are good, that's not the reason I return again and again. The real reason? The bread pudding is amazing! I look forward to the bread pudding even more than the seafood at this establishment. If you are a fan of bread pudding, please put this restaurant on your list of places to eat if you are ever in Newport.
South to Yaquina Bay Lighthouse and the Jetty
About half a mile south of the hotel, you will find the Yaquina Bay Lighthouse. Listed on the National Register of Historic Places, this building is believed to be the oldest building in Newport. Lying within Yaquina Bay State Park, the building is open for tours every day of the year, except for major holidays.
Further south lies the jetty, where boats may be observed entering and departing the harbor. Atop the jetty, there is an excellent view of the Newport Bay bridge.
The Historic Waterfront
On the final day of our stay, after checking out of our hotel room, it's a family tradition to drive down to Newport's historic waterfront. This attraction makes Newport one of the most fun beach towns. A walk along the public pier allows visitors a close-up view of the various vessels docked in the harbor.
Often, signs are posted offering up the latest fresh catch of the day for sale. On sunny days, you may observe sea lions lounging lazily on the walkways near the boats. Along the waterfront sidewalks, quaint shops abound. There are also other attractions such as The Wax Works and Ripley's Believe It Or Not.
Mo's Clam Chowder
After exploring the waterfront, we always have an appetite. Lunch at Mo's Annex is a favorite stop. Located next to a charter fishing company, diners at the restaurant can enjoy panoramic views of the harbor. Charter fishing boats arriving and departing provide added interest. The highlight of the visit is the clam chowder. If you like delicious chowder filled with chunky clams, this restaurant is for you.
I have always ordered the shrimp salad sandwich with the chowder on the side. The sandwich is loaded with a delicious shrimp mixture on a perfectly toasted, buttery bun. The prices are quite reasonable. You may find, as we did, that your most tasty restaurant meal in Newport is also the least expensive. An added bonus? On our most recent visit, I discovered that Mo's offers a Chowder Club Card. After twelve bowls of chowder, you earn a free family-size chowder, which serves four. This card is good at any Mo's location. Hooray for Mo's!
Other Attractions
There are still more attractions that help to make Newport one of the most fun beach towns. The Oregon Coast Aquarium, site of many a school field trip, is a wondrous experience for kids. South Beach State Park is an excellent campground with a variety of sites, including yurt sites, available.
Travel Essentials
Keep track of all of your belongings (even your kids) with Apple air tags. These handy devices come with a battery and are even water-resistant. Just use a simple one-step process to connect the tag to your iPhone or iPad, then use the Find My app to locate your item. Get a 4-pack and use for tracking luggage, pets, and more.
Whether you are camping or staying in a hotel, be safe with a portable carbon monoxide detector. This one has an AC-adaptor with battery backup. It's only 2.75 by 1.5 by 4.5 inches, and could save your life.
Might Newport be on Your Travel Itinerary?
I hope you've learned a little about my favorite, fun beach town, Newport, Oregon. Maybe the next time you're on the Oregon coast, you might consider stopping by. Do you have a favorite, fun beach town? I always love to learn about new destinations for family travel. If you like what you've read today, please consider subscribing. Subscribers have access to free printables, including a free backwards list to help you get organized for your next trip. Have fun planning your adventures!
***All photos for this post were taken by the author and are the property of the Fluxing Well website.
Related Posts