Learn how to make easy Nutter Butter reindeer, snowman and Santa cookies using simple supplies. Think decorating them is difficult? Not with the tips you will find here! As a teacher and mom, I'm always looking for easy, creative activities to keep kids engaged. Delight your friends, family, and coworkers with these cute little treats. They are sure to bring a smile. Ready to get started making these fun holiday cookies? Let's go!
The Nutter Butter Santa Cookie Backstory
It all started when I received a cute little Christmas cookie from a colleague at work. It was a Nutter Butter cookie decorated to look like Santa. I remember saying to myself, "I think I could do this. It doesn't look that hard." Little did I know that there were other types of no-bake Nutter Butter Christmas cookies. I hunted around and found a Nutter Butter reindeer and a Nutter Butter snowman. Each cookie had just one element that looked a bit tricky. How could I modify these cookies to make them easy for kids? If I could simplify the decorating process, it would make a great party activity. After a few tests in my kitchen, here are my tips to make these Nutter Butter reindeer, snowman, and Santa cookies the simple way, all in one place!
Keeping the Supplies Simple
To make the cookie decorating process as easy as possible, it's best to keep the basic supplies the same for all three cookie types. For the Nutter Butter reindeer, mini pretzels are the unique item. The Nutter Butter snowman requires an orange Tic Tac nose (halved), and the Nutter Butter Santa needs a few red sugar sprinkles. Other than that, the supplies are all the same. As a bonus, they are all easy to find at most grocery stores. There is no need to hunt around for specialty items.
***Disclaimer: This post contains affiliate links, which means I earn from qualifying purchases at no additional cost to you.*** Already know what you'd like to get from Amazon? Here's a handy way to get to the website, linked to some metal baking racks, perfect for this activity. Just click on the button below, then browse around and do your shopping.
Supplies for Nutter Butter Reindeer, Snowman, and Santa Cookies
1 16-ounce container Nutter Butter cookies (about 32 cookies)
1 12-ounce bag white chocolate chips (divided)
1 16-ounce bag mini semi-sweet chocolate chips
1 small bag of mini pretzels (I used a 20-ounce bag and had far too many left over)
1 2-ounce container cinnamon imperials (or red hots, as some like to call them)
1 2.25- ounce container red sugar sprinkles
1 container orange Tic Tacs
1 small (.67-ounce) tube black decorating gel (optional)
candy eyes (optional, found at craft stores)
coconut flakes (optional, for Santa's beard)
toothpicks (optional)
wax paper
Getting Organized
To make it easy for everyone participating in decorating the Nutter Butter reindeer, snowman, and Santa cookies, it helps to set out the supplies in little bowls. Most of the decorations are tiny.
Having them in bowls makes them easier to grab. Tear a couple of sheets of wax paper and place underneath the wire racks to catch drips and sprinkles. I also like to place some wax paper in front of each cookie decorator so everyone can have a workspace.
Tips for Melting the White Chocolate Chips
Set aside 1/4 cup of the white chocolate chips in a small bowl these will be your pom-poms for Santa's hat. Pour the rest of the white chocolate chips into a 2 cup glass bowl and place in the microwave. Microwave for 30 seconds, then stir. Repeat this process until the white chocolate chips have melted to a creamy consistency. If you have multiple people working on the cookies, consider dividing the melted chocolate among smaller bowls once melted. Sometimes, if the white chocolate gets too hot, it will become flaky, not smooth. If this happens, add one or two teaspoons of vegetable oil, NOT water. Stir the vegetable oil in to combine with the white chocolate. If needed, microwave the mixture for about 15 more seconds until you get a creamy consistency.
Directions for the Nutter Butter Reindeer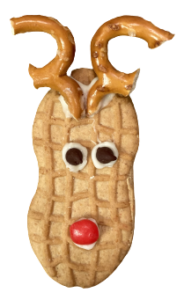 Ths Nutter Butter reindeer is a great activity for a reindeer-themed party. The most challenging part of the Nutter Butter reindeer is breaking the pretzels into an antler shape. If you break the pretzels roughly along the line marked in the picture by a toothpick, you should get some pieces you can use.
Keep in mind that no two real reindeer antlers are perfectly identical. Your pretzel antlers won't be identical either.
The Attaching the Antlers
Using a toothpick, dab a little of the white chocolate on the center top of a cookie, then hold the pretzel antlers in place for at least 30 seconds. This might be challenging for little helpers! You could also dip one end of each antler in the white chocolate and hold in place on the cookie.
The Eyes
Dab a bit of white chocolate to make two white circles for the eyes, then place one mini chocolate chip in the center of each white dab. You could also try to dip the back of each mini chip in the white chocolate, but they are very tiny. Little fingers might be better at the dipping method than I was!
Another option for the eyes is to purchase premade candy eyes to stick on. You would still have to attach the eyes with frosting, but the candy eyes would be slightly larger and easier to handle than the mini chocolate chips. You can get them at craft supply stores. Just search for candy eyes to find what you are looking for.
The Nose
Dab some white chocolate lower down on the front of the cookie, in the middle. Place one cinnamon imperial in the dab of white chocolate for the nose. Again, you could dip the back of the imperial in your melted white chocolate, but they are tough to hold on to.
Finishing the Nutter Butter Reindeer
Place the completed reindeer on a rack to dry. Congratulations! You now have a very cute Nutter Butter reindeer cookie. Since the reindeer takes the least amount of white chocolate, it's a good one to make if you just have a little bit of white chocolate left.
Directions for the Nutter Butter Snowman
The Nutter Butter snowman takes the most white chocolate to make, but the decorating is a bit simpler. Begin by dipping one whole cookie side into the white chocolate. Some people like to use a fork to hold the cookie while dipping, but I had better control with my fingers.
If you want to dip both sides in the white chocolate, place a baking rack onto a cookie sheet, place the cookie on the rack, and refrigerate for about 10 minutes. When the white chocolate has solidified, turn over and dip the other side in white chocolate. Place on a sheet of wax paper to decorate. Personally, I prefer just dipping one side in the white chocolate. Decorating goes more quickly that way. If you are a big fan of loads of white chocolate, though, go for the double-sided dipping method.
The Nose
For the nose, cut an orange Tic Tac in half. Make sure you do this on a cutting board and be careful because you will need to press pretty hard with the knife. This might be something to do ahead of time, especially if you are going to be providing a lot of decorating assistance to little helpers. Stick a half Tic Tac on the snowman in place of a nose.
The Eyes
For the eyes, press two mini chocolate chips into the melted white chocolate. You can, if you like, try making tiny dots with black decorating gel. It requires a steady hand, so for younger decorators, I definitely recommend the mini chips.
The Mouth
Add five mini chips for the mouth. Again, if you have a steady hand, you can use black decorator gel. I could never quite get the hang of making tiny dots, so my gel-decorated snowmen turned out looking rather…diabolical.
Finishing the Nutter Butter Snowman
Finally, add two cinnamon imperials for the buttons. Finito! Your Nutter Butter snowman is finished.
Directions for the Nutter Butter Santa
Here is the cookie that started it all. The nice thing about the Nutter Butter Santa is that it's easy to hold on to while dipping it in the white chocolate.
The Beard
Dunk one end of the cookie into the white chocolate. Cover about half of the cookie with white chocolate. If you want to add an extra touch of texture, you can sprinkle on some coconut flakes before the white chocolate for the beard dries.
The Hat
Grab the cookie around the middle and turn to dip the other end into the white chocolate.
This time, only cover about one-third of the cookie. Set onto the baking rack to decorate. Before the white chocolate dries, add some red sugar sprinkles to the hat. I was able to do more controlled sprinkling with my fingers after placing some sprinkles in a small bowl.
Leave a little edge of white chocolate around the brim of the hat if you can. If you can't, no worries. Add one white chocolate chip, a little offset, to the top of the hat.
The Eyes
Dab a bit of white chocolate onto two places just below the hat area. It's the end covered by the least amount of white chocolate. Place one mini chip onto each dab of white chocolate. Alternatively, you could use small candy eyes which you can find at craft stores.
The Nose
Dab some white chocolate onto the cookie just above the beard area. Add one cinnamon imperial to the dab of white chocolate.
Finishing the Nutter Butter Santa
Allow the completed Nutter Butter Santa to dry on the rack. If you want to speed up the process, you could place the rack on a cookie sheet and place in the refrigerator. Well done!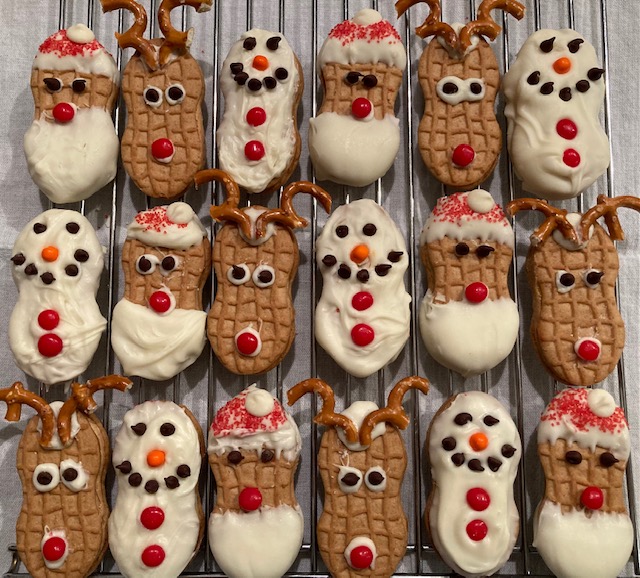 What if the White Chocolate Hardens in the Bowl?
If the white chocolate cools too much and starts to harden in the bowl, just pop the bowl back into the microwave for about 15 seconds. Stir and repeat the process, if necessary. You can do this as many times as needed over the course of the decorating process.
Would This Make a Good Party Activity for Kids?
This easy no-bake Nutter Butter cookie decorating activity would be great for a party activity. Why is that? It will keep kids occupied, creating their masterpieces one cookie at a time. If it keeps the kids engaged and busy, it's a terrific party activity!
Are You Excited to Make Nutter Butter Reindeer, Snowman, and Santa Cookies?
These cute cookies are calling my name. If you decide to try this cookie decorating activity, I'd love to see pictures. If you do make Nutter Butter Christmas cookies, take a picture and tag me on Instagram! I'll feature the photo in my Instagram story.

@lisa_fluxingwell
More Easy and Fun Holiday Ideas
Looking for other fun, easy activities and recipes for the holidays? In addition to these cute Nutter Butter reindeer, Santa and snowman cookies, check out a super simple way to make a gingerbread house out of graham crackers. A fan of peanut butter? Try making easy peanut butter fudge. In keeping with the reindeer theme, learn how to create a cute jingle bell reindeer ornament with inexpensive supplies. Get into the holiday spirit with this list of books to read to kids. Get even more ideas from a list of favorite family holiday traditions. So many ideas to choose from!
If you like what you've read today, you might be interested in this free cookbook filled with even more fun and easy recipes. It's perfect for anyone who likes to keep things simple and get delicious results. Grab your copy today!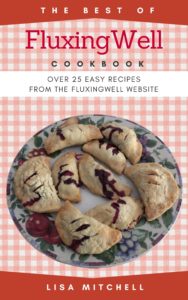 If you would like even more recipe ideas, consider following my Easy Recipes board on Pinterest. Have a fabulous day, and enjoy making Nutter Butter reindeer, snowman, and Santa cookies.
Lisa Mitchell is a wife, mom, and school librarian who likes to create and share recipes, often using fresh ingredients from her family's small Pacific Northwest farm. To learn more about what this website has to offer, click on over to the Welcome page.
Like this post? Please give it a share!