Immersion blenders are a fabulous kitchen tool, and here are 16 brilliant ways to use immersion blenders in your cooking. You won't believe how easy it is to get used to having this amazing food prep gadget around. It's especially useful for any cooks who like to use garden-fresh ingredients. Plus, cleanup is a snap. It may revolutionize the way your food prep strategies. Let's take a look at how to use an immersion blender in your favorite recipes.
***Disclaimer: This post contains affiliate links, which means as an Amazon Associate I earn from qualifying purchases at no additional cost to you.*** Already know what you'd like to get from Amazon? Here's a handy way to get to the website, linked to a fabulous smoothie recipe book.  Just click on the button below, then browse around and do your shopping.
What is an Immersion Blender and How Does it Work?
An immersion blender (sometimes called a hand blender or stick blender) is a handheld tool that you can place directly in the liquid you are trying to blend. At the end of the immersion blender is a set of rotating blades. When the immersion blender is immersed (hence the name) in liquid, the rotating blades finely chop, mix and stir. Before you know it, you will have expertly blended whatever substance you are working with. It's amazing!
Immersion Blender Use 1: Thicken Fruit Syrup
I am fortunate to have an abundance of fresh blueberries during the summer. using an immersion blender is one way to thicken fruit syrup or sauce. Eliminate the need for thickeners like cornstarch when you use this tool.  Here's how to use an immersion blender to make blueberry syrup. Begin by placing the immersion blender in the fruit syrup mixture. As the immersion blender works, it finely chops the blueberries, skin and all. Since the blueberries float on the top of the liquid, the immersion blender can just skim the surface as it mixes and works its magic. The result is a thick syrup (or sauce, depending on sugar content) worthy of topping pancakes, waffles, or ice cream.  It's best to work in a deep pot to avoid splatters. In just a few minutes, the blending is complete and your syrup is ready for serving or canning.
Immersion Blender Use 2: Smooth Out Soups
Here's how to use an immersion blender to make cream soups. Just place all of your ingredients into the soup pot. When the desired flavor is reached, bring out the immersion blender to smooth everything out to a creamy texture. It works well with fresh tomatoes in cream of tomato soup.
Immersion Blender Use 3: Blend Salad Dressing
Here's how to use an immersion blender to make a vinaigrette or any other salad dressing. I used to use a jar and shake the dressing by hand, but the immersion blender does a much better job of mixing the ingredients. Since oil is often an ingredient in a vinaigrette mixture, placing the immersion blender in the mixing bowl blends oil and vinegar like nothing else.
Immersion Blender Use 4: Applesauce Without Chunks
I love to make homemade applesauce and use it as a condiment for pork, but I prefer it without chunks. My immersion blender took my applesauce to the next level. Now I don't have to spend extra time mashing and mashing to create the texture I like. I just immerse the blender in the applesauce as it's cooking, then let it go to work.
Immersion Blender Use 5: Froth Up Some Whipped Cream
Here's how to use an immersion blender to make whipped cream. Place a metal mixing bowl and the blending attachment in the freezer ahead of time. When you are ready to whip your cream, take the bowl and the blending attachment out of the freezer. Attach the blender to the motor component, add your ingredients, then whip away. You'll have thick, yummy whipped cream in a flash.
Immersion Blender Use 6:  Scramble Some Eggs
Scrambling eggs has never been easier. If you like to scramble your eggs with milk just add the eggs and milk to a mixing bowl. Turn the immersion blender on and stir it through the egg and milk mixture. When all is mixed, pour the concoction into a skillet and prepare yourself for some light, fluffy eggs.
Immersion Blender Use 7: Create Fresh Pesto
Gather your ingredients such as pine nuts, olive oil, garlic, and fresh basil. Blend them all together with the immersion blender, then serve or freeze. *Quick tip: To freeze pesto into small serving-size quantities, pour the completed pesto into ice cube trays. Use an individual cube of pesto whenever you need to add some extra flavor to pasta sauce.
Immersion Blender Use 8: Mix Batter with Ease
Here's how to use an immersion blender to make batter for cakes,  or fluffy pancakes. Mix all of your ingredients together in a bowl, then put the immersion blender to work. In no time you will have prepared batter, ready to use.
Immersion Blender Use 9: Serve Up Some Smoothies and Shakes
Here's how to use an immersion blender to make a healthy smoothie. Just put the ingredients in a tall cup, stick the immersion blender in and give it a whirl. Voila! Instant gratification! Here are the simple components:
Easy Frozen Berry Smoothie Ingredients
1/2 cup fresh or frozen blueberries or huckleberries
1 frozen banana
1/2 cup almond milk
Immersion Blender Use 10: Thicken Chowder
In some recipes for homemade New England clam chowder, a suggestion is made to mash some of the potatoes against the side of the soup pot. This helps thicken the chowder, but it would be even easier to do this with an immersion blender. You wouldn't want to eliminate all of the chunky clam goodness, but running the immersion blender around the edge of the soup pot would provide just the right amount of blending.
Immersion Blender Use 11: Get Some Good Gravy
No one likes lumpy gravy, but sometimes it's difficult to blend the ingredients into a smooth consistency. If you have to add thickener, like flour, you could sprinkle in the flour with one hand and hold the immersion blender in the other. When you use that technique, lumps can be avoided to get a smoother gravy experience.
Immersion Blender Use 12: Blend Fresh Tomato Sauce
Here's how to use an immersion blender to make fresh tomato sauce. Just peel the tomatoes, add in your seasonings and let the tomatoes boil down and thicken. Bring in the immersion blender to finish it off before canning or freezing.
Immersion Blender Use 13: Creamy Custard Gelato
My favorite all-purpose creamy gelato recipe can be made with many different mix-ins. Some of the mix-ins, like crushed cookies, would benefit from the special touch of an immersion blender. When the custard is done cooking, use the immersion blender while all of the ingredients are still in the saucepan. You'll get a creamy, smooth gelato mixture ready for the ice cream maker.
Immersion Blender Use 14: Marvelous Mashed Potatoes
I have an amazing make-ahead mashed potato recipe I make for family gatherings. I used to mash the potatoes by hand with a handheld masher. Since I started using the immersion blender, I realized it is a champ at eliminating lumps. No more lumpy mashed potatoes when the immersion blender is on the job!
Immersion Blender Use 15: Smooth, Rich Fudge
My favorite peanut butter fudge recipe calls for mixing in the peanut butter and marshmallow cream after removing the butter and sugar mixture from the stove. I'm always afraid I won't mix the peanut butter and marshmallow cream in quickly enough before the fudge starts to set. No need to worry about that with the immersion blender. It makes short work of mixing in the peanut butter and marshmallow cream for the best, supremely creamy fudge I've ever made.
Immersion Blender Use 16: Decadent Sweet Potato Casserole
When you mix butter, eggs, and sugar with sweet potatoes the result isn't low fat, but it sure is delicious. For this sweet potato casserole recipe, using an immersion blender will result in an irresistible, smooth mixture ready for the butter and brown sugar topping. It could almost be dessert!
Best Immersion Blenders for Home Use
Since immersion blenders have made their way into the home kitchen, food prep has been made easier. Here are some of the top-rated immersion blenders for home. First, I'd like to recommend the one I have, which is made by KitchenAid.
If you would like one with a beater and milk frother attachment, this one by Mueller would be a good choice.
Are Immersion Blenders Safe to Use?
When something has a spinning blade, I am naturally cautious. There is a shield around the blade on all of the models I have seen. Another safety feature is that (at least on my KitchenAid model) the motor will not run unless the button is held down. You can't just dash off and leave it running. I have always felt very safe using my immersion blender.
The Biggest Advantage Over a Food Processor
Some people might wonder why you would use an immersion blender rather than a food processor or regular blender. In the case of a large pot of soup, applesauce, mashed potatoes or my blueberry syrup recipe, the size of the food processor bowl or blender pitcher is limiting. When I make syrup, applesauce, mashed potatoes, or a pot of soup, I like to work with larger quantities. An immersion blender allows me to do that.
What Are Your Favorite Ways to Use Frozen Berries?
There you go, a plethora of easy ways to use an immersion blender and some immersion blender examples. So, how about you? What are your favorite ways to put this amazing kitchen tool to good use? If you are thinking of getting one, now you know what to do with it.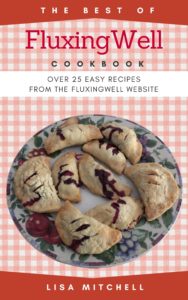 If you like what you've read today, please consider subscribing and becoming part of the Fluxing Well community. You will receive fresh ideas every week, plus access to a library of free printable resources, including a free cookbook filled with the best easy recipes from the Fluxing Well website. Have fun thinking of creative ways you might use an immersion blender!