Do you ever suffer from post-vacation blues? I try to have a positive outlook on life, but returning from a vacation sometimes puts me into an emotional slump. I don't like that feeling, so here are some ways I've tried to avoid post-vacation blues. Maybe these tips will help you as well.
***Disclaimer: This post contains affiliate links, which means as an Amazon Associate I earn from qualifying purchases at no additional cost to you.*** Already know what you'd like to get from Amazon? Here's a handy way to get to the website, linked to one of my favorite stress-relief books. Just click on the link, then browse around and do your shopping.
Take Me To Amazon!
Needing to Change
We had a terrific time visiting our eldest son and his wife, but I always get stressed and depressed upon returning home. This is me today, dealing with massive piles of laundry in the aftermath of our vacation to California.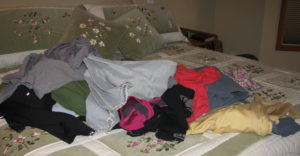 There are a variety of reasons for these post-vacation blues, laundry being just one of them. Actually, the aftermath of this trip is nothing compared to returning home from a camping trip, but there is still stress. How might I have avoided this? I thought of three ways I could have planned better.
Post-Vacation Strategy #1:
I should have kept the calendar open and kept myself free on the day after our return.
I did not do this, and this morning I was scrambling around, running late, unable to get organized. The purse I wanted to take with me was nowhere to be found, and there was no way I was going to take my gigantic "airport purse" with me to my commitment today. I settled for a different purse, put the first load of laundry in the washer, and hastily departed. I returned to the house shortly thereafter to retrieve my forgotten laptop. It would have been so much better for my mental health if I would have cancelled my commitment.
The second factor that added to my post-vacation blues was that we are currently hosting a house-guest. He's a very nice house-guest, but I felt I could not truly relax or wear the crummy-looking clothes I really wanted to wear while I was unpacking.
Post-Vacation Strategy #2:
Try to avoid having a house-guest staying with you when you return from your trip.
Sometimes, the house-guest factor is not entirely within your control. This next strategy definitely is completely controllable.
Post Vacation Strategy #3:
Plan something easy for dinner.
One of the things that saves me the most meal-prep time is cooking meat ahead of time. Sometimes, I will brown two or three pounds of ground beef with some chopped onion and green pepper or celery to make what I call a "Meat Mix". When the meat and vegetables are cooked, I divide the mix into small plastic containers (about half a pound of meat in each container) and stick into the freezer. I also boil boneless, skinless chicken breasts, chop into bite-sized pieces, then divide among small freezer containers.
I found one container of Meat Mix left in the freezer (Hooray!), so tonight's dinner is going to be an easy pasta night, with garlic bread from the freezer and a quick tossed salad. Bonus: I'm going to also try the pasta sauce on top of cooked spaghetti squash from the garden (thus preventing garden guilt). I might be the only one who tries the sauce on the squash, but that's okay.
Three Days Later
I'm feeling much more calm, relaxed and happy now, nothing like the way I was feeling at the top of this roller coaster three days ago, but this was also fun.
I found my missing purse, I am half-finished with the laundry, and dinner is going to be a snap. I just need to remind myself of these post-vacation-blues-avoidance strategies the next time I take a vacation. Do you suffer from post-vacation blues? If so, here are some more resources I found which might be helpful:
How about you? What do you find helpful? I'd really appreciate learning about your favorite remedies. If you like what you've read today, please consider subscribing and becoming part of the Fluxing Well tribe. You will receive fresh ideas every week, plus access to a library of free printable resources. Have a post-vacation blues-free day!