Lacking confidence when it comes to planting flower containers? Learn some easy, actionable flower container ideas and tips you can use no matter the size of your planting container. If you are looking for some flower container inspiration, you're in the right place. I have a formula that I've used for years. If you read on, you will learn how to fill garden containers with winning, eye-catching combinations for months of colorful blooms.
My Favorite Flower Container Planting Event
Does anyone else get nervous when Fuchsia Saturday rolls around? Some of you may be wondering what that is. It's the day our local Fred Meyer kindly pots up container plants for customers, potting soil included. You can even bring your own containers. I get the best flower pots ideas when I look around in the garden section. Of course, the plants have to be purchased at Fred Meyer, but what a deal! This year, I'm planning ahead and trying to have some flower container ideas in mind for my collection of five pots. If you need some good flower container ideas, including great thriller filler spiller ideas, read on!
***Disclaimer: This post contains affiliate links, which means as an Amazon Associate I earn from qualifying purchases at no additional cost to you.*** Already know what you'd like to get from Amazon? Here's a handy way to get to the website, linked to a book with 101 flower container ideas. There's bound to be one for you. Just click on the link, then browse around and do your shopping.
Building Confidence by Collecting Flower Container Ideas
I'm not a very confident gardener, and I'm also artistically challenged. When it comes to arranging things, I'm at a loss. Anyone else have that problem? So I did some research, called my mom (yes, I'm thankful I can turn to my mom for advice), and here are the ideas I found. If you have a fear of arranging things and need some flower container ideas like I do, read on. You will get some easy flower pot ideas you can use right away!
Thriller, Spiller, Filler
Have you ever heard that saying before? I read it somewhere, and it fits perfectly for the round pots that I'm going to fill. It's one bit of gardening information that has stuck with me. It means there should be a plant in the center that is tall and noticeable, the thriller. Then, around the thriller, the container should be filled in with other plants, called (yes, you guessed it) fillers. Finally, there should be plants that drape or spill over the sides of the pot, called spillers. Now, even though I can remember that saying, I have trouble remembering which plants make good thrillers, spillers or fillers. Another big challenge is finding a good combination of colors. First, here are some example plants from each category.
Thrillers
A thriller should be planted in the center (or at the back, if only being viewed from one side) before anything else is planted in the pot. Good examples of thriller plants include snapdragons, dahlias, canna lilies, geraniums, salvia, or ornamental grasses. My pots are not huge, so I am going to go with a thriller on the smaller side, maybe 12 to 18 inches tall. Choosing a worthy thriller is a challenge for me. It's the plant that everything else is built around, so it has to be stunning. When my mom creates her flower containers, she starts with the color of her thriller, which is usually a pink or salmon-colored geranium. She then chooses other plants with colors compatible to the geranium. Here are some pots I filled following that method. I think they turned out well.
Fillers
After planting the thriller, then insert the fillers. Some popular fillers include petunias, begonias, marigolds, arabis and gerbera daisies. Examples of filler foliage plants include heuchera and caladium. Many of the filler foliage plants are variegated with different colors, such as white and green or pink and green. Some heuchera (also known as coral bell) leaves are a stunning deep purple.
Spillers
Planted around the edge of the container should be the spillers. Good examples of spillers include trailing lobelia, petunias, bacopa, trailing nasturtiums, and fuchsias. Spillers can also be foliage plants such as ivy and sweet potato vine.
What About the Color Combinations?
As I scrolled through a plethora of ideas, there were some combinations I kept seeing repeatedly. Many foliage containers featured bright green with deep purple. Light green foliage with and pink flowers appeared often, as well as yellow, purple and red together. My personal favorites combine pink, purple and blue flowers, with some yellow blooming accents. I really want to brighten up our yard, so I'm going to focus on flowers, not foliage.
Visual Inspiration From My Flower Container Ideas Pinterest Board Section
This is all great advice, but I'm a visual person. I always hope that if I look at something long enough, it will stick in my mind and I'll be able to duplicate it somehow. That's why I love Pinterest boards. If I look at other people's creative ideas, maybe some of the creativity or artistic ability will rub off on me. To assist me in my idea-gathering for this post, I created a new board on Pinterest to share some great container gardening ideas for flowers. If you click on the picture below, you will be taken directly there to view all of the colorful options I found.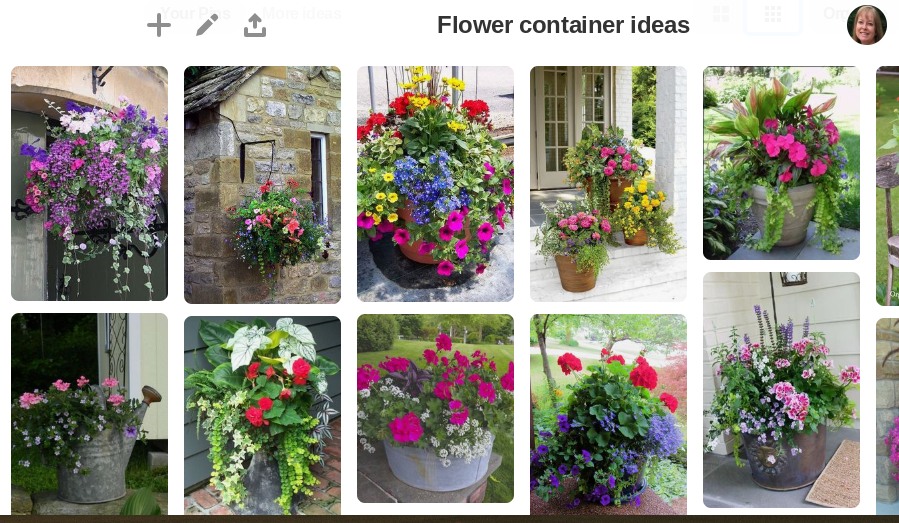 My Mom's Best Flower Container Tip
Now for another bit of advice from my mom. Use pre-fertilized potting soil, like Miracle-Gro to give plants a boost. You won't have to fertilize until the summertime. Great tip! I used that tip with these flower containers, and they thrived. You can see the thriller in the middle, the geranium. The fillers are the marigolds, and the spillers are the blue lobelia.
Now Feeling Much Better Prepared
As a result of my research for this blog post and the ideas I've collected, I now feel much more well-prepared for the infamous Fuchsia Saturday. I know it will probably be chaotic, crowded and filled with frenzy, but I will approach it with confidence. Now if I can only find the plants I listed above, in the right colors, everything will be fine. What about you? Have you already planted your flower containers for the season? Do you have any advice for me? I can use all of the help I can get when it comes to arranging anything. What are your go-to plants? I welcome any ideas. As always, I value your input immensely.
Referring Back to My Garden Planner Notebook
Last year, as a result of needing to keep track of what kind of plants I used in containers, I decided to begin a garden planner notebook. I planned to have tasks and notes for each month. I sort of kept up with it. If a garden planner notebook seems like a good idea to you, good news! I'm adding the 16 master pages to the free resource library for subscribers to the Fluxing Well blog. You can get it here!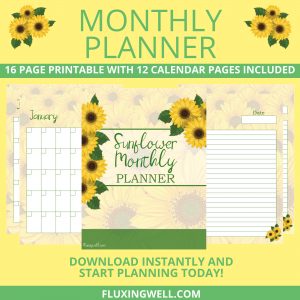 What About Your Garden Container Experiences?
I hope this has given you some ideas for planting garden containers. Do you have any advice for me? If you take the time to give me a tip, I'll even write it down in my garden notebook. So if you have any tips or hints, please let me know. If you like what you've read today, and would enjoy receiving my latest blog posts before they are shared anywhere else, please consider subscribing. You will also gain access to my free resource library for bloggers, teachers, gardeners, and cooks. Have a wonderful week, and may all of your garden container endeavors meet with success!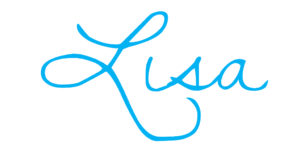 Related Posts:
Lisa Mitchell is a wife, mom, and school librarian who likes to grow fruit, vegetables, and flowers on her family's small Pacific Northwest farm. To learn more about what this website has to offer gardeners, click on over to the Garden page.
Like what you read here? Please give it a share!