We recently planted about 600 fir tree seedlings, and the weather was not pleasant. There are some garden tasks that just cannot wait, and this was one of them. As I ventured out into the chilly, drizzly, damp day, my main goal was to stay warm. If my fingers got cold, they would be useless. I had to carefully plan my strategy. If you ever find yourself gardening in inclement weather, you might need these tips. After reading this post, you will know what to wear for gardening no matter what the weather!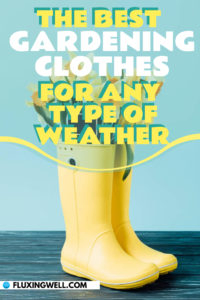 ***Disclaimer: This post contains affiliate links, which means as an Amazon Associate I earn from qualifying purchases at no additional cost to you.*** Already know what you'd like to get from Amazon? Here's a handy way to get to the website, linked to one of my favorite gardening books. Just click on the link, then browse around and do your shopping.
What should a gardener wear in cold or wet weather?
Where we live, in Oregon, the weather is often cold and rainy, especially during planting time in the spring and when putting the garden to bed in the fall. What kind of clothing is appropriate for garden cleaning in the fall or early spring? Layers are the key to staying warm, and if you can wear a waterproof outer layer, you are set. When I was gardening in the wet weather, I wore a waterproof rain suit that kept me warm and dry. It's nothing flashy, but these are the best waterproof gardening clothes because they are comfortable and cozy to work in.
What are the Best Boots for Gardening in Cold, Wet Weather?
What are the best boots to wear for gardening when the weather is cold and wet? Look for boots that are comfortable, easy to move around in, and warm. I have two pairs of gardening boots. One came to me unexpectedly when our neighbors relocated to Florida. No more need for foul-weather gardening gear there! She generously gave them to me, and I like them so much I actually wear them for gardening year-round. They are not tall, so they work well in warmer weather, too. They were the perfect gardening footwear when we were planting the seedlings in the rain because there was a lot of kneeling down and getting up. That would have been tougher in tall boots, so for gardening tasks that involve kneeling, I recommend these Muck boots.
The other pair of gardening boots I own are almost too nice to wear in the garden. I like to wear them around town running errands on rainy days, but they work well for gardening, too. I wear them when visiting places like our favorite dahlia farm, as I wrote about in my post about planting dahlias. So if you know you are going to be getting muddy or wet, but you want to look stylish while you are doing it, I recommend these Boggs boots.
What are the Best Gloves to Keep Hands Warm?
How do I keep my fingers warm in gloves? That was one of my main concerns when I went out to plant the fir trees. My fingers, and I imagine yours as well, don't move very well when they get numb with cold. My solution? I wore a double layer of gloves. I also stuffed some little hand warmers inside the inner gloves. What did I use for the inner glove layer? I used some generously-sized rubber cleaning gloves, large enough to accommodate the hand warmer, and thick enough to provide a good layer of insulation. For the outer layer, I used a pair of heavy-duty, rubber-coated gardening gloves large enough to cover the first pair of gloves.
What Kind of Hat is Best for Gardening in Bad Weather?
I'm a big fan of hats for warmth, style, and function. In the case of our rainy tree-planting adventure, I wore a stocking cap covered by the waterproof hood of my rain jacket. If you don't have a hooded rain jacket, you could always wear a waterproof hat for gardening. A waterproof bucket hat would work, or any hat with a brim. The problem with that is the possibility of water running down your neck. If given the choice, I opt for a warm hat covered by a waterproof hood every time. Now that we've covered essential gardening wear for cold, rainy weather, let's move on to a sunnier topic.
What Should I Wear While Gardening in Sunny Weather?
What should you wear for yard work when the weather is fair? When you don't have to worry about staying warm and dry, but are trying to stay cool, there are a lot of fun choices. During the spring and early fall, when the weather is warm but not too hot, overalls are a good choice. Why do gardeners wear overalls? When I garden, I end up needing to use my pockets for seed packets, twine, and other bits of gardening paraphernalia. It's nice if you can find some comfortable overalls with numerous pockets.
What is the Best Kind of Shirt to Wear for Gardening in the Sun?
When the weather is hot, I often garden in a short-sleeved t-shirt. Why do some gardeners wear long sleeves? If you are concerned about sun protection, then a long-sleeved gardening shirt is a great option. If you know you are going to use a shirt for gardening, consider getting something like that at a second-hand store. A lightweight, breathable woven material (like a worn button-down shirt) is best because it won't snag as easily on thorns.
The Best Gardening Footwear for Warm Weather
What shoes do gardeners wear when the weather is nice? As noted previously, I often wear my Muck boots in warm weather because they are short, comfortable and they keep out dirt clods. When I'm not wearing my Muck boots, I wear an old pair of running shoes. Some people like to wear gardening clogs because they are easy to slip on.
What Are the Best Gloves to Wear When Gardening in Warm Weather?
When the weather turns warm, some might ask themselves, "Should I wear gloves when gardening?" I think a better question to ask is, "Is it safe to garden without gloves?" When the weather is nice, I'm no longer concerned about keeping my hands warm. I am concerned with keeping my hands free from injury. Some of my favorite gardening tools are quite sharp, so the gloves I wear in warm weather need to be sturdy enough to protect my hands. Although we no longer have hybrid tea roses, we do grow deer-resistant old garden roses, which are quite thorny. If you have a lot of roses to take care of, you might want to consider some long-sleeved, puncture-resistant gloves. For digging, these gloves with claws are an excellent choice. Isn't that what every gardener needs?
What is the Best Gardening Hat for Sunny Weather?
When people garden in the warmer months, they might ask themselves, "Should I wear a hat in the sun?" A hat can provide excellent sun protection for your face and neck. One nice thing about summer gardening hats is that you don't have to worry as much about the waterproof factor, so you have a wider variety of materials to choose from. I do offer sun hats in my little Etsy hat shop, but they are one of a kind, so I can't guarantee what will be in stock. A cute sun hat is a practical and stylish gardening accessory. A sun visor is a good option if you want sun-streaked highlights in your hair.
Other Useful Gardening Accessories
Should you wear a mask when gardening? Some people might feel the need to if they have severe allergies. An anti-dust face mask can be very useful when mowing. Another wearable garden accessory is a gardening tool belt. When would be a good time to wear a gardening tool belt? If you are pruning or deadheading and need to carry around a pair of Felco garden pruners (my favorite gardening tool of all time), that would be a fine time to wear a gardening tool belt. If you feel a tool belt would be in the way, maybe a holster would be the way to go.
I have tried carrying a pruner around in a pocket and I can tell you from experience that is not a good idea. If you are asking yourself, "What is the best gift for a gardener?" these accessories would make excellent choices.
More Great Gardening Ideas
Looking for more garden gifts? I've got you covered. Check out this list of best watering wands. Need some extra cushioning when kneeling to weed? Check out this list of best garden kneelers for comfort and support. Know a gardener who seems to have everything? A beginning gardener? Here's a list of creative gardening gifts for all of the gardeners you know. Keep the lists handy for Mother's Day, Father's Day, birthdays, and any other special days.
What Do You Like to Wear for Gardening?
Have you gotten any new ideas today? If you have some favorite gardening attire, I'd enjoy knowing what works well for you. Was this information useful? If so, please consider subscribing to the Fluxing Well blog. You will gain exclusive access to a library of over 40 free resources, including this 14-page printable garden planner. This year, I've done a better job of writing down monthly gardening tasks and notes in mine so I stay on top of things.
I hope you now feel better-equipped to conquer gardening tasks no matter what the weather holds. May all of your gardening endeavors meet with success!