Welcome to the Garden section of the FluxingWell site. Here you will find gardening encouragement to try new things. It might be a craft, a gardening idea, a book, or a money-saving tip. If you are looking for gardening ideas and encouragement, you are in the right place. To see the gardening posts, just type the word "Gardening" in the search bar.
Get Inspired to Complete a Garden Planting Task
Gardening can lift the soul. If you are looking for some garden inspiration, check out the gardening ideas offered here. Whether you are into growing flowers, herbs, or vegetables, you will find DIY projects and tips. The featured plants are easy-care and low-maintenance. They are perfect for everyone from the novice to the master gardener. Just type "Gardening" in the Search bar to see what awaits you! Topics include:
Easy Garden Maintenance
Try a New Garden DIY Project or Craft
Host a Garden-Themed Party
Read Something New In the Garden
Looking for your next great read? Find a cozy spot in the garden and read something new. Find some books to add to your To Be Read pile by checking out the recommendations on this site. Whether you are looking for a book to read for pleasure, or hoping to find a great book to read aloud to a child, this is the place! To see the posts about books, just select the word "Books" in the Search bar. Posts include:
Encouragement to Be Positive, Organized, and Productive in the Garden and in Other Areas
Find Fabulous Garden Freebies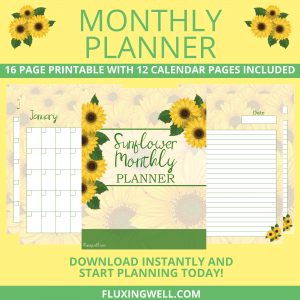 Free printables are offered throughout the website, especially on the Resources page. To get insider access to eBooks, video tutorials, checklists, and templates, consider subscribing. Along with your access to the free resources, you will receive weekly updates with the latest website content. Check out my latest blog post to see what I've written about most recently. I hope this visit to the Fluxing Well site has been an encouragement to you. Be encouraged, get inspired!