I've written this before: The absolute best place to obtain excellent recipes is at family gatherings. This easy cake in a mug recipe was shared with me this past summer by one of my aunts, who had learned it from another one of my aunts. I love my family! They always give me terrific ideas. If you are looking for a quick, warm treat, you are in the right place. This easy cake in a mug recipe is for you!
***Disclaimer: This post contains affiliate links, which means as an Amazon Associate I earn from qualifying purchases at no additional cost to you.*** Already know what you'd like to get from Amazon? Here's a handy way to get to the website, linked to one of my favorite recipe books. Just click on the link, then browse around and do your shopping.
In Praise of Cake Mixes for Easy Cake Recipes
Before proceeding to the recipe, I would like to put in a good word for cake mixes. They are versatile, inexpensive, and many amazing things may be made from them. They are not just for making cake. One of my favorite recipe books gives some incredible ideas about baking with cake mixes. If you feel like trying some delicious cake mix experiments, this book is for you!
This Easy Cake in a Mug Recipe is Truly Short and Simple
One problem with sharing easy recipes is that the recipes are often quite short. I know it's annoying when you click on a recipe post and have to scroll through endless paragraphs of text before getting to the actual recipe. I'm going to spare you that annoyance. This recipe is very simple. The recipe requires few ingredients, and the directions are as easy as 1-2-3. You just have to count backwards, 3-2-1, to remember the ingredients and directions. Here are both, courtesy of two of my dear aunts.
3-2-1 Easy Cake In a Mug Recipe Ingredients
1 box angel food cake mix
1 box any other flavor cake mix
2 tablespoons water
Whipped cream, ice cream or berries for topping
Isn't that a super short list? This will be a very quick read!
3-2-1 Easy Cake In a Mug Recipe Directions
Mix the two boxes of cake mix together. I felt like chocolate, so I used a Devil's Food cake mix. (Kind of ironic: Angel Food and Devil's Food together. Silly, I know!) You may combine the mixes in a large bowl or a large zippered storage bag. If you combine the cake mixes in a bowl, store the combination in a sealed container.
This is where the 3-2-1 comes from. In a mug or small, round dessert dish, mix 3 tablespoons of cake mix with 2 tablespoons of water.
Bake in the microwave for 1 minute.
Top your delicious cake in a mug with whipped cream, ice cream, or berries. You may top your easy cake in a mug with whipped cream and berries, or ice cream and berries. Other creative toppings for this easy cake in a mug recipe (hot fudge might be nice) may be added as well. The choice is yours! I topped mine with raspberries from the freezer and hot fudge. If you have some homemade raspberry syrup on hand, that might be even better. Delicious!
Other Easy Microwave in a Mug Recipes
Ideally, because this recipe is so simple and short, I'd like to collect other easy recipes in a mug to share. I'll have to hunt around and put together a round-up post. How about you? Do you have any favorite recipes in a mug to share? I'd sure enjoy knowing about them. If they are as easy as this recipe, I will love them for sure!
If you like what you've read today, please consider subscribing and becoming part of the Fluxing Well community. You will receive fresh ideas every week, plus access to a library of free printable resources, including this cookbook filled with 25 of the best easy recipes from the FluxingWell site.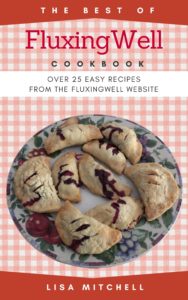 Thanks for taking the time to read through this very brief easy cake in a mug recipe. Now that the weather (at least where I live) is getting chillier, a warm treat would be very comforting and cozy. If you like what you've read today, and would like some free recipe cards to keep track of all of your recipes,please consider subscribing. Have fun making and eating your very own easy cake in a mug!