I looked in my big freezer in the garage the other day, and was shocked to see all of the zipped plastic bags of shredded zucchini still piled on the top shelf. Oh no! I had forgotten I had so many bags of shredded zucchini. During the summer, I had tried to be so diligent. I responsibly shredded the zucchini in my food processor for future use so that nothing went to waste. I even wrote a blog post about using extra zucchini. I'd better follow through with the rest of the Zucchini Master Plan by making easy zucchini bread.
The Rest of the Zucchini Master Plan
The Zucchini Master Plan involves using as much zucchini as possible while expending minimal effort. The best way to do that, I've discovered, is to make easy zucchini bread. The tough part, shredding the zucchini, had already been accomplished back in the summer with the food processor. I just needed to take a gallon-sized bag of zucchini shreds out of the freezer, thaw, drain,  then add to other ingredients.
The zucchini recipe I use is based on a recipe I found in The Oregonian's Food Day section years ago. I tweaked it by adding chocolate chips and I also changed the name. It was originally just called Zucchini Bread III. Of all of the zucchini bread options, I chose to use this one because it calls for more zucchini than other recipes I've seen. Very important! I have now renamed it Easy Chocolate Chip Zucchini Bread. It's more popular with my family if I place the emphasis on the chocolate chips rather than the zucchini.
Chocolate Chips Make Everything Better
I got the idea for using chocolate chips in this recipe from my Aunt/Cousin Barbara. If you wonder why she is called my Aunt/Cousin, please read my post about untangling the branches of the family tree. Anyway, Aunt/Cousin Barbara puts chocolate chips in banana bread. Genius! I just took it one step further and added chocolate chips to zucchini bread instead of the nuts the original recipe called for. What an amazing difference! My kids would not touch regular zucchini bread, but with the magical addition of chocolate chips, suddenly the bread was transformed into something they looked forward to eating. Easy Chocolate Chip Zucchini Bread was born.
Ingredients for Easy Chocolate Chip Zucchini Bread:
3 cups grated zucchini
3 eggs
1 cup vegetable oil
2 cups firmly packed brown sugar
1 tablespoon vanilla
4 cups all-purpose flour
1 teaspoon salt
1 teaspoon baking soda
1/2 teaspoon baking powder
2 teaspoons ground cinnamon
1/2 teaspoon ground nutmeg
1/4 teaspoon ground cloves
1 cup chocolate chips
Directions:
Preheat oven to 350 degrees. Grease two 9-by-5-inch loaf pans. Place frozen zucchini shreds in a colander in the sink, wrapped in several layers of paper towels. Press out the moisture in the zucchini and set aside.
Beat eggs in a large mixing bowl. Add oil and brown sugar; beat well. Stir in vanilla and zucchini.
Combine flour, salt, baking soda, baking powder, cinnamon, nutmeg and cloves. Add to zucchini mixture and beat well. Stir in chocolate chips.
Pour into prepared pans and bake about 1 hour or until toothpick inserted in center comes out clean.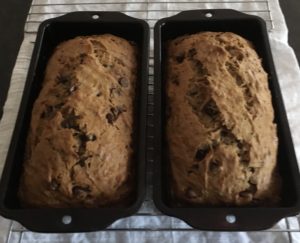 What About You?
My maternal grandmother used to sprinkle chocolate chips over our vanilla ice cream in our cones to make the ice cream seem special. I can still picture the huge plastic bucket of vanilla ice cream sitting on the counter of the kitchen in their house in Vancouver, B.C. Somehow, I grew out of the habit of putting chocolate chips on my ice cream cones. Maybe I should take up the habit again.
What do you like to top with chocolate chips? What do you like to mix chocolate chips with? Is there anything in your life that you have improved with the addition of chocolate chips? I'd enjoy reading your thoughts and ideas.
If you like what you've read today, and would enjoy some free printable recipe cards to keep track of your awesome recipes, please consider subscribing. Have a wonderful week, and may you enjoy improving the world with the addition of chocolate chips to many things!