Banana bread with chocolate chips and raspberries is a great way to use overripe bananas. Around my house, the optimum banana-ripeness window is very narrow. I usually purchase the greenest ones I can find, but sometimes they get left out on the counter for too long.
No one will eat them once they ripen past a certain point.
That's why I'm so thankful for a trusty banana bread recipe that was handed down to me from my dad. As a college student in southern California, he worked for a catering company. Apparently, their banana nut bread was quite popular. In my family, we usually omit the nuts and I have added in a few extra goodies to increase the appeal. Thus, the super moist Chocolate Chip Raspberry Banana Bread was born. Here you go, Fluxing Well family, my favorite easy banana bread recipe!
***Disclaimer: This post contains affiliate links, which means as an Amazon Associate I earn from qualifying purchases at no additional cost to you.*** Already know what you'd like to get from Amazon? Here's a handy way to get to the website, linked to one of my favorite easy recipe books. Just click on the link, then browse around and do your shopping.
Ingredients:
1/2 cup shortening (I use Butter Flavor Crisco)
1 cup sugar
2 eggs (well beaten)
3 large ripe bananas
2 cups flour
1 teaspoon baking soda
Pinch of salt
1 teaspoon cinnamon
1/2 cup chocolate chips
1/2 cup dried raspberries
Directions
Preheat oven to 350 degrees. Grease two loaf pans. Mash the bananas and set aside. In a stand mixer, cream the shortening with the sugar. I don't know what I'd do without my hefty, trusty KitchenAid Stand Mixer!
Add the beaten eggs and mashed bananas. Mix and set aside. In a separate bowl, add the flour, baking soda, salt, and cinnamon. Stir to combine. (Some people might prefer to use a sifter, if they have one, but I don't have one.) Add the dry ingredients to the mashed banana mixture and stir. Fold in the chocolate chips and dried raspberries. Pour into greased loaf pans and bake for about 45 minutes or until a toothpick comes out clean.
A Note About the Dried Raspberries in Easy Banana Bread
The reason I have dried raspberries on hand is because we have some raspberry bushes in our garden. They produce a good crop nearly every year, and in past years I tried to freeze all of the extra berries. However, my freezer space is limited. I used to stress out about this, because I didn't want any of our berry crop to be wasted. I even wrote a blog post about avoiding berry buildup in the freezer. Then something amazing happened. I was given a wonderful Nesco Gardenmaster Food Dehydrator, and my freezer space problem was solved!
I still freeze berries, but now that I dry some of them before I freeze them, I can fit many more berries into my freezer. Hooray! I also dry a lot of other items from our garden. Some of my dehydrating experiments have been more popular than others. I wrote about the best ones in another blog post, in case you're interested.
What About Using Frozen Berries?
Certainly, frozen berries may be used. I'm always trying to find ways to use frozen berries. Just bear in mind that frozen berries, especially frozen raspberries, are a bit messy to work with at times. Frozen berries would be a delicious addition to this recipe, though.
Variations
Easy Banana Bread is very versatile. Since we also grow blueberries, I've often thought of making blueberry banana bread with dried blueberries. I've also wondered about using white chocolate chips with the raspberries, since I like to eat white chocolate raspberry scones. There are many possibilities!
What Are Your Favorite Mix-Ins?
Thanks for taking the time to read through this recipe post. I hope you get the chance to try making Easy Banana Bread sometime, with or without my added mix-ins. What do you like to mix into your favorite recipes? I sometimes like to mix in (sneakily) extra vegetables with certain casseroles or soups, which I wrote about in my sneaky vegetable blog post. I'd love to know about any favorite mix-ins you like to add.
If you decide to try this recipe, I'd love to know how it turns out. If you like what you've read today, please consider subscribing and becoming part of the Fluxing Well tribe. You will receive fresh ideas every week, plus access to a library of free printable resources, including a free cookbook filled with the best easy recipes from the Fluxing Well website.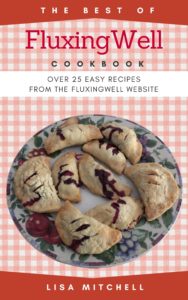 Have fun experimenting with optional ingredients and trying new combinations!
Related Posts: