As I sit outside in my "office" on the back deck this tranquil afternoon, I can hear the bees buzzing, the birds chirping from the nearby grape arbor, and the steady hum of my trusty food dehydrator in the background. It makes me feel very productive, preparing food to store for future use while I type away at my laptop keyboard.
***Disclaimer: This post contains affiliate links, which means as an Amazon Associate I earn from qualifying purchases at no additional cost to you.***
I consider myself to be a novice food dehydrator, because this is just my third season of having my dehydrator humming away. I've tried many experiments, with both fruits and vegetables, with varying degrees of success. To save you some time, I'll share with you the best experimental results, as well as a few of the worst.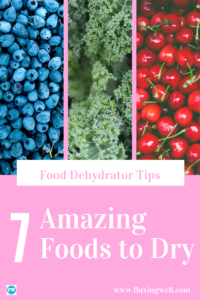 How It All Began
I first became interested in food dehydration when my metabolism started to slow down a few years ago (see related slowing metabolism blog post), and I needed to find some healthy snack alternatives. I have an extreme weakness for savory snacks, so when I read about making beef jerky using a food dehydrator, I asked for one for my birthday. The model I have, the NESCO American Harvest Gardenmaster, is not the top of the line, but is very easy-to-operate and sufficient for my home-garden purposes. This model has a food temperature guide for each type of food printed on the top cover, so I don't need to constantly refer to the user's manual.
Since I initially wanted to use the food dehydrator for making jerky, that's the first item I made. It turned out well, despite the messy preparation. To save you time, here are the seven items I would recommend to the novice.
Recommended for the Food Dehydrator
Jerky–The most difficult part was slicing the meat thinly. You will need to purchase a jerky cure and seasoning kit. I used Hi Mountain Seasonings. Just follow the directions included and delicious homemade jerky will be yours.
Cherries–This was recently brought to my attention by a friend, and it happened the week that cherries were on sale at the grocery store. Just pit the cherries (I use a cherry pitter that pits six cherries at a time.), slice in half, place cherries sliced-side-up on the trays, and sit back to relax.
Blueberries–As referenced in another blog post about berries, I have a hard time keeping up with my berry harvest. The food dehydrator dries the berries so they don't take up as much room in the freezer, and the dried blueberries taste similar to raisins. Some of my baking recipes call for dried fruit, so these dried berries are perfect.
Raspberries–For the same reasons listed above about blueberries, raspberries are a great fruit to dry. They dry faster than blueberries, and are much less messy to bake with than fresh or frozen.
Strawberries–After slicing, just arrange on the food dehydrator trays and let the dehydrator do the rest. These are great on top of cereal or in scones.
Pineapple–Dried pineapple chunks are so sweet, they taste like candy.
Kale–Many people make kale chips, and there are a variety of recipes for seasonings out there. Here's a recipe you might want to try. I liked the dried kale, but I had to be careful not to over-season. Flavors are concentrated, whether sweet or salty, when food is dried.
Remember when I stated earlier in the article that I have a weakness for savory snacks? In my quest for savory, lower calorie, crunchy snacks, I have tried some, well, interesting food items. These I do not recommend, but you might stumble upon a winning variation, so feel free to experiment.
A Little Weird and Not Recommended, but Yours Might Turn Out Better Than Mine
Dill pickles–I love the crunch and the flavor, so why not slice them, dry them and have pickle chips? Well, mine were far too salty when they were dried. You might have success with lightly seasoned cucumbers, though.
Zucchini–I sliced the zucchini thinly with my Cuisinart food processor and seasoned with a packet of ramen noodle seasoning. They were okay. I never was able to get them to be very crispy, but if you are desperately hungry for a savory snack, you might like them.
Radishes–I do not like to eat raw radishes, since I am a spicy-food-wimp, so I was pleasantly surprised when the drying process seemed to mute the spiciness. The radish slices also puffed up a bit in the dehydrator, which gave them a fun texture, but no crunchiness. This is another item I would eat only if I were desperately hungry for a savory, low-calorie snack.
One More Important Note
After drying, it's best to keep your dried meat or produce in the freezer. I keep mine zipped in plastic bags for ease of stacking and organizing. The National Center for Home Food Preservation has a helpful page about packaging and storing dried foods.
How about you?
So, my quest for a low-calorie, healthy, savory, crunchy snack continues. Do you have any ideas for me? If so, I'd love to know about them. I will be forever grateful. Are you hungry now for a savory snack? So am I.
Thanks for reading about my adventures in food dehydrating. If you like what you've read today, and would enjoy some free printable recipe cards to keep track of your amazing food dehydrator experiments, please consider subscribing. Have a wonderful week, and may you have success in all of your food dehydrating endeavors!