Get essential tips about places to visit, things to do, where to eat, and places to stay near Wallowa Lake and the surrounding valley. Use this as your guide to plan your trip to this amazing destination. I've lived in Oregon for over 35 years, and was so impressed by stunning Wallowa Lake. What an amazing Oregon travel experience! Here's what to do at Wallowa Lake if you ever travel to this beautiful location.
How to Get to Wallowa Lake
Where is Wallowa Lake, Oregon? Here's how we got there. Wallowa Lake is about 335 miles from Portland, Oregon, which is near where we live. As we began our journey to the northeast region of the state, we traveled our usual route of Interstate 84. After filling up the gas tank near Pendleton, we departed from our usual route. Adventure and gorgeous views awaited as we traveled northeast on Highway 11, then exited onto Highway 204 to travel east.
To help you navigate the Wallowa Lake area, here's a map.
A Road Trip Essential
Wallowa Lake is a little off the beaten path, which is a good thing. That also means it takes us a while to get there. One of our favorite things to do on a road trip is listen to audiobooks or podcasts. Not sure where to find good listening material? You can get a free 30-day trial of Audible and choose from thousands of audiobooks and podcasts. Perfect for a road trip!
On the Way to Wallowa Lake
One of the things I love about Oregon travel is passing through quaint towns. The ski town of Tollgate and nearby Langdon Lake offered a taste of the scenery yet to come. There is a nice parking area to stop and take a break if you need it.
Visit Elgin and See the Historic Opera House
For years, I had heard about the town of Elgin from a teaching colleague of my husband's by the name of Ed. Ed's dream was to retire and return to Elgin, Oregon, his boyhood home. His dream came true, and as we passed through Elgin, it was easy to see the appeal. Called the "Jewel of the Blue Mountains" on the city website, there is even a historic opera house in this town of approximately 1,500 residents.
Check out Minam State Park: A Hotspot for Rafters and a Semi-Quiet Campground
We had fun on our quest for a campground in which to spend the night. As we approached the Wallowa River, we noticed a sign for a campground 2 miles off of the highway. Passing by a parking lot full of vehicles and rafts, we made our way up the narrow road to what we thought would be a hidden gem of a location. As we arrived, we noticed few other campers. We thought we were in for a quiet night with the rippling sounds of the river to lull us to sleep.
We were wrong. The campground was scenic, but it wasn't quiet for long. Apparently, many rafters were also aware of the campground and joined us around dinnertime. Everyone seemed excited to be there, and they were ready to have a good time.
As we drove away the next morning, we reflected on this particular Oregon travel experience. Sometimes places which you think are off the beaten path really aren't. Minam State Park is one of those places. It's beautiful, but busy, especially in the summer.
Experience Lostine and the Blue Banana Coffee Shop
If you are traveling and you see a building with half of a VW Bug sticking out of the wall, you just have to stop, right? I later noticed the tail section of a small plane sticking out of the roof. What kind of place would have such a thing? The Blue Banana Coffee Shop in the small town of Lostine would. If your Oregon travel route takes you through Lostine on Highway 82, a stop at the coffee shop is a must. They have great coffee, and the local residents are friendly. We had a memorable visit.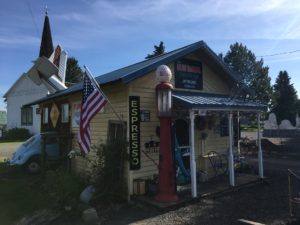 Travel Down the Lostine River Corridor to Trailheads and Campgrounds
While in Lostine we ventured south along the Lostine River to see some campground possibilities for future trips. The campgrounds were all located along the river. It's great to get ideas for future getaways!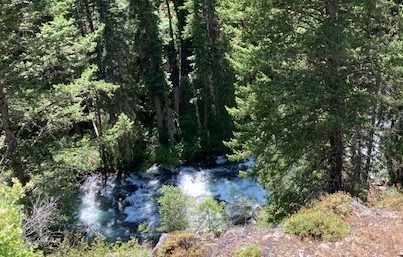 On to Enterprise and Heavenly's
Driving near the Wallowa River, still on Highway 82, we made our way to the town of Enterprise, population approximately 2,000. Enterprise has a Safeway, a hospital, and is the county seat of Wallowa County. My husband was in the mood for a bison burger, and Heavenly's restaurant advertised bison burgers on their sign. The restaurant was happy to accommodate my husband's request to make the standard double cheeseburger with buffalo meat. I had the Honolulu chicken sandwich, and it was delicious. Heavenly's wins the award for the best French fries I've ever had. I think they are deep-fried in some kind of batter. They were amazingly scrumptious!
Enjoy Spectacular Sunset Views
In Enterprise, we stayed at the Log House RV Park. The manager, Todd, did everything he could to make sure our stay was enjoyable. The bathrooms were clean and there were portable fire pits to borrow if we had wanted one. The most spectacular part of our stay was the magnificent sunset view. If you visit this RV park on your way to Wallowa Lake, take the time to climb up onto the berm on the west end of the camp in the evening. The view of the valley is amazing against the backdrop of the Wallowas.
There are other RV parks in the area, including the Wallowa Lake State Park. Make reservations early! They fill up fast.
Take a Trip to Flora and Troy
The RV park was located right on Highway 3, which led us up to the ghost town of Flora. Flora, Oregon is located about 36 miles north of Enterprise. You can still see the old school and church, as well as some of the other town businesses. When we visited, we saw no other people, but there were some cows around, enjoying the peaceful morning.
We continued along the gravel road, twisting and winding around through beautiful farmland. Can you spot the rare round barn in the picture below?
We finally crossed the Grande Ronde River and came to Troy, Oregon. Troy is about 12 miles from Flora, and is a favorite spot for fishing. Rafters enjoy Troy as well. There is no store, but there is a restaurant and a laundromat, as well as cabins to rent and a small campground.
Find the Pathway to Promise
From Troy, we took a gravel road south which eventually intersected with another gravel road leading to the ghost town of Promise. We turned south toward the town of Wallowa, but if we would have turned north and driven a few miles, we might have seen the ghost town of Promise, its Grange Hall and cemetery. According to the locals, the Promise Grange Hall hosts a reunion every year for past residents.
Ride a Bike or Ride the Rails Between Enterprise and Joseph
If you brought your bike, you can ride from Enterprise to Joseph on the new bike lane on Hurricane Creek Rd. No bike? No worries! You can book a tour with the Joseph Branch of the Railriders and pedal along the old railroad tracks.
Joseph: A Town With History, Atmosphere and Delicious Gravy
Having left our campground so early that morning, we were ready to eat a hearty mid-morning meal. The Cheyenne Cafe had just what we were looking for. The breakfast portions were generous and the prices were reasonable. Even more important, the gravy was delicious. I am a big fan of good gravy, so I ordered the single biscuit with hash browns, smothered in gravy. It was scrumptious. I would return there in a second, just for the gravy.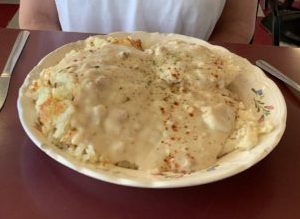 Visit the County Museum
The town of Joseph was named after the famous Chief Joseph of the Nez Perce tribe. Each year, the location hosts many events, including Chief Joseph Days during the last week in July. The Wallowa County Museum is housed in Joseph's historic bank building and contains many interesting artifacts.
Remembering Old Chief Joseph
South of Joseph, on the highway to Wallowa Lake, visitors may travel along a portion of the Nez Perce National Historic Trail. Further south along the highway lies a cemetery containing the gravesite of Old Chief Joseph. According to the National Parks Website, Old Chief Joseph was the father of the famous Chief Joseph who led the Nez Perce in an effort to flee to Canada. That Chief Joseph is buried on the Colville Reservation in the state of Washington. Both the historic trail and the cemetery are wheelchair accessible.
Amazing Wallowa Lake
Finally, we reached Wallowa Lake. Beautiful Wallowa Lake lies nestled in between majestic mountains, where Highway 82 skirts the east side of the lake, then ends. Wallowa Lake has many lodging options. My parents and sister had reserved a cute cabin through Wallowa Lake Resort. A dear aunt and two very fun uncles were staying in the area as well. My husband and I had a spot waiting for us in the campground at Wallowa State Park. We were eager to begin our visit.
The campground is next to the marina, and activity options abound. Paddle boats, kayaks and fishing boats are available for rent. Can you swim in Wallowa Lake? Yes. There are hiking trails, ranger talks, a swimming area and a playground. The little village offers gift shops, restaurants, a general store, mini-golf, go-karts, horseback riding, a "haunted" old deserted hotel and a marvelous tram ride to the top of Mt. Howard.
The Wallowa Lake Tramway: An Unforgettable Experience
When is the best time to visit Wallowa Lake? Although there is skiing in the area in the winter, the summer months definitely offer a wider variety of activities. One highlight of our visit was our Wallowa Lake Tramway adventure. The tramway is open from select weekends in May, then the months of June through the first week in October. The ride took about 15 minutes as we ascended approximately 3,700 feet to the mountain top. A restaurant, restrooms, and hiking trails awaited us. When we visited, a few of the trails were still covered in snow, so accessibility was limited for those in our group who were mobility-challenged. My dad had me take his camera up to the highest viewpoint. His camera is much better than mine.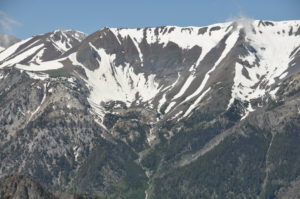 Once out into the open, the trails were clear. The photos don't do justice to the incredible views, but we tried to capture it. We were surrounded by beauty on all sides.
My sister also got some good shots of the surrounding scenery from the trail by the restaurant, The Summit Grill. A few of us enjoyed delicious blackberry cobbler while taking in the breathtaking sights. What a fun family expedition!
Take A Day Trip to Imnaha and the Hat Point Overlook
If you go through Joseph and travel east on Road 350, then go left and continue northeast on 350, you will come to the little town of Imnaha. Imnaha, Oregon is the site of the cutest little post office I've ever seen, and I'm not sure why I didn't take a picture. I might have been too excited about driving up the Forest Service Road 4240 to the Hat Point Overlook. From the overlook, there is a spectacular view of Hells Canyon, or so I've heard. We didn't make it all the way up there in our truck. We realized it was going to take too much time to cautiously journey the remaining 18 miles of gravel, so we stopped at the Five Mile Viewpoint. While we were taking photos, a minivan confidently scooted right on by and tackled the road with confidence. We still turned around, but if you plan to go the whole distance, plan on at least an hour of travel one way. Here's the view from the Five Mile Viewpoint, looking out over the Imnaha River Valley.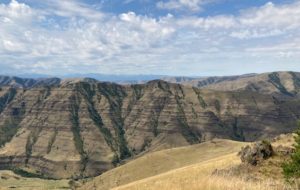 Take Wallowa Mountain Road to the Paved Hells Canyon Overlook
Returning to Imnaha, we were still determined to get a glimpse of Hell's Canyon, so we traveled south on gravel Road 3955 along the Imnaha River. Reaching the turn to the overlook, we discovered some nice campgrounds for possible future use. The Ollokot and Blackhorse campgrounds are located right along the Imnaha River.
We were relieved to find the road to the Hells Canyon Overlook was paved. The journey to the overlook was much smoother than our attempt to reach Hat Point. Once there, we could see for miles, but we could not see the Snake River at the bottom of the canyon. It's in one of the valleys in this photo.
Drive Through Zumwalt Prairie to the Buckhorn Overlook
Another popular overlook is the Buckhorn Overlook. To get there from Enterprise or Joseph, you'll have to turn off or highway 82 about halfway between the two towns. Travel east along Crow Creek Road for about 5 miles, then stay to the right and get onto Zumwalt Road. Drive along the road, through the Zumwalt Prairie for about 34 miles until you reach the Buckhorn Overlook.
Time for Some Shopping
Our last full day in the Wallowa Lake. Joseph, Enterprise area we decided to do some shopping. We wanted to visit some of the standout local businesses. We enjoyed perusing the wares in the Joseph Hardware Store, which was voted Best Hardware Store in Oregon in 2017. B Bright Vintage caught our attention, and I purchased this cute vintage hat at a very reasonable price.
Other noteworthy shops in Joseph were Mad Mary's and the Sports Corral. Working our way to Enterprise, my husband visited another hardware store while I branched off and stopped by The Bookloft. I scored a used hardback copy of a Diary of a Wimpy Kid book (I can never keep those on the shelves at school. They are always checked out.) In addition to books, the Bookloft offers a coffee area and a jewelry display case with lovely items like this one, below. This lovely pendant features a real Queen Anne's Lace blossom pressed inside two clear stones, embellished with handpainted details.
My final shopping stop was the Favorite Finds on Main antique shop. I was very pleased to find another vintage hat and a vintage hatbox. No problem fitting it in the camper, right? Here's what it looked like after I got it home, uncrushed and intact, thanks to the hatbox.
We were tempted to return to Cloud 9 Bakery, where we had some delicious doughnuts and cookies a few days earlier, but it was too close to dinner time!
Grab a Burger and Have a Picnic by Wallowa Lake
Many of our favorite finds on our trip to Wallowa Lake were made due to the kind advice of local residents. One of the best pieces of information we received was to get burgers from the R & R Drive-In and take them down to Wallowa Lake. That's just what we did. We found a vacant picnic table (which wasn't hard, because the crowds had departed) and enjoyed the burgers as well as the stunning view. It was so peaceful.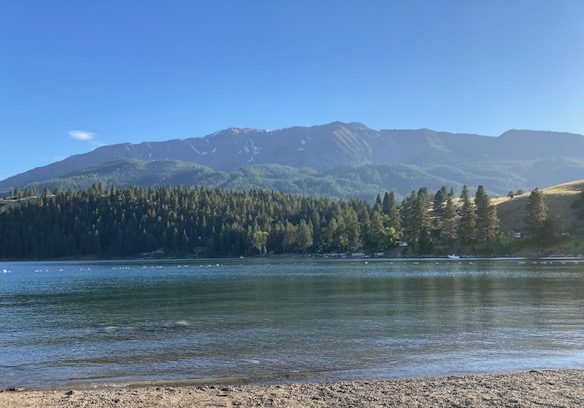 What Are Your Favorite Travel Destinations?
I'd love to know about your favorite places to visit. What should I see if I ever travel to your area? Please let me know! If you like what you've read today, you might also like reading about scenic Newport on the Oregon coast or my visit to the historic and iconic Timberline Lodge. For some simple travel wardrobe ideas, you can check out my post listing Wardrobe Essentials for the Savvy Traveler. Here are some other posts you might enjoy:
The Essential Handbag
When traveling in cities, train stations, bus stations, airports, or wherever there are crowds, a secure handbag that will confound would-be thieves is a must. My favorite travel handbag has been with me inside Buckingham Palace, the Vatican, the Louvre, and Wallowa Lake. It's the Travelon Anti-Theft Cross-Body Bucket Bag, and I have witnessed firsthand its effectiveness.
When traveling to Wallowa Lake, I wasn't as worried about theft. I did appreciate the roomy side pockets for water bottles. This amazing handbag has traveled to more places than I have, as it has been borrowed. My mom has the same handbag in brown, and her bag was put to the test while traveling on the Paris Metro, where she thwarted some would-be thieves.
Did the pickpockets give up because of the security features such as the locking zippers or the slash-resistant cable inside the shoulder strap? Theft happens, and the Travelon bag is the best way I know to be prepared. The main compartment is roomy (I fit an iPad in it) and the side mesh pockets are perfect for an umbrella or, as previously noted, a water bottle or two. A small compartment has RFID-blocking organization spots for credit cards and a passport. I could go on and on. It's a phenomenal bag, and I hope to take many more trips with it.
Other Travel Essentials
Keep track of all of your belongings (even your kids) with Apple air tags. These handy devices come with a battery and are even water-resistant. Just use a simple one-step process to connect the tag to your iPhone or iPad, then use the Find My app to locate your item. Get a 4-pack and use for tracking luggage, pets, and more.
Whether you are camping or staying in a hotel, be safe with a portable carbon monoxide detector. This one has an AC-adaptor with battery backup. It's only 2.75 by 1.5 by 4.5 inches, and could save your life.
Streamline Your Packing Strategy
Do you want to avoid overpacking on your next trip? Never check a bag again when you use this Capsule Wardrobe Packing List.
It's digital, customizable, printable, and FREE to subscribers of the Fluxing Well site.
The Unforgettable Wallowa Valley
This Oregon travel experience is one I will never forget. Why did I wait so long to visit this amazing area of my state? If you ever find yourself in the Wallowa Valley or at beautiful Wallowa Lake, you now have some ideas about sights to see. Wherever your adventures take you, I hope you make wonderful memories. Thanks for joining me on a virtual visit and exploring fun things to do on a visit to Wallowa Lake, Oregon and the surrounding area. May you have many happy travel experiences!