Do you long to get more organized? Learn how to get organized efficiently, get results quickly, and feel good about your organizational skills with these simple tips for different areas of your life. Maybe you have been asking yourself these questions: How can I improve my planning and organizing? How can I get organized at home? How can a disorganized person become organized? How do I teach myself to be organized? How can I get organized quickly? How can I improve my organizational skills? If any of these questions apply to you, you're in the right place. As a teacher, librarian, mom, wife, and daughter, I have learned to organize, repair or discard things quickly. Read on for easy organizing hacks and genius tips for being organized at home, at work, in the garden, with event planning, and more.
How to Make This Article Work for You
In a hurry? Skip on down to the Quick Results in each section. There you will find some fast and easy ideas to help you get started with the organizing process. Need more inspiration and have more time? Read the backstories behind each organization hack to help you get motivated.
***Disclaimer: This post contains affiliate links, which means as an Amazon Associate I earn from qualifying purchases at no additional cost to you.*** Already know what you'd like to get from Amazon? Here's a handy way to get to the website, linked to one of my favorite books about an organized way to make decisions. Just click on the link, then browse around and do your shopping.
The Important First Step: Overcoming Procrastination
If you are really serious about getting organized, you first need to get motivated to start the process. How do you overcome procrastination? Check out these simple tips.
A Champion Procrastinator's Story
I once saw a t-shirt that read "PROCRASTINATORS UNITE (Tomorrow)", and that is exactly how I was feeling about a particular task I put off. I was practicing procrastination. The task I needed to do was not huge, but I think I was dreading it because I feared I wouldn't be very good at it and I was afraid it wouldn't turn out well. What was the task? It was refinishing a garden bench.
Identify the "Why?"
Why was I so afraid of it turning out poorly? Why did it matter so much? Was I afraid because it was an unfamiliar situation, something I'd never done before? I can only conclude that I was worried because it was a special bench which stood in my parents' backyard for years, and when it became mine, I didn't want to ruin it. So here we have the first important step to overcome procrastination: Identify the reason.
Employ a Decision-Making Strategy
Now that you have named your problem, if the problem is related to the fear of doing something wrong, it's time to employ a decision-making strategy I read about years ago in a book by the renowned neurosurgeon, Dr. Ben Carson, called Take the Risk. In this book, Dr. Carson outlines the process he uses when faced with difficult, often life-or-death, decisions. He asks himself four questions: 1) What is the worst possible outcome if I do this? 2) What is the best possible outcome if I do this? 3) What is the worst possible outcome if I don't do this? 4) What is the best possible outcome if I don't do this? Here we have the second important step to overcome procrastination: Employ a Decision-Making Strategy.
In my case, refinishing the bench, the worst that could have happened was that the bench would look crummy and I would have had to sand it again then refinish again. The best that could have happened was that the bench would look much better than the faded state it was in. Also, I had to remind myself, and maybe this will help you too, Dr. Carson used this method to make decisions about a patient's LIFE, while I was making a decision about a BENCH. Hmmm…
Find a Trusted Resource You Can Rely on and Seek Wisdom About How to Proceed
I always need to have a plan, and to establish my plan for this task, I executed a simple internet search to find an article by Glenda Taylor in the Home Guides section of the online version of the San Francisco Chronicle titled "How to Refinish Teakwood". Her simple, step-by-step directions gave me the courage to embark upon the first step of the process, which was cleaning the wood. So, that's done now. I'm just waiting for the perfect day to perform the sanding outside. Am I procrastinating again? Are you procrastinating right now by reading this blog article? If you would like to extend your procrastination, you might enjoy watching this 14-minute TED Talk by Tim Urban called "Inside the Mind of a Master Procrastinator".
Did you locate an expert resource for the task you are trying to accomplish? If you did, you completed the third step in overcoming procrastination. You located a trusted resource for guidance.
Quick Results: Overcoming Procrastination
Here are the three quick tips to remember about conquering procrastination:
Identify your "Why?" Think about why you are procrastinating with a certain task. Ask yourself probing questions. When you identify why you are putting off completion, you will be able to address the issue.
Employ a decision-making strategy. Whether you use the Dr. Ben Carson method or another approach to making decisions, formulate a plan based upon the decisions you make.
Locate a trusted resource for guidance. Whether it means watching a video, reading a book, or talking to an expert, find someone with experience in completing the task. Follow their guidance, ask their advice.
What Did You Think?
Thanks to these tips about overcoming procrastination, I did finish the bench. It turned out well. Did you find these tips helpful? I hope all of your endeavors to overcome procrastination meet with success! Now that you have tackled this first important step, let's move on to the actual organizing strategies.
Genius Tips for Organizing, Decluttering or Downsizing Your Home
How do I downsize my belongings? Should I clean or declutter first? What is the meaning of decluttering? According to all of the online dictionary sites, it's basically removing items you don't need in order to have a tidier space. Whether you are preparing for a move or just needing to clear the clutter, you can reap amazing benefits from downsizing, decluttering and organizing your home. You might find some treasures to sell, locate long lost items, or just generally feel better about your life. Here are some easy organizing hacks you might want to try. These tips on how to declutter your home are actionable and easy. Learn how to downsize fast with these home downsizing tips.
Efficient Decluttering
Here is one of the quickest ways to declutter. This works especially well for clothing organization. Get three boxes or bags. One should be for give away items, one should be for throw away items, and the other for items you want to sell. Go room by room, or just tackle a closet. For the items you are giving away, have a place in mind for your donations. Set aside some time each day, or devote an entire day to the task. Do whatever works for your schedule, and remember to take breaks.
A Downsizing and Decluttering Story
My parents have always liked to have all of their affairs in order, and they keep us informed if they feel there is something we need to know about arrangements they have made "in case something happens". They have even had their stone memorial bench placed in the cemetery where their remains will reside after they are cremated. The bench already has their names engraved on it, along with their respective birth dates. When our family goes to this particular cemetery to visit the graves of other relatives who are buried there, we occasionally take the time to clean the bench or sit on the bench and enjoy the view. When it came time to do some downsizing, my parents were eager to be organized and efficient.
Planning Ahead Leads to Downsizing
My parents' prime purpose in planning ahead like this is to avoid causing stress and bother for the loved ones they leave behind. We appreciate their foresight, and are grateful for their consideration. This is why it was not surprising when they announced to the rest of the family that they intended to sell their house and move to a retirement community.
Needing to Move On
I had never lived in the house they intended to sell, since they purchased it after I was grown and married, but the house still held cherished memories of events celebrated and holidays observed. I realized that they would no longer be hosting large gatherings. There would be no need to decide who would get to sleep in the Africa Room or the Garden Room. No more backyard barbeques would take place.
I was nostalgic, but realistic about the need for them to take this step. My dad's mobility was questionable, and there wasn't a family member located close enough to help out with yard and home maintenance on a regular basis. The house needed to be sold, but then where would they go?
Where to Go Next When Downsizing
After my parents investigated local facilities and narrowed their choices down to their favorite, they invited my husband and me to visit the facility with them. We were happy to do this. That is first on my list of the things a supportive family member should do when parents are downsizing and moving, which is:
Tour the New Location With Them
We had a pleasant facility visit, took a tour, ate a meal, asked questions of the guide who had been assigned to us, and happened to meet many of my parents' acquaintances who already lived in this location. It seemed like an ideal choice, with a variety of residential options and increased levels of care as needed by its residents. Once my parents stated their intent to become residents, they actually had to pass a test of cognitive abilities in order to be accepted. They both passed, to their relief, and chose the apartment they would like to live in. It was in a new building and not ready yet, so my parents had time to get their house on the market and reduce their possessions. This leads me to the second thing a supportive family member must do and that is this:
Be Prepared to Say "No"
Of course, before selling or giving away items, my parents kindly asked my sister and me if we would like various items. We did have a couple of sessions in which we took turns at choosing items my parents had set aside, but there were some items we just knew we would never use.
I think this was difficult for my parents, because they had held on to some of these things for so long, and in some cases the items had been wedding gifts, and had sentimental value. My parents were graciously accepting of our decisions, though. Since there were quite a few items neither my sister nor I wanted, that leads me to the third thing a supportive family member should do to help ease the transition and that is:
Help With Downsizing Events
In the case of my parents, the big downsizing event was a garage sale. A garage sale can be a great way to make a bit of extra cash while clearing out items no longer needed. Since they had so many items, we ended up just sorting things onto different tables. We gave each table a value, such as a $1 table and a $5 table. We priced large items individually. Most of the smaller items were just sorted onto tables, cleaned and ready to be sold.
I set aside two days during the summer to help with this. I even spent the night in my parents' house. It was the last night I spent there, and there was no furniture in the room. I brought my sleeping bag and some books to read. For my reading light, I used a small lamp we had rescued from one of the sale tables. That night has become a treasured memory.
Garage Sale Stories
We also have some fun memories from the garage sale, which drew a large crowd. The customers included kind neighbors and friends who had read about the sale on social media or in the newspaper. One lady even traveled over a mile in her motorized wheelchair to attend the sale. She made quite a few purchases, which my dad and I delivered to her home later on. It was exhausting, but well worth the effort. After the sale, the unsold items were donated to a local charity.
New Can Be Good
Even with all of the downsizing, my parents still had a difficult time making all of their remaining items fit into their new dwelling. However, now they are settled and happy. I took a pie (not homemade, sorry) over the other day. We were sitting out on their terrace, enjoying the pleasant morning. I suddenly realized that my parents had made their apartment an inviting, restful destination. Their former home had been the same way.
My parents are surrounded by wonderful neighbors, just as they were in their old neighborhood. They are so glad they made the transition, even though it was a lot of work at the time. Recently, my dad remarked to me, "It's a lot like living in a dorm." Can you picture it? (Probably without the indoor slip n' slide that was so popular in my eldest son's dorm a few years ago.) I'm so pleased for them, and I'm glad I was able to support them in their transition.
Selling on Facebook Marketplace
If you have just a few items to sell, consider listing them on Facebook Marketplace. I have done this with a few items and have had good experiences. Before meeting the buyer, decide on a public place to meet, if possible. If the item is too bulky to allow for this, try to make sure you are not the only one home when the buyer comes to get the item.
Quick Results: Easy Home Organizing Hacks
No time to go through a full decluttering and downsizing process or host a downsizing event? Try these quick home organizing tips:
Organize your sock drawer. Get some old shoeboxes and roll your socks. Separate them by color. I have one box of white socks, one box of black socks and one box of colored socks. Here's how to roll the socks: On a flat surface, lay the socks together, one of top of the other. Roll the socks up like a sleeping bag so you have a sock rosette. Place each sock rosette sideways in a shoebox. You will never waste time looking for a pair of socks again.
Clean and organize your kitchen sink area. Do dishes, wipe down the surrounding counter, put dishes away, and get satisfaction from a simple task well done.
Clear out the clutter in a utility drawer. You know those drawers that have paper clips, twist ties, rubber bands, scissors, tape, and other miscellaneous household items? Sometimes the drawer might be in a kitchen or in a laundry room. To organize, first go through the drawer and throw away anything that is broken. When you have the items you want to keep, put them in a kitchen utensil organizer. Depending on the size of your drawer, you might need two or three. You can also use divided lunch trays for this. If you can find an old lunch tray for free, that's a frugal win! This tip also works for keys, small hardware, and other small items you have lying around.
How About You?
How about you? Do you have your own genius organizing hacks to help with downsizing and decluttering? Do you have examples of things that worked well to make this type of transition go smoothly? I'd enjoy reading about it. Change can truly be a good thing. Good luck with any downsizing you may need to do in the future!

How to Get Organized for Work
Many people prepare the night before for their next workday. If this means packing a lunch the night before or setting clothes out, your pre-work routine will go much more smoothly if you have a plan. Do you own a coffee maker with a timer? Set it to make your coffee so it's ready when you need it.
Everything in Its Place
Have designated spots for things you know you will need to grab. We have a kitchen utensil organizer in the drawer where we keep our keys. Different sets of keys have their own compartments. When we return home after work, we walk right by the key drawer and return the keys to their spot as soon as we get in the door from the garage. The same goes for outerwear. Do you have a designated spot for coats, hats, umbrellas? A set of hooks on the wall of the utility room is where we hang our coats, but a coat tree works well if you don't have a wall for hooks. After reading the Mari Kondo book about organizing, my big takeaway was putting my socks together, rolling them, and storing them in shoeboxes in my drawer. Now I can find the correct pair of socks in seconda.
Simplify Your Work Wardrobe
Build your work wardrobe around a basic color like brown or black. Have a few basic wardrobe pieces you can build around with different accessories. Stick with solids for your pants or skirts, then add patterned tops if you want to add a splash of interest. Of course, the type of wardrobe you choose will depend entirely upon the job that you do. When you purchase something new, ask yourself how many items of your clothing does it go well with.
Quick Results: Getting Organized for Work
If you are short on time as you read this, here are some tips for workday organization:
Plan ahead the night before for breakfast, lunch and your wardrobe.
Have a place for everything. Drawer organizers for keys don't have to be expensive. Use boxes or kitchen utensil trays. A coat tree can stand in for a row of hooks on a wall.
Simplify your work wardrobe. Build around a few basic, solid pieces in a neutral color.
How About You?
What are your best organization tips for preparing for work? Maybe you have some favorite organization tips you like to use while you are at work. I'd enjoy reading any of your ideas. Now, let's turn to the outdoors.
Garden Organization Tips
I love to plant a vegetable garden each year, mainly because I like to reap the fresh produce rewards. We also have different areas of our property set aside for growing dahlias, perennials, berries, and fruit trees. How do efficient gardeners stay organized? Read on for some easy tips!
Organize Your Garden Tools and Supplies
We have a garden shed, but even if you don't have a dedicated shed, you can still find ways to keep your tools neat and tidy. One way is to put nails along a board on a wall, label the board with a marker, then hand your tools there. For smaller tools and garden gloves. like pruners, and trowels, consider putting them in a flower pot or another handy place. We keep blueberry netting in an old metal garbage can with a lid. Be creative and find what kind of system works for you.
Buy Things That Store Well
We use the same stakes, tomato cages, and bean towers year after year. This is a great way to save money and also keep your supplies organized. We keep the stakes in a big bin, the tomato cages get stacked, and the pole bean towers fold for easy storage. None of it takes a lot of room.
Use a Garden Planner
One of the things I like to do during the off-season is plan the garden for next year. I like to draw a diagram and also plan my yearly garden tasks. For me, it's easiest to do that month by month. Guess what? I have the perfect tool for that. Here's the monthly garden planner I use to keep track of tasks and planting arrangements all through the seasons. You can have it for free!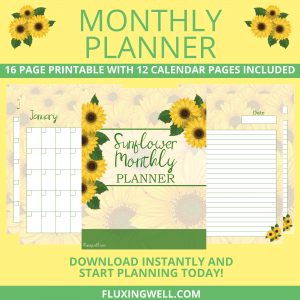 Quick Results: Getting Organized for Gardening
Find ways to organize your garden tools and supplies. Be creative! There are many frugal options out there.
Buy and use things that store well, are collapsible, stackable, and easy to fold away.
Use a garden planner to keep track of expenses, tasks, and planning how to arrange plants.
Tips for Organizing an Event
In order to accomplish goals, it sometimes helps me to take an unorthodox or backward approach. Quite a few years ago, when hosting a huge family holiday meal, I tried something new. I made a backward list. I started at the top with the end goal, then I worked backward down to the beginning task. For some reason, it was easier for me to estimate the amount of time needed for each task when I was working backwards and I didn't leave any tasks out. With this backward checklist, your party planning job just got easier.

Write Your End Goal at the Top
First, decide what your goal is. Is it sitting down at the table and serving a big meal? Write that at the top, along with the time of day you want to reach the goal. Go down to the next line and determine what needs to happen right before the final goal. For me and the big holiday meal, the tasks were last-minute things that I sometimes forgot to include on a regular list. Items like filling the water glasses, setting out butter, salt, pepper, and side dishes were included. Nothing was left out! Be sure to note the time of day for each task.
Work Backward From the Top, Noting the Time When Each Task Will Take Place
Keep working backward, noting each little task. If you need to take something out of the oven and put something in it's place, write it down. If you need to make something that has to be made on the day of the big gathering, write it down. Every little thing you can think of, as well as the time of day you wish to accomplish the task, should be noted. At the bottom of the list should be the very first thing you are going to do to reach your end goal.
Put the List in an Obvious Place
If you're like me, and like to seem organized, you will make out your backward list ahead of time. Put the list in an obvious place. There are few things more frustrating than knowing that you made a list and forgetting where you put the list! For me, the obvious place is the magnetic chalk board in the kitchen.
Why Does This Work?
I'm not sure why this backward list method works better for me than a regular list. It might not be for everyone. All I know is, I depend on my backward list for every large family gathering, as well as other big undertakings. I have one backward list that has served me well for about ten years. It's getting a little worn, but it does the job. Maybe it's time to copy it down on another sheet of paper.
Your Very own Backward List Template
Yes, I think I do need to have a few blank backward lists available for use, so I made a new (click here) Backward List Template. Please feel free to print and use this template as needed, no strings attached. I hope it helps you feel organized when you have a deadline to meet. It's very handy if you know there will be multiple small tasks you need to accomplish in order to meet your goal.
What About You?
Do you think the backward list might be for you? Maybe you are wondering why I don't just use a regular list and read it backward. The true power of this method lies in the actual list-making process. Once you have it written down, it doesn't matter how you read it. If you do try the backward list, please let me know how it works for you.
Quick Results: Organizing Events with a Backward List
Write your end goal at the top. Note the time of day you want to reach that goal.
Work backward from the top. Note the time each task needs to be worked on.
Put the list in an obvious place. It is less likely it will be forgotten.
Books About Organization
When I want to learn a new skill, I often reach for a book. I am a librarian, after all. The books on this list cover organizing your home, organizing your garden, getting your closet organized, organizing your kitchen, clearing clutter, downsizing, planning a party, and more. No matter which area of your life you're trying to organize, there is bound to be a book about it.
How Do You Stay Organized?
I hope you have found value in these tips on how to get organized. Whether you are organizing your home, work routine, garden, an event, or just your sock drawer, I wish you great success. May you enjoy the results of your organizing efforts for a very long time.