Add some new ideas to your favorite family holiday traditions, or refresh the traditions you have observed for years. Family holiday traditions are a great way to make memories, but sometimes interest in keeping the traditions wanes. Learn how to keep family holiday traditions fresh and interesting for everyone in your family.
Keeping Holiday Traditions Fresh
Each holiday season, there are some Christmas traditions that we observe as a family. Most of these traditions began when our boys were small, and now they are both in their twenties. How did we manage to keep the boys interested in these family rituals as they grew older? Thanks to the changes we made over the years to keep holiday traditions fresh, and the fact that the boys are good sports about humoring their mom, we kept these traditions going, year after year. If you are struggling to keep your kids involved in family holiday traditions, here are some ideas that may help.
***Disclaimer: This post contains affiliate links, which means I earn from qualifying purchases at no additional cost to you.*** Already know what you'd like to get from Amazon? Here's a handy way to get to the website, linked to one of my favorite Christmas books of all time, perfect for starting a new tradition. Just click on the button below, then browse around and do your shopping.
Favorite Family Holiday Tradition 1: Advent Activities
Starting the first day of December, one person in our family gets to draw a slip of paper from a numbered pocket Christmas calendar. Each slip has an activity on it. The family HAS to do whatever the activity is. Often, it's something my husband or I planned ahead of time, such as choosing a Christmas tree or baking cookies. When the boys were very young, the activities related to things the boys were excited about, like reading a particular Christmas storybook. An Advent calendar like this one with pockets would be just right.
Changing the Activities as the Years Passed
As the boys got older, the activities on the slips evolved to reflect the boys' changing interests. Concerts were added, for example, and certain activities were retired. One of the things I love about this tradition is that it can be adapted easily to changes in the family. Also, the activities do not have to be fancy or expensive. We were able to keep this holiday tradition fresh for quite a while by changing up the items on the slips. Most recently, since our youngest is home for a few months, we had him place the slips in the pockets. He randomly placed, without looking at the slips, the activities that did not require any pre-planning, so he could "be surprised". Love it!
Try it in Your Family with This Free Printable
Since the pocket calendar is such a great activity, I made a free printable to go along with it. Make it into a craft activity by having kids color and decorate the different activity cards before putting them into the calendar pockets.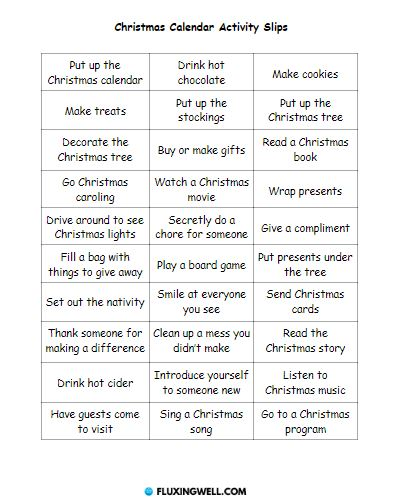 Along with the pre-printed activity slips, there is a blank grid for you to add your own activities. I hope you get the chance to try the calendar. In addition to being a fun family tradition, it helps keep us on track with the activities we enjoy each year. If it's on the Christmas pocket calendar, we won't forget about it!
Favorite Family Holiday Tradition 2: Advent Nativity
Years ago, my mom gave us an advent calendar with little stuffed nativity figures that could be stuck onto a scene with velcro. When the boys were little, naturally they were excited about taking turns to put up a nativity figure each day, and placed each figure in the "right" place. In our family, one child drew the advent calendar activity slip and the other child put a nativity figure on the calendar. The boys would switch the next day. This calendar is very similar to ours.
It worked well for us until the kids were in middle school, then we had to change it up. The guys decided to get creative with the placement of the figures in the scene, and we ended up with some non-traditional, even gravity-defying scenarios. It was worth it to have the boys still involved and it was one way to keep the holiday tradition fresh.
Favorite Family Holiday Tradition 3: The Nativity Set
The boys spent a few years helping me put the porcelain nativity figures in place on our coffee table. Then they abandoned the idea and let me complete the task by myself. I needed to keep the holiday tradition fresh and capture the boys' interest once again. To do that, I had to "think outside of the stable", as you might think of it. I put them in charge of moving the wise men around the house on their journey. That was a big hit!
Over the years, the wise men have moved across window sills (as pictured above). They've also hopped on the Christmas train and ridden around the tree. They have also been known to wade through the "snow" in the alpine holiday village on their quest to find the Christ Child. Sometimes we forget about the wise men for a few days. It's interesting to see where they end up. Someone always makes sure that they reach the stable on Christmas Eve!
Favorite Family Holiday Tradition 4: Making Candy
Have you ever gone on a holiday candy-making spree, then decided it was too much? If that has happened to you, here's one way to narrow down the choices and still make sure everyone gets what they want. Have each family member choose their favorite, and only make the favorites. Now, if you have ten kids, this strategy might not work, but in a family with two kids, it might be the perfect solution. What are some of the favorites? Peanut butter fudge, chocolate scotcheroos, and milk chocolate-covered toffee have been popular choices in the past. A newer favorite is dark chocolate raspberry truffles.
Favorite Family Holiday Tradition 5: Making Cookies
Notice I used the word "making" instead of baking? Yes, there are easy no-bake cookies you can decorate as a family as well as the home-baked variety. These Nutter Butter snowmen, reindeer, and Santas are something even teenagers will have fun with.
Other Favorite Family Holiday Cookie Traditions
Number 6: Hosting a Holiday Cookie Exchange
Bake a few dozen of your favorite holiday cookies, like old fashioned gingersnaps, then invite some family or friends over. Have them bring a few dozen of their favorite holiday cookies. Swap cookies so that everyone has a variety of cookies to take home.
Number 7: Leave Cookies Out for Santa
Of course, Santa might get hungry while on his route around the world, so it's nice to leave some cookies out for him. There are even special plates for this favorite family holiday tradition. When morning arrives and the cookies are gone…Santa must have eaten them.
Favorite Family Christmas Tree Traditions
Number 8: Choose a Christmas Tree
If trees are plentiful in your location, you might be able to get a permit from the U.S. Forest Service to cut a tree for a very reasonable price. No forests where you live? Choose a tree from a tree farm or lot.
Number 9: Decorate the Tree Together
Put on some Christmas music, warm up some cocoa, serve some cookies, and get out those ornaments. Share stories and memories of holidays past while creating a masterpiece.
Number 10: Make Homemade Holiday Ornaments
Homemade ornaments can bring joy for years to come. Write the year and include a school picture for a special touch. Many inexpensive materials may be used, such as plastic lids or craft supplies from the dollar store. Some of the easiest to make are these cute reindeer jingle bell ornaments created with jingle bells from Dollar Tree.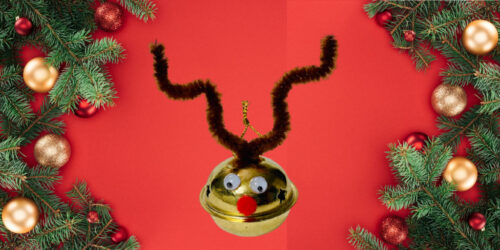 Number 11: Give an Ornament Each Year
If you give each child an ornament every year, by the time they are on their own, they will have their own treasures to hang on the tree.
Number 12: Hide a Special Ornament Somewhere on the Tree
You can choose an ornament or other holiday decoration and place it in a secret location on the tree. Have everyone else look for the ornament to see who can spot it first. You can give a prize if you like. In Germany, this tradition is carried out with a pickle ornament.
My parents used a silly little lizard that was very difficult to spot. When our boys came along, they always looked forward to finding the lizard. Simple family fun at its finest!
Number 13: Put a Train Around the Tree
Add some interactive fun to the base of your Christmas tree by getting a train to encircle it. There are many options. The first train our boys used was given to us by my parents and was a simple, battery-operated model. Later, we inherited their slightly-more-complicated electric holiday train, which was large enough to accommodate the wandering wise men. My sister has a replica of the Disneyland monorail around hers.
Favorite Family Christmas Book Traditions
As a school librarian, one of my favorite traditions is getting out our collection of Christmas books. Not only are the books fun to display, but there are many activities that can go along with them. There are so many favorite Christmas books, you could easily read one each day of December as part of an advent countdown to Christmas. Here are some of my favorite books to read during the holidays, along with some corresponding activities.
Number 14: Read the Polar Express in Pajamas While Drinking Hot Cocoa
This story was a book before it became a movie. Although the movie is great, the book is wonderful when enjoyed in pajamas while drinking a cup of hot cocoa. If you have a nice fireplace to cozy up to, that makes the experience even better.
This book is the perfect introduction to a Christmas card activity. Get your family in the mood for sending out greetings by reading this delightful story. Included within the pages are real cards and letters to the story's characters. It would be rare to find a completely intact version of this book at the public library, so it would also make a fun gift to add to your family book collection.
Enjoy this classic tale retold as only renowned author Jan Brett can, with wonderful wintry illustrations. Bake your own gingerbread men, then munch on them before or after the story. Enjoy the surprise at the end.
Number 17: Read A New Coat for Anna and Find Items to Donate
One way to get kids in the mindset of giving during the Christmas season is to read about someone who has very little, yet give what they have to make a little girl a special new coat. Set in the days following World War 2, this heartwarming story may inspire you and your family to go through your closets to see what you might be able to give away to those in need.
If you decide to have the wise men journey around your home on their way to the stable, you could begin their journey by reading this story. Alternatively, you could read the story when the wise men make it to the stable on Christmas Eve.
Favorite Family Traditions About Doing Good to Others
Teach kids the value of giving by doing things for others together as a family. Brainstorm ideas around the dinner table, and emphasize the fun of doing good in secret. Be anonymous benefactors.
Number 19: Donate to a Canned Food Drive
There are many opportunities to give to others during the holidays. Canned food drives at churches, schools, and civic organizations are great options.
Number 20: Donate to a Holiday Toy Drive
Have family members each choose a toy at the store to wrap and give away to someone else.
Number 21: Pass Around the Good Deed Star
At the beginning of December, give one family member a special star cut out of wood or a star ornament. It should be easily visible. You can even make your own with twine and sticks. Each day, whoever is in possession of the star has to do a good deed for someone else. It could be a chore or something similar. When the good deed is done, the star passes to the good deed recipient, and that person in turn needs to do a good deed for another family member.
More Favorite Family Holiday Traditions
Number 22: Look at Holiday Lights (Cheap Entertainment!)
You may even be able to find a house that has a musically-coordinated display!
Number 23: Visit a Holiday Market or Craft Bazaar
Is anyone else always on the lookout for those favorite knitted slippers?
Number 24: View Fancy Window Displays
Some of the larger department stores may have animated figures to entertain window shoppers.
Number 25: Pay a Visit to Santa
Every family needs at least one picture of a child crying while sitting on Santa's knee. Look back on it with fondness one day. Priceless!
Number 26: Make Your Own Wrapping Paper
Get a roll of plain white or brown postal wrapping paper. Add in some paint and holiday-shaped stamps, then create a unique and fun wrapping experience. If you use brown paper, you can crumple it, then iron it for a rustic effect.
Number 27: Send Out Christmas Cards
Although social media keeps many people updated with family and friends, there is something special about taking the time to send a handwritten greeting. It's fun to make a collage with the photos you receive from others. Not everyone is on social media, especially the elderly. Brighten someone's day with a personalized update from your family, even if it's just one sentence written on the back of a family photo.
Number 28: Draw Names for Gift-Giving
In a large family, this can be a real money-saver. Have adults give to adults and kids give to kids. This works well for extended family gifts, too. Cousins can give to cousins for some fun family bonding.
Number 29: Make an Interactive Meal
Kids love to have a hand in making their own creations at mealtime. Traditional Swiss raclette is a favorite family meal involving melted cheese and a variety of foods to pour the melted cheese over. Sound like fun? You can get all of the details in this complete guide to hosting a raclette dinner.
Number 30: Host a Holiday Open House
Invite neighbors to an afternoon gathering. Serve appetizers like smoked salmon cheese ball and treats buffet-style while guests mingle and visit. These days, when people are so busy, the chance to connect with neighbors happens less often. Give the gift of a relaxing, festive atmosphere in which to catch up on all of the neighborhood happenings.
Number 31: Serve Traditional Family Heritage Holiday Foods
If you aren't sure about heritage recipes in your family that have been passed down, ask an older relative. My dad was fond of making traditional German stollen bread on Christmas morning. My sister and I didn't appreciate his efforts as we should have, but it's still a fond family memory.
Number 32: Sing Christmas Carols Around the Neighborhood
Gather a group of family or friends and stroll along a neighborhood sidewalk while singing. All ages can participate in this favorite family holiday tradition. Finish up with cookies and hot cocoa after spreading some holiday cheer.
Number 33: Go Ice Skating
No ice skating rink near where you live? Try a roller rink instead, or meet at a bowling alley. It's fun to watch your family in action.
Number 34: Go on a Sleigh Ride
If you live in a place where you are lucky enough to have snow in the winter months, a sleigh ride can be a magical way to enjoy the season. Although white Christmases are rare where we live, it's just a short drive up the mountain to a village where picturesque horse-drawn sleigh rides are available. Even if you choose not to ride, just seeing one go by is a treat.
Number 35: Go Skiing or Sledding
Do you live near a ski slope? Have fun playing in the snow. If there is a cozy lodge to warm up in, enjoy sipping hot cocoa while watching the action outside.
Number 36: Watch a Favorite Holiday Movie
Our list of favorites is numerous. It includes titles such as the classic White Christmas, The hilarious Santa Clause, Home Alone, and a little-known version of Little Lord Fauntleroy starring Alec Guinness. If your holiday movie list is long, consider letting everyone choose one favorite. Take turns watching everyone's favorites.
Number 37: Make a Favorite Warm Holiday Beverage
Imagine your home filled with the enticing scent of cinnamon, apples, oranges and cloves. You might be smelling the wonderful aroma of holiday wassail. Keep it warm in a crock pot, ready to serve throughout a gathering.
Number 38: Make Your Own Wreath
Get an inexpensive wreath frame (reusable from year to year), some green florist wire, then go gather your greenery. A variety of plants and tree trimmings may be used. Gather the greens into bundles, then wire to the frame. Add a ribbon and a few artificial florals from your favorite craft store, and presto! You have a festive wreath to hang. Here is my latest wreath creation in progress. What do you think?
Number 39: Set Out a Holiday Village
Create a picturesque winter scene on a mantel, table, or sideboard with snow-covered model buildings. There are many varieties to choose from. A snowy ground cover effect may be achieved with rolls of quilt batting and mirrors for ponds. Many accessories are available as well, including artificial trees, people, and animals. It's a fun way to let creativity shine. Here's one of our creations.
Number 40: Drape Railings with Cedar Garlands
Cedar garlands add a festive touch to stair railings, porch railings, and deck railings. Garlands may be purchased ready-made, all set to hang. Add ribbons to the garland, if you wish. The fragrance is fabulous!
Number 41: Hang Stockings
You can use weighted stocking hangers set on a mantle to hang stockings without having to make any nail holes. No fireplace to hang your stockings on? No problem! Use a decorative blanket ladder. Personalize stockings with names or create your own from simple supplies.
Number 42: Fill Stockings
Traditionally, stockings are filled on Christmas Eve after the kids are in bed. Now that our kids are grown, multiple family members have items to place in stockings. Here's what we do: We take the stockings down from the fireplace and arrange them on our living room couch with names taped to each. Throughout Christmas Eve, family members sneak into the living room to place little surprises in the stockings. Whatever won't fit just gets set alongside. On Christmas morning, the couch is the place to go to see what "Santa" left. It's a great form of entertainment, especially if your family waits until after breakfast to open presents.
Number 43: Christmas Eve Family Variety Show
As part of the Christmas Eve festivities, consider having a family variety or talent show. The acts don't need to be fancy. Kids could read short poems, sing a song, or play an instrument. One year, our boys did a trombone duet. You could have everyone sing Christmas carols as well. Let your talents shine!
Number 44: Watch a Church Christmas Program
Many churches present holiday musical programs. Some are simple, some are quite elaborate. Take advantage of the local talent in your area and catch a presentation or two.
Number 45: Light Advent Candles
Beginning with the first Sunday in December, light an advent candle in an advent wreath before a family meal. The most common advent wreath tradition in the United States includes four candles placed in a wreath and a white candle in the center. One of the outer candles is lit each Sunday leading up to Christmas. On Christmas Day, some light a center candle (representing Christ). Here are some Bible passages to read along with the candle lighting.
Number 46: Read the Christmas Story from the Bible
Gather around on Christmas Eve as a family member, perhaps the most senior member, reads the story of the birth of Jesus found in the second chapter of Luke. If your kids are older, you can have them take turns reading verses as well. This tradition often takes place while sitting around the Christmas tree.
Number 47: Open One Present Christmas Eve
When I was growing up, our family always opened presents on Christmas morning. There was one exception: The kids were able to open one present on Christmas Eve. Mom and Dad would always choose which present. Strangely, the gift was always Christmas pajamas. That brings us to the next tradition…
Number 48: Wear Christmas Pajamas
Christmas pajamas make a great gift idea. They aren't just for kids. Your family could go all-out and get matching pajamas for everyone, maybe even Grandpa and Grandma. Take a photo of everyone dressed in their sleepwear finery in front of the Christmas tree.
Number 49: Open Presents on Christmas Eve
My husband's family are Christmas Eve present openers. Since he comes from a large family, it never worked to take turns opening presents. After the Christmas story was read, the distribution of gifts would begin. Then it became an excited frenzy of ripping wrapping paper and exclamations of joy as multiple presents were opened at once.
Number 50: Go to a Midnight Christmas Eve Service
Midnight services usually begin around 10:30 on Christmas Eve. The services usually conclude at midnight, sometimes with the ringing of bells to welcome in Christmas Day. There is something special about wishing loved ones "Merry Christmas!" at midnight in a church.
Number 51: Santa's Elf Distributing Gifts
Choose one person to be Santa's elf. That person reads the names on the packages and hands the presents out to each recipient. There could even be a special holiday elf hat to go along with the job. More than one person could be an elf, if needed.
Number 52: Opening Presents on Christmas Day
If you are a Christmas Day present-opening family, you might even wait until after breakfast to open gifts. The waiting can sometimes be tough. When breakfast has been consumed, gather around the tree. You can open gifts all at once after the gift distribution has taken place. If you have a small family, you can wait until all of the gifts have been distributed, then take turns going around the room, watching as each family member opens a gift.
Favorite Family Holiday Traditions Around the World
Hoping to add an international touch to your holiday celebrations? Here are some favorite holiday traditions found in different locations around the world. If you are looking for ways to celebrate Christmas or holidays around the world, here are some ideas.
Number 53: Nutcracker Decorations (Germany)
Perhaps you have seen wooden nutcrackers decorating homes at Christmas. In a classic German tradition, the wooden nutcrackers were supposed to watch over the home and bring good luck. Note: These decorative wooden figures don't really crack nuts. We have a few of them. Although many are made in China these days, you can still find German wooden nutcrackers at German Christmas markets and specialty Christmas shops.
Number 54: Make a Gingerbread House
Gingerbread houses originated in Germany and are a fun family tradition. If you would like to make your own, you could bake your gingerbread from scratch and make the frosting yourself. You could also buy a gingerbread house decorating kit. If you are hosting a party for kids, making a gingerbread house out of graham crackers is an engaging party activity that will keep guests busy.
Number 55: Decorated Boats (Greece)
Greece is a fishing nation, and many families in Greece would decorate boats to welcome family members home from the sea. The boats are called "karavaki" and may be lit with Christmas lights. Instead of driving around to see Christmas lights on houses as we do here in the United States, you can go around in Greece to see the Christmas lights on boats. Some places in the United States do decorate boats with lights. Portland, Oregon, has a Christmas Ship Parade every year along the Willamette and Columbia Rivers. If you would like to catch a fleet in action, here is the schedule. Maybe there is a Christmas ship parade in your area.
Number 56: Visit the Coast, Have a Barbecue, and Decorate a Cyprus Tree (Kenya)
My parents lived in Kenya for a time, and they celebrated Christmas in a traditional Kenyan way: They visited the coast. Rather than decorate pine trees, some Kenyans decorate cyprus trees.
Number 57: Eat Strawberry Shortcake and Kentucky Fried Chicken (Japan)
Feeling the urge to go out and visit a Kentucky Fried Chicken on Christmas? Craving strawberry shortcake? If so, you are feeling the same way many Japanese people do when they celebrate Christmas. If you decide to host an international Christmas Around the World pot luck, just get a bucket from KFC, serve some strawberry shortcake, and Japan will be well-represented.
Number 59: Celebrate Christmas with a Cracker (England)
Start Christmas dinner with a big "Pop!" of a traditional English Christmas cracker. Each dinner guest gets to pull a decorative tube apart, make a loud popping sound, then look inside for a paper crown, a prize, and sometimes a joke. This tradition is very entertaining and a great icebreaker if there are some guests you aren't very well-acquainted with. I love this tradition. It's fun to see which guests will actually wear the paper crown throughout the meal.
Favorite Family Holiday Tradition 60: Use a Planner
Wondering how to organize many of these fun favorite family holiday traditions? Okay, this is more of a mom tradition than a family tradition, but it really helps keep everything on track. It's always nice to have a plan when it comes to holiday parties and meals. If you're looking for a way to get more organized with your meal or party-planning efforts, here are some free, editable meal planners for you! The templates can be used over and over, as often as you need them. You can make as many duplicates as you like, and you'll be able to save old meal plans for future reference. I hope it simplifies things for you.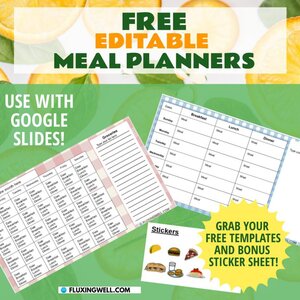 Holiday Food Tradition Inspiration
What Are Some of Your Favorite Family Holiday Traditions?
Whatever your family holiday traditions, I hope that this post has given you some good ideas. Keeping them fresh will allow them to last longer. If you have some ways to keep your family involved in your favorite traditions, please share. I'd love to read about your ideas. Whatever traditions you choose, may they create lasting memories for you to treasure.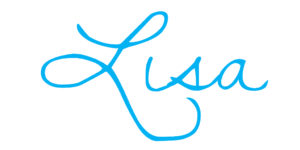 Lisa Mitchell is a wife, mom, and school librarian who likes to read, garden, cook, and share recipes, often using fresh ingredients from her family's small Pacific Northwest farm. For more fun ideas, click on over to the Welcome page.
Like what you read? Please give it a share!