Want to learn about my latest favorite main dish salad recipe which can be made in less than 10 minutes? Like many things in life, this easy main dish salad recipe came about by accident. I had seen a variety of salads on Pinterest which listed avocados, chicken, corn and bacon as ingredients. Those recipes looked delicious to me, so I saved them for later to my Recipes to Try board.
Inspiration But No Time
One day, I was suddenly inspired to make the salad. It was a warm day, I was hungry, and I felt like eating something healthy. The problem? After a quick inventory of the contents of our fridge, I realized I didn't have cooked chicken breasts nor cooked bacon. Also, I didn't have a freshly-cooked ear of corn. Ahhhh! We live a few miles outside of town, and I didn't feel like driving into the grocery store. The solution? The pantry and the freezer! I'll share with you my adapted version, simplified to fit your busy lives, friends.
Is It Lazy to Simplify?
First, before I launch into the recipe, let's briefly ponder this question. Why do I feel the need to simplify and streamline so many things? Am I just being lazy? I have asked myself this question many times lately. After mulling it over, I have come to the conclusion that my desire to simplify such things as this main dish salad is not due to laziness. I just have other things I would like to do. You most likely do as well.
Some Things Are Worth the Extra Time, Some Aren't
Now there are some things I will take extra time to do. When I make homemade pizza on the grill, for example, it is a labor of love. It's time-consuming, but worth it. However, if I can streamline tasks, such as making this salad, I can perform more tasks. If I finish tasks early, I might have time to do something for pleasure. In my case, the pleasurable activity is reading books. Your pleasurable activity may be skydiving or making pies. Whatever it is, please do not feel guilty for taking the shortcuts I am about to share with you. It's okay. You are not being lazy. You are just being efficient. Also, if you want to go ahead and cook the chicken and bacon, then chop it up, that is fine as well, of course. Whatever works for you! Read on, efficient friends!
Chicken Bacon Avocado Corn Delight Ingredients
1 12.5 ounce can of chunk chicken breast (found at Costco) or 1 1/2 to 2 cups cooked chicken or turkey, chopped
1 15.25 ounce can of whole kernel corn, drained or 1 ear of corn, cooked and cut fresh off of the cob
3/4 cup bacon crumbles (found at Costco) or 4-6 slices of bacon, cooked and crumbled
2 avocados, peeled, pitted and chopped into bite-sized pieces
1/4 cup chives, chopped (these were found in our garden) or green onions, chopped
Easy Lemon Dressing
3 tablespoons lemon juice (fresh-squeezed is best, but bottled is fine as well)
3 tablespoons olive oil
1/2 teaspoon salt (we are a low-salt family, so you may wish to add more)
1/4 teaspoon pepper
1 or 2 tablespoons of dill weed, if desired (we serve our dill on the side to be sprinkled on top)
Directions
Combine the first five ingredients in a salad bowl.
In a small mixing bowl, combine the ingredients for the dressing. Pour the dressing over the ingredients in the salad bowl. Voila! Your salad is finished! This recipe makes about 4 main dish portions.
A Healthy Mix-In for This Main Dish Salad
We have been buying a lot of fresh baby spinach lately. We mix it in with soups and cook it with our scrambled eggs. It makes an excellent topping for this main dish salad. Just grab a few baby spinach leaves and tear them up on top of your serving of salad to add even more nutrition.
Another Mix-In (More Fun But Not As Healthy)
My husband is fond of putting corn chips (such as Fritos) on his salad. It's a very delicious addition, but it does take away from the healthy aspect a bit. Have you ever noticed how easy it is to take a healthy salad and turn it into something else entirely? I seem to do that quite often.
Another Variation
This salad lends itself well to being a filling for wraps. It's also useful as a sandwich filler or topping for crackers. I love its versatility!
Do You Have Any Favorite Easy Salad Recipes?
I'm always looking for more easy recipes, and salad recipes are especially nice during the warmer weather months. What are your favorite easy, go-to warm-weather recipes? I'd love to know about them.
If you like what you've read today, please consider subscribing and becoming part of the Fluxing Well tribe. You will receive fresh ideas every week, plus access to a library of free printable resources, including a free cookbook filled with the best easy recipes from the Fluxing Well website.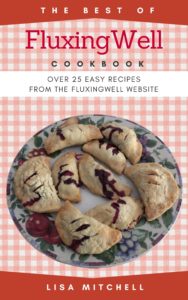 If you would like even more recipe ideas, consider following my Easy Recipes board on Pinterest. Have a fabulous day, and enjoy experiencing chicken bacon avocado corn delight.
Related Posts: