Lemons make a great party theme. From a lemon-themed 1st birthday party, a lemon-themed baby shower, a lemon-themed bridal shower, to a lemon-themed dinner party, the lemon theme party ideas are numerous. Get ideas about lemon theme gifts, lemon theme decor, and lemon theme food here, including some lemon themed recipes. Looking for creative lemon party ideas for your next gathering? Consider this your lemon-themed party headquarters! Read on for some easy, inexpensive, fun lemon theme plans for a successful celebration.
Lemon Themed Birthday Party
Whether you are celebrating a lemon themed first birthday party or an 80th lemon birthday party, these simple ideas will help you host with ease. The lemon theme decorating ideas, food and gifts can be inexpensive, creative, and fun. Check out these suggestions for lemon-themed birthday parties.
***Disclaimer: This post contains affiliate links, which means I earn from qualifying purchases at no additional cost to you.*** Already know what you'd like to get from Amazon? Love to use lemons in your cooking or baking? Here's a handy way to get to the website, linked to a book with 500 lemon recipes. Just click on the link, then browse around and do your shopping.
Lemon Themed All-In-One Party Bundle
Get an editable, customizable lemon party bundle with lemon party invitations, lemon party games, lemon party place cards and more. This lemon party pack is perfect for a lemon themed baby shower, lemon themed bridal shower, lemon themed birthday party, or a lemon themed tea party. Save time and money by easily customizing these lemon theme party templates using Google Slides. There is even a bonus lemon party budget sheet included, preformatted with formulas that do all of the calculating for you.
Lemon Themed Birthday Party Decor
Yellow paper napkins may be used for any of the parties detailed in this lemon-themed party guide. Keep a supply on hand as a spontaneous mood-lifter for any occasion. The cheery, sunny yellow color adds a bright touch to any meal. Get some sunny lemon birthday party decoratations from Walmart or a summery lemon burlap banner. It could be used indoors or out.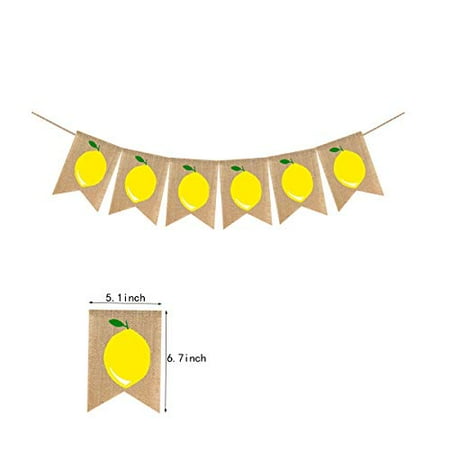 Lemon Themed Birthday Party Food
A lemon themed birthday cake is easy to make. Just use a lemon-flavored cake mix and frost with lemon-flavored frosting. To decorate the cake, add some lemon slices (fresh or dried) and sprinkle on some lemon zest. You can bake the cake in two round cake pans for two layers, or bake the lemon theme cake in a 9 by 13-inch baking pan for a single layer sheet cake.
Lemon Themed Birthday Party Gifts
Looking for the ideal lemon themed party favors? Surprise and delight your lemon-themed party guests with little lemon-themed treat boxes. You could fill them with lemon-themed wrapped candy bars, or choose some lemon-scented items like portable soap bars and mini-candles.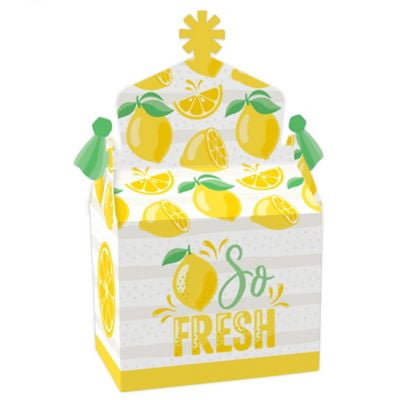 Lemon Themed Baby Shower
Welcome a new addition with a cute lemon-themed baby shower. The theme possibilities are fun, like a little baby outfit that reads, "Freshly Squeezed". How darling is that? Read on for lemon-themed baby shower inspiration.
Lemon Themed Baby Shower Decor
Decorate your lemon-themed baby shower with a cute burlap banner. It's pre-strung, about 6 feet long, and may be easily hung on a mantel or over a doorway. The flags can be moved or taken off as needed. You can also
create your own sign saying " A Little Lemon is on the Way!"
Lemon Themed Baby Shower Food
Sip lemonade with these cute lemon-themed party straws. Made of paper, the straws come in a pack of 25. These will add just the right finishing touch to your lemon-themed beverage table.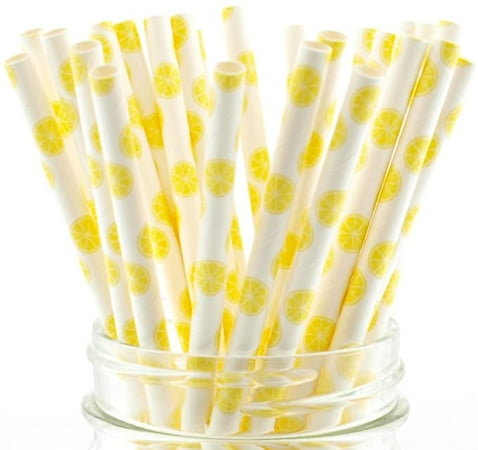 Lemon-Glazed Mini Cakes
Short on time and need a super quick lemon baby shower party treat? Purchase a Krusteaz Lemon Pound Cake mix and combine it with the other required ingredients. Instead of baking in a loaf pan, bake the batter in a muffin tin with cupcake liners. Bake according to package directions, then top with the included glaze mixture and lemon zest for a super easy, dainty treat.
Lemon Themed Baby Shower Gifts
As a special keepsake, you could gift the baby shower recipient a lemon-themed baby shower guest book signed by the party guests.
For lemon-themed party favors, you could send guests home with little bottles of citrus-scented Poo-Pourri spray. Lemon-themed baby gifts could include little lemon-themed cotton bodysuits or a lemon-printed three-piece outfit.
Lemon Themed Bridal Shower
Set the mood with the delicate scent of lemon by using some lemon pound cake scented wax melts in a warmer. Sprinkle some cute sayings around the gathering area, like "She Found Her Main Squeeze!" There are many ideas in keeping with this fun, sunny theme.
Lemon Themed Bridal Shower Decor
If you decide to go with the "She Found Her Main Squeeze" idea, there are many banner choices.
Simple potted lemon trees found at Michaels craft store can add a festive touch to a room or outdoor setting. Scatter some foam lemons randomly around the party area as decorative accents. Cover the table with a lemon-patterned rectangular or round tablecloth. Add some lemon-printed napkins to a lemon-themed dessert table for more lemon flair. There are many creative possibilities!
Lemon Themed Bridal Shower Food
To put together a lemon-themed spread for a bridal shower, serving a gread lemon-themed dessert is key. You could even have an entire lemon themed dessert table. Here is a tried and true recipe that is easy to prepare ahead of time. Just gather your lemons and other ingredients and whip it right up.

Creamy Lemon Bars of Your Dreams
Ingredients
1/2 cup butter (1 stick)
1/2 cup powdered sugar (plus more for dusting)
1 cup all-purpose flour
4 egg yolks
1 14-ounce can sweetened condensed milk
3/4 cup fresh lemon juice (from about 3 lemons)
1 teaspoon lemon zest (optional, for sprinkling on the cooled bars along with powdered sugar, if you like)
Directions
Preheat oven to 350 degrees. Butter an 8-inch square baking pan. Line the bottom of the pan with parchment paper, leaving an overhang on two sides. Grease the paper with shortening or butter.
Using an electric mixer, beat the stick of butter and sugar until light and fluffy. Add flour and mix on low ust until combined. Press the dough into the bottom and 1/2 inch up the sides of the pan. Prick all over with a fork. Bake until lightly golden, about 15-20 minutes.
Separate the egg yolks from the egg whites. It helps to have an egg separator, Mine is similar to this one.
In a large bowl, whisk together the egg yolks, condensed milk and lemon juice until smooth. Pour the mixture over the hot crust in the pan. Return the pan to the oven and bake until the filling is set, about 25-30 minutes. Cool completely in the pan.
Refrigerate the pan until the filling is firm, about 2 hours or up to 3 days. Use the paper overhang to lift the lemon dessert onto a work surface. Cut into 16 squares and dust with powdered sugar along with lemon zest, if desired. Serve on some decorative lemon-themed disposable partyware.
Lemon Themed Bridal Shower Gifts
Welcome guests with a lemon-themed sign, then later offer the sign to the bride as a housewarming gift. Get some cute lemon-themed kitchen linens to give away as a lemon-themed bridal shower gift or prize. The set includes a lemon dish towel, a lemon-printed oven mitt, and two lemon-printed pot holders. The best part? You can find these lemon themed party supplies at Dollar Tree and can even have the order shipped free to your local Dollar Tree store. Gift the bride-to-be with a decorative jar filled with advice and wishes written on lemon-themed cards.
Lemon Themed Tea Party
What could be more festive than a lemon-themed tea party in a lovely outdoor setting? Whether your tea party guests are five or ninety-five, or somewhere in between, a lemon-themed tea party can be a fun celebration. Wear your favorite tea party attire and have a great time!
Lemon Themed Tea Party Decor
How about serving tea treats on a paper plate that looks like a lemon slice? You can offer guests matching lemon slice napkins as well when they enjoy their refreshments. Very fun!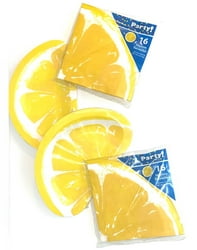 Lemon Themed Tea Party Food
This easy lemon glazed scone recipe was adapted from my orange chocolate scone recipe. No cream is needed for these citrusy treats. They are slightly crispy on the outside, moist and buttery on the inside, and packed with lemon flavor. Scones are my favorite tea party treat, and are delicious served with your favorite homemade jam.
Glazed Lemon Scones
Glazed Lemon Scones Equipment
A mixing bowl and baking sheet are the basic supplies needed for this recipe. If you have a pastry blender, great, but you can also use a couple of butter knives to cut in the butter. My pastry blender is a vintage one made by Androck and is very sturdy. Here's a heavy-duty pastry blender that is similar.
A pastry blender is also terrific for quickly chopping hard-boiled eggs, as I mention in my favorite kitchen shortcuts.
Another tool that is handy to have for grating the lemon zest is a microplane zester. You can use a regular cheese grater, but a microplane zester does the job much more quickly and with less mess.
Glazed Lemon Scones Ingredients
1 tablespoon grated lemon zest (the zest from one lemon should be enough)
1 cup milk
3-4 tablespoon lemon juice, divided (the juice from one large lemon should be enough)
3 cups flour
1/3 cup granulated sugar
2 and 1/2 teaspoons baking powder
1/2 teaspoons baking soda
1/2 teaspoon salt
3/4 cup firm butter (1 and 1/2 sticks, cut into chunks)
1 cup powdered sugar (for the glaze)
Glazed Lemon Scones Instructions
Preheat the oven to 400 degrees. Lightly grease a baking sheet. Hold the microplane grater over a large bowl and grate in the lemon zest. Cut the lemon in half, place a strainer over a small bowl and squeeze out the juice. Mix 1 tablespoon of the lemon juice and the milk together to make faux buttermilk and set aside. Reserve the rest of the lemon juice for making the glaze later.
In the large bowl, whisk together the lemon zest, flour, sugar, baking powder, baking soda and salt until blended. Using a pastry blender or two butter knives, cut the butter into the flour mixture until the butter is about the size of small peas.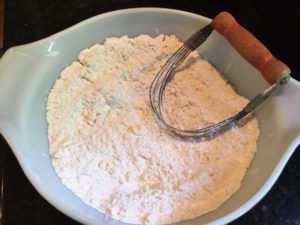 Make a well in the center of the butter-flour mixture and add your faux buttermilk all at once. You may stir the mixture with a fork until the dough pulls away from the side of a bowl, if you wish. I prefer to use my hands. After initially stirring the mixture with a fork, once the liquid has been absorbed, I turn and press the dough down into the bowl a few times. This gathers up all of the loose butter-flour mixture.
While the dough is still in the bowl, I divide it into four parts. I shape each part into a ball and place on a lightly floured board. I use an old bread board. Lightly pat each ball into a circle. Cut each circle into four parts and place the wedges on the prepared baking sheet.
Bake until golden, about 15 minutes. While the scones are baking, you can make the lemon glaze. To make the glaze, combine the powdered sugar with 2 tablespoons of fresh lemon juice. Whisk the sugar and lemon juice together until you have a smooth consistency. If the glaze is too thick, drizzle in more lemon juice, one teaspoon at a time. When the scones are finished baking, cool to room temperature. Pour or drizzle the glaze over each scone. Makes 16 regular-sized scones or 32 mini scones. (For mini scones, just divide the dough into eight circles instead of four, then cut each into four parts.)
Serve with Lemon Zinger Tea or citrusy Friendship Tea. Want to go all-out? Serve your tea and treats on lemon-themed fine china, like this set from Mikasa.
Lemon Themed Tea Party Gifts
When guests depart, send them with some lemon themed gift bags. The bags can be filled with lemon treats, like small bags of lemon cookies (easy to make with this simple cookie recipe). You could also add little KitKat lemon wafer bars and a box of lemon herbal tea.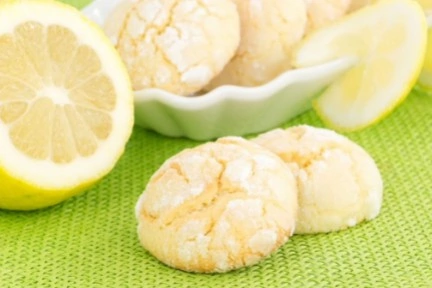 Lemon Themed Dinner Party, Lunch or Brunch
Make the most of a balmy summer morning, afternoon, or evening with a lemon-themed brunch, lunch or dinner party. String some lemon slice fairy lights in the trees and set out some delicious lemon-themed appetizers and welcome your guests. What a fun way to celebrate summer. You could serve Greek lemon chicken orzo soup (avgolemono) chilled or warm for either lunch or dinner.
Lemon Themed Dinner Party Decor
Lemon-themed table placemats from Dollar Tree are an inexpensive way to dress up a dining area for a lemon-themed dinner party. You can also get lemon-printed ceramic dinner plates or lemon printed glassware to create a festive lemon-themed atmosphere.
Lemon Themed Dinner Party Food
The ideas for lemon-themed dinner party food are numerous. For an appetizer, top some small slices of crusty bread with ricotta, basil, and lemon zest. For a main dish, you could serve savory roasted chicken stuffed with a preserved lemon and rosemary.
You could also bake some salmon wrapped in foil topped with garlic, sprigs of rosemary and preserved lemon slices. Serve some homemade or pre-packaged lemon rice on the side along with a simple tossed green salad. Sprinkle on some easy lemon dressing (also used in this easy chicken salad) for added lemon flavor.
Easy Lemon Dressing
3 tablespoons lemon juice (fresh-squeezed is best, but bottled is fine as well)
3 tablespoons olive oil
1/2 teaspoon salt (we are a low-salt family, so you may wish to add more)
1/4 teaspoon pepper
1 or 2 tablespoons of dill weed, if desired (or serve the dill weed on the side)
Whisk all ingredients together for a light, delicious addition to any tossed salad.
For an Italian lemon themed party twist, serve the classic Italian lemon-flavored sparkling beverage, Limonata.
Lemon Themed Dinner Party Gifts
Place a lemon tissue paper wrapped party favor gift on each plate. You could surprise guests with small jars of lemon curd or lemon-flavored olive oil spray. A small container of lemon pepper seasoning would be another creative gift idea. There are many lemon-flavored gift options out there.
Lemonade Themed Party
Cool off with a refreshing lemonade themed party. When life gives you lemons, make lemonade, right? Here are some great when life gives you lemons party ideas or lemonade themed party ideas. The fun thing about lemonade is that there are so many different variations. Creating a unique lemonade concoction can be a fun lemonade party activity.
Lemonade Themed Party Decor
Decorate with a delicious-looking lemon garland. The garland may be used over a doorway or around a lemonade beverage table. Hang a lemonade party banner above for an additional festive touch.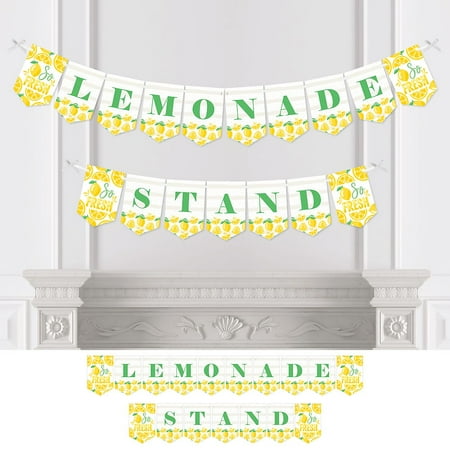 If you are going with a rustic, country-style lemonade stand theme, place a vintage-looking lemonade sign on a nearby wall.
For a pink lemonade birthday party theme, spread out this pink and yellow lemon patterned runner on your party table. Add some pink lemonade party themed paper plates with matching napkins and you're all set.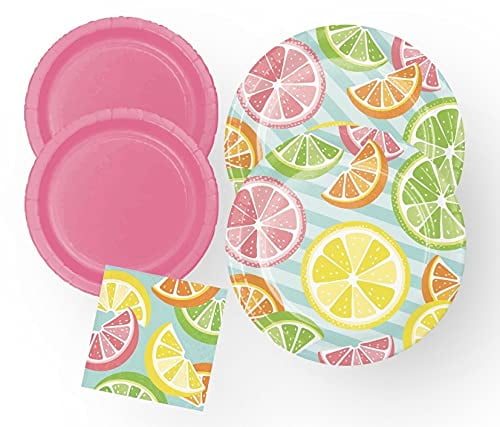 Lemonade Themed Party Food
Any of the desserts listed in this article would make great lemonade party food options. Since the theme is lemonade, you could have a lot of fun with a lemonade table. Start with some freshly squeezed lemon juice. Offer guests a choice of sweetener such as granulated sugar or stevia for a sugar-free option. Have guests add ice water or sparkling water to taste, then add different types of fruit, like raspberries, strawberries, blackberries and peaches. Set out some herbs like mint leaves, sprigs of lavender, rosemary and lemon slices for garnishes. Let guests create their own custom lemonade mixture to enjoy.
Lemonade Themed Party Gifts
For lemonade themed party favor gifts, offer guests their own packets of lemonade mix. You could also give each guest their own reusable plastic tumbler with lid and straw to use for making lemonade. As a prize for a lemonade party game winner, you could offer an insulated lemon-themed tumbler for keeping drinks cool.
Lemon Themed Party Games
Give your party guests some laughs by giving a lemon-themed twist to some traditional favorites. These lemon themed party games may be played by a variety of ages. Have some lemon-themed fun!
Lemon Walk
Have a "Lemon Walk" instead of a cake walk by sticking lemon vinyl decals to a floor (removable, of course). Write a number on each decal, play some music, when it stops, choose a winning number. Give a lemon-themed gift as a prize to the winner.
Stick the Leaf on the Lemon
In a lemon-themed variation of Pin the Tail on the Donkey, place a large drawing of a lemon with a stem on a wall. Cut out green leaves from construction paper and give one to each guest (with tape already attached to the back). Blindfold each guest one at a time. Spin each guest around and see who can pin the leaf closest to the stem of the lemon.
Guess the Number of Lemon Drops
Fill a jar with lemon drops and have guests fill out their guesses on cute lemon-themed cards. As a variation, do the same thing with candy kisses. This is especially appropriate for a lemon-themed bridal shower.
Easy DIY Lemon Theme Party Tips
On a budget? Here are some excellent ways to save money by making things yourself. I'm a big fan of using the food dehydrator, and like to dry many types of fruit. Dried lemons are easy to make. Just cut lemons in to about 1/8-1/4 inch slices, then spread around in a single layer on the drying trays. My food dehydrator will accommodate about 6 sliced lemons, and takes about 10 hours to dry the slices completely.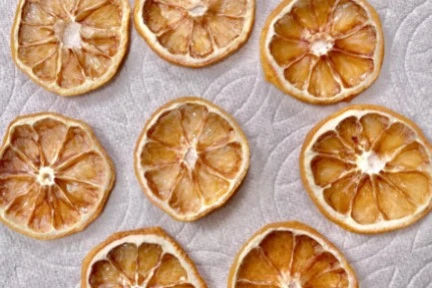 I like to store the dried lemon slices in a zippered storage bag in the freezer, then they are ready to use as decorations for cakes, cupcakes, and more. You can also store lemon zest and lemon juice in the freezer. Before I squeeze the juice out of a lemon, I always zest it. You never know when you might need a little lemon zest to sprinkle around.
Organize Your Party (and Your Life) with This Lemon-Themed Planner
If you love the lemon theme, check out this lemony undated monthly planner. Since it's undated, you can download and print it again and again, year after year. Get lemon-themed inspiration every day when you organize and plan in this eye-catching printable.
More Party Planning Inspiration
It's always nice to have a plan when it comes to meals and parties. If you're looking for a way to get more organized with your lemon themed party planning efforts, I've got something for you. Free, editable meal planners! The templates can be used over and over, as often as you need them. You can make as many duplicates as you like, and you'll be able to save old party food plans for future reference. I hope it simplifies things for you.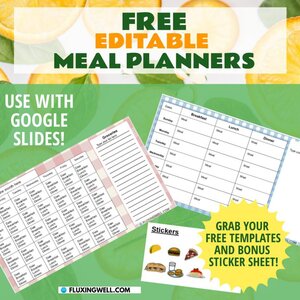 Have fun planning a lemon themed party. May all of your party planning endeavors meet with great success!