Learn how to make a pole bean tower the easy way with this simple bean tower DIY project. This is one of the best pole bean support ideas because it's fast, and best of all, the bean towers fold up for easy storage. They are portable, reusable, and add a vertical element to our vegetable garden. Another advantage to making these easy DIY pole bean towers is you can make them out of scrap lumber and wire. They didn't cost us a penny. Looking for pole bean support ideas? Think learning how to make a bean tower is complicated? Not so! Here's how to make a pole bean tower with step-by-step instructions. With these easy directions for this pole bean idea, you will learn how to make bean poles in no time!
***Disclaimer: This post contains affiliate links, which means as an Amazon Associate I earn from qualifying purchases at no additional cost to you.*** Already know what you'd like to get from Amazon? Here's a handy way to get to the website, linked to one of my favorite gardening books. Just click on the link, then browse around and do your shopping.
What Are Bean Towers?
Some people call them pole bean towers, some people call them green bean towers. The beans I grow on mine are not green beans, they are scarlet runner beans. That's why I just call this three-legged, portable contraption a pole bean tower. It's useful for growing pole beans because it gives them a way to grow vertically. These pole bean towers also make the beans easier to pick. So whether you call it a green bean tower or just bean tower, the idea is the same.
What You Will Need for One Tower
We have four of them, and you may only need one. So here is what you will need for one easy DIY pole bean tower:
12 inches of 10-14 gauge wire ( It can be baling wire or fence wire if you have any of that around.)
Cutting pliers or wire cutters
3 lengths of 1.5-inch by 1.5-inch by 8 foot pieces of wood (We used cedar. Old deck wood is perfect, ripped on a table saw, if you have one.)
Directions
First, cut your wood to the specified size. If you have a small garden bed, you may choose to make the poles shorter.
Next, drill one hole completely through each pole, 12 inches down from the top.
After that, line the poles up side-by-side on the ground so that the holes are aligned.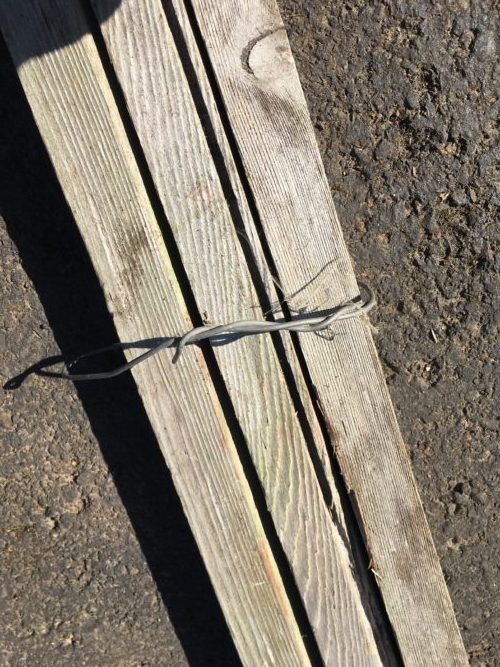 Finally, thread the wire through the holes and twist to fasten.
That's it! Spread the poles out and place the tower in your garden.
Portability
These garden towers are easy to move around and reposition. They work well on uneven, sloped ground, as we have in our garden. You could have them in the same spot each year, or place them in different locations. This is especially useful if you try to rotate your garden crops each year. You can plant beans, or whatever you choose to grow, in a different location every growing season.
Versatility
The towers are great for a variety of climbing plants. We have used them most often for different varieties of pole beans. Most recently, we've grown scarlet runner beans in an effort to provide more ornamental interest to the vegetable garden space.
I wrote about our efforts in an earlier blog post. This year, we're trying sweet peas. If the sweet peas need string, it's easy to wind string around the poles.
Easy to Store
The towers are easy to take down when the season is over. The poles come back together as soon as they are lifted out of the ground. We store ours standing up under the lean-to of our garden shed. The poles could also be laid flat and stored in a loft or near a garage wall. Anywhere out of the weather would work well.
Durability
We have had our garden towers for more than 15 years, and the cedar has held up well. We didn't have to treat it with anything special. If you do observe any rot at the bottom of the poles, you can just trim off an equal amount of length on each pole.
Can These Pole Bean Towers be Used as Pea Towers?
You could use these towers as pea towers. Some people call them pole bean and pea towers. However, I found that when I used these towers with peas, the pea plants needed a little extra help to climb for some reason. I ended up winding some fishing line around the poles, and that helped.
Ready to Give These Easy DIY Pole Bean Towers a Go?
This easy DIY pole bean tower project is so simple. Since this pole bean support idea is inexpensive as well, maybe you would like to give it a try. If you do decide to make a tower of your own, I'd love to see pictures of your completed project and where you decide to place it in your garden.
Looking for More Garden Inspiration?
Gardening can lift the soul. If you are looking for some more garden inspiration in addition to pole bean support ideas, check out the other gardening ideas offered here. Whether you are into growing flowers, herbs, or vegetables, you will find DIY projects and tips. The featured plants are easy-care and low-maintenance. They are perfect for everyone from the novice to the master gardener. Here are a few ideas you might enjoy:
Need to Get Your Garden Organized?
As a result of needing to keep track of garden tasks throughout the year, I decided to begin a garden planner notebook. It has a page for each month, along with notes pages. If a garden planner notebook seems like a good idea to you, good news! You can get it here!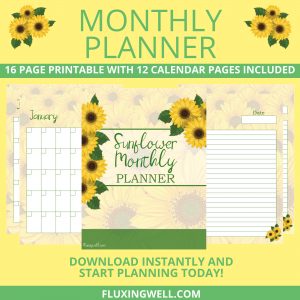 May all of your gardening endeavors meet with great success!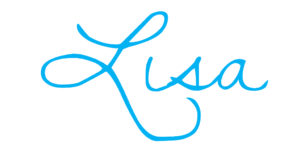 Lisa Mitchell is a wife, mom, and school librarian who likes to grow fruit, vegetables, and flowers on her family's small Pacific Northwest farm. To learn more about what this website has to offer, click on over to the Welcome page.
Like what you read here? Please give it a share!