In this post, you will learn about the different types of DIY (do it yourself) garden stepping stone molds, the materials you need, and the step-by-step instructions to make easy DIY garden stepping stones. Get ideas for decorating the stones plus some tips about laying the stones if you want to make a walkway. These garden stepping stones make the perfect gift for Mother's Day, Father's Day, and any other special day. They are also a great way to remember milestones, such as the first day of school, or commemorating an achievement. How do you make cheap stepping stones? DIY garden stepping stones can be inexpensive to make when you know which supplies to use. The good news is, most of the supplies can be used over and over. Hooray for cheap garden stepping stones! How do you make homemade stepping stones? Read on to find out!
***Disclaimer: This post contains affiliate links, which means I earn from qualifying purchases at no additional cost to you.*** Already know what you'd like to get from Amazon? Here's a handy way to get to the website, linked to an inexpensive, square stepping stone mold. Just click on the button below, then browse around and do your shopping.
Materials Needed for DIY Garden Stepping Stones
Some type of a mold (read on for the list of possibilities)
Water
Petroleum jelly, vegetable oil, or cooking spray (to release the dried stone from the form)
Letter stamps (optional)
Embellishments (optional)
Concrete sealer (optional, but recommended if you are going to have the stones out in the weather)
Types of DIY Stepping Stone Molds
What can I use as a homemade stepping stone mold? There are many materials that lend themselves well to making DIY garden stepping stones. Many of them you can probably find around your home. You might be surprised at the variety of materials you can use.
Round DIY Homemade Garden Stepping Stone Molds
Round garden stepping stones lend themselves well to creating a mosaic design from a broken plate. There are many different options for round stepping stone molds. Here are some of the most common.
Old cake pans, pie tins, or springform pans: If you decide to use one of these for a mold, you can reuse it as many times as needed. Just smear some petroleum jelly or vegetable oil around the inside to prevent the concrete from sticking to the pan.
Buckets: Plastic 5-gallon buckets work well, as do old ice cream buckets or spackling buckets. Choose the size you want and you're all set.
Garden saucers: The plastic saucers used for drainage under garden containers come in a variety of sizes. This is a terrific, inexpensive stepping stone mold because the flexible plastic ensures easy unmolding after the concrete is dry.
Square DIY Homemade Garden Stepping Stone Molds
If square garden stepping stones are what you're looking for, it's easy to find some possibilities for molds. Just take a look in your kitchen. It's a treasure trove of DIY garden stepping stone mold ideas!
Pizza boxes: The boxes from small or mini-sized pizzas lend themselves well to becoming molds for DIY garden stepping stones. Lining the boxes with plastic prevents the cardboard from becoming soggy. If you are making the stepping stones with a large group, like a school class of kids, pizza boxes are an economical way to make a lot of stepping stones at one time.
Square cake pans: As with the round pans listed above, a little bit of petroleum jelly will help the concrete to release from the pan when it's dry.
Homemade concrete forms with scrap lumber: If you have some scrap pieces of 2 by 4 lumber, and some scrap plywood to use as a base, a simple form can be constructed. This type of form is especially useful if you would like to make thicker concrete stepping stones.
Milk jug: For a square stepping stone with rounded corners, cut the top off of an old milk jug. The plastic jug bottom is perfect for containing the concrete as it dries.
Other Form Shapes for DIY Garden Stepping Stones
Large leaves: Spread some concrete on top of a large leaf for a leaf-shaped stepping stone. Some good leaves to use include rhubarb (I have those!), hosta, or acanthus.
Oddly-shaped cake pans: Cake pans come in all shapes and sizes. Not sure what to do with that hexagonal cake pan you inherited from Great Aunt Mabel? Turn it into a stepping stone mold! The good news is, you can still use the pan for baking cake later on. (After cleanup, of course.)
Purchased Plastic Garden Stepping Stone Molds
If you don't have anything at home you want to use as a stepping stone mold, you can get inexpensive, pre-made plastic molds. The basic round and square molds are very reasonably priced. They are flexible enough to unmold the dried concrete easily and durable enough to be used over and over.
Which Concrete Should I Use for a Stepping Stone?
Although special stepping stone concrete mix may be purchased, if you plan on making multiple stepping stones, the sand-based concrete mix at your local hardware store is a much better buy. For about half the price of the stepping stone concrete mix, you can get a bag that is about 10 times the size. It is definitely cheaper to buy a bag of Quickrete mix. You can also use plaster of Paris to cast stepping stones. Some people prefer to use plaster of Paris with kids because plaster of Paris is non-toxic. How do you make plaster of Paris stepping stones? Just follow the same basic directions given later in the post, and follow the instructions on the package of plaster of Paris material for mixing.
How Can I Put Words on a DIY Garden Stepping Stone?
When I first started making stepping stones, I tried to write in the concrete with a wooden popsicle stick. It didn't turn out very well. I was so disappointed! Later, I discovered letter and number concrete stamps. What a game-changer! These are double-sided, with a raised letter or number on each side. That way, when you are pressing the stamp into the concrete, you have something to grab onto to lift the stamp after pressing it down.
I have used these stamps multiple times, and they make the stepping stones look so much nicer. They clean up easily and don't take up too much space in my craft cupboard.
What Kind of Embellishments Can You Add to Stepping Stones?
Part of the fun of making DIY garden stepping stones is that you can decorate them. Small, round glass stones make colorful additions. Seashells, if they are embedded deeply enough (so they don't break when the stone is stepped on) also make great decorations. As mentioned above, a mosaic may be made from pieces of broken dishes. Just be sure to embed the pieces deeply enough so that none of the sharp edges are sticking up higher than the surface of the stepping stone.
Directions for Making a DIY Garden Stepping Stone
Step 1. Prepare your mold by coating it with petroleum jelly, vegetable oil, or cooking spray. You can also line the inside of the mold with plastic wrap if you wish. Sometimes there are wrinkles though, so plastic wrap is not my first choice.
Step 2. Add water to your mix slowly until it is about the consistency of oatmeal. The amount of mix you use will depend upon the size of the mold you are using.
Step 3. Pour the mixture into the mold. If you want to make your stepping stone extra-sturdy and protect it from cracking, lay in a piece of chicken wire cut to size when you have poured about half of the mixture in. Continue pouring the rest of the mixture to cover. The amount of mixture should be about 2 inches thick. If you have a homemade mold built from scrap lumber, you may have enough room in your mold to make it thicker.
Step 4. Smooth with a plastic putty knife or another smoothing tool. Allow the mixture to set and thicken for about an hour. At that time, you may add decorative embellishments, if you wish.
Step 5. Allow the stone to remain in the mold overnight.
Step 6. Unmold and allow to cure for 1-3 weeks.
Step 7. (Optional) How do you protect a stepping stone from the weather? For extra weatherproofing, add a coat of clear polyurethane, waterproof acrylic sealer, or concrete sealer.
Other DIY Garden Stepping Stone Ideas
How do you make a stepping stone footprint? Or a stepping stone handprint? We have done handprints and pawprints. To make footprints, handprints, or pawprints, just wait until the concrete mixture has set for an hour. If you do the prints too soon, they might disappear in the wetness. Gently press each foot, hand, or paw into the mixture, going straight up and down. Be sure to wash the body part thoroughly afterward, as the concrete might cause skin irritation if not washed off. That's it! Then just follow the directions above to finish off the DIY garden stepping stone.
Installing Your DIY Stepping Stones in the Garden
Can I use stepping stones as pavers in the yard? Depending on the thickness of your stepping stones and the sentimental value, you may or may not choose to use them as pavers. Once they are cured and sealed, they should be able to withstand walking. If you choose to make a path, what do you put under stepping stones? Here's how to lay a stepping stone path.
Step 1. Lay out the stepping stones and position them where you want them. Can you just lay stepping stones on top of the grass and leave them there? Not if you want to have a hassle-free lawn-mowing experience.
Step 2. When you have the stepping stones in position, use a half-moon edger to edge around the stones. Set each stone aside after tracing its outline and dig out the soil so that there is a hole the same depth as the stone plus about 1 and 1/2 inches. You can use a line of string to measure and check the depth. Can you lay stepping stones on soil? Yes, but you will want to go through the same digging-out process to bury the stones to ground level. This provides protection for the stones and prevents the stones from becoming tripping hazards.
Step 3. Pour in some sand or stone dust for setting the stepping stones. Use a leveling tool to position the stones. Do you need leveling sand for stepping stones? If you want a stable stepping stone path, using sand or stone dust is a good idea. How do you keep stepping stones from sinking? Using sand or stone dust can help with this, too.
Step 4. Use a rubber mallet to gently pound the stones and make sure they are stable.
How Thick Should the Stepping Stones Be?
You want to make your stepping stones thick enough so they don't crack if you plan to use them as pavers on a stone path. If you make them too thick, you will have to dig out quite a bit of dirt when placing them. In the picture below, the stepping stone on the left is only a little over an inch thick. It's more useful for decorative purposes. The stepping stone on the right is extremely thick, about 4 inches. It is probably sturdy enough for an elephant to stand on, but it would take a long time to dig the holes for placing in a pathway. A good depth (thickness) for a stepping stone is about two inches.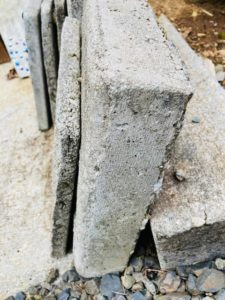 Are You Now Inspired to Make Some DIY Garden Stepping Stones?
If you decide to create your own stepping stones, I'd enjoy seeing photos of your creations. Just tag me on Instagram and I'll feature you in my Instagram story. It will be fun to see what you design!
Organize Your Garden Tasks
Get a free 14-page garden planner, along with exclusive access to a library of free resources, when you subscribe to the Fluxing Well blog. I've used this garden planner all year long to help me keep track of monthly gardening tasks. I'm always trying to be more organized and efficient. Now I finally feel like I'm on the right track!
Here are Some Other DIY Garden Posts You Might Enjoy
If you are artistically challenged like I am, here's how to plant flower containers with confidence. Looking for an easy way to add some vertical interest to your vegetable garden? Check out this post about making an easy DIY pole bean tower. If you're a fan of dahlias and want to learn how to fearlessly divide dahlia tubers, I've got you covered. If the weather is to crummy to go outdoors, create some garden-inspired art with this easy pointillism project. Thanks for stopping by to read about DIY garden stepping stones. May you have success with all your gardening endeavors!