Learn how to plant and care for dahlias. Get tips for soaking dahlias, keeping pests away and storing them for the winter. Gardening for me is a process of trial and error (and error and error). Sometimes there are planting experiments that are wildly successful. (Hooray for scarlet runner beans!) Then, there are plants that are just not meant to be grown in our yard. Hybrid tea roses, the classic beauties, never thrived where we planted them. We were constantly battling black spot, aphids, powdery mildew, and it was not a lovely experience for anyone. My visions of beautiful cut flower arrangements crumbled into dust. The solution? Dahlias! Interested in learning how to plant these lovely flowers? Read on for all you need to know about planting dahlias from tubers.
***Disclaimer: This post contains affiliate links, which means as an Amazon Associate I earn from qualifying purchases at no additional cost to you.*** Already know what you'd like to get from Amazon? Here's a handy way to get to the website, linked to one of my favorite gardening books. Just click on the link, then browse around and do your shopping.
Deciding to Plant Dahlias
After fighting a losing battle with the sad-looking hybrid tea roses for over 15 years, my husband and I finally admitted defeat. My husband pulled out all of the dreadful-looking hybrid tea roses, and their former flower bed languished in neglect. We housed some plants there temporarily, but we were uninspired to do anything more. The south-facing sunny location was ideal for something, but what? Then, we had an idea. Do dahlias like full sun? Yes, they do, so that's what we decided to plant.
A Successful Dahlia Planting Strategy
We had grown dahlias before, then lost them after digging them up and storing them. It got too cold in the garden shed where we had packed them in sawdust. A few years later, we decided to try growing a few more as an experiment up near our orchard. We tried not to care or get too attached to them, and decided to leave them in the ground to overwinter. Surprise! They returned, and have given us beautiful blooms for about five years now. We were ready for the next step: planting a true dahlia bed.
The Perfect Place for Inspiration
Where we live, in Oregon, we are fortunate to have a wonderful dahlia farm not too far from us. It's called Swan Island Dahlias, and it's a gorgeous place to visit in early September, when their annual Dahlia Festival takes place. To give you an idea of what the beautiful fields of dahlias look like, here's a brief video I made after our visit last September:
We were so inspired! After some agonizing decision-making while paging through the catalog, we finally settled on ten of them. We departed with our free calendar, anticipating the promised arrival of the tubers in the spring.
Planning a Time to Plant the Dahlia Tubers
You might be asking yourself, "When can I plant out my dahlia tubers?" Some of you may have tubers that you overwintered in storage. If so, you could pot your tubers in late February or early March and give them a start in a greenhouse. Can you plant dahlia tubers straight in the ground? Yes, you can. We don't have a greenhouse, and we live in Oregon, at about 1,200 feet of elevation. We live in plant hardiness gardening zone 8. For those of you who like to know which plant hardiness growing zone you are in, you can type in your zipcode on the Burpee website to find out. In our zone, the optimal planting time for dahlia tubers straight in the ground is from the latter half of April through mid-May.
Woo Hoo! The New Dahlias Arrived!
In mid-April, we received the long-awaited box with our eleven (they included a free extra tuber) dahlia tubers, packed carefully, ready to be planted. When the time was right, and our schedule allowed, we headed out to prepare the bed for planting. I moved some rosemary and strawberry plants, did some weeding, then we were ready to begin.
Preparing the New Bed for Planting Dahlias
We raked the ground smooth, then followed the directions included with our package. The instructions directed us to dig holes 4 to 6 inches deep. Bone meal was recommended as an additive to be mixed in with the soil, but we decided to use potting soil and mix it in with regular dirt in each hole. Also, if you mix used coffee grounds in with the soil, slugs are deterred from eating the dahlia leaves. Yes! Anything to deter the slugs around here is a bonus (more on that further on down in the post). No coffee drinkers where you live? Good news! Starbucks has a free coffee grounds for gardeners program you can take advantage of. Not all stores participate, so check with your local shop to see if they offer this freebie to the community.
Should You Soak Dahlia Tubers Before Planting?
Update: After we planted our brand new dahlia tubers, we learned that soaking them before planting is a good idea. You can place them in a bucket of water the night before planting. Will dried out dahlia tubers grow? The dahlia tubers we planted did fine without soaking. As long as there is some moisture in the tuber, the tuber should sprout. If you are preparing to plant dahlia tubers, either new or existing, you could experiment to see if there is any difference.
Organizing By Color and Height
Fortunately, we had saved the little catalog we marked our choices in way back in September. The catalog also included a description of each variety, detailing the size of the bloom, the color, and the plant height. Each tuber was marked, so all I had to do was determine which colors and sizes would look good together. They were going to be planted in rows, which was perfect for my unwaveringly linear planting style. (I am artistically challenged, and have trouble arranging things randomly, as noted in this previous post about planting flowers in containers.)
Transplanting the Old Tubers
In addition to arranging the new tubers, we also needed to transplant the older dahlia tubers from up near our orchard. As we dug them up (they did fine in the ground over the winter), some were large enough to be divided into separate tubers. Need to learn how to divide dahlia tubers with confidence? For more details about dividing dahlias with confidence, read my how-to article. After carefully separating the tubers, we left some where they were and moved others down to the new bed.
Preparing the Soil for the Dahlia Tubers
We placed each tuber in the prepared hole, mixing in one part potting soil with one part regular dirt as we went along. If we could spot the eye on the dahlia, we made sure the eye was pointing up. What does a dahlia tuber eye look like? Here's a photo. The arrow is pointing to the eye.
We spaced the holes about three feet apart, because we have a large bed. You could space dahlias one to two feet apart if you have a smaller space. Now we have two rows of dahlias in the new bed, 18 in all, with seven still up by the orchard. I'm so excited to see what will happen later this spring!
Can I Grow Dahlias in Containers?
Yes, dahlias may be grown in containers. In fact, a coworker gave me a very lovely dahlia plant in a container and it bloomed all summer long. The containers can be planted at the same time as you would plant dahlias in the ground. Dahlias can make a great container plant. Just be sure to leave enough room for the dahlia tuber to be laid in the container with the eye facing up.
How Long Does it Take for Dahlia Tubers to Sprout?
It can take four to five weeks for the dahlia tubers to sprout, depending upon the variety. Sometimes it takes longer if the dahlias were planted a little too deeply. Once the dahlias have sprouted, keep a close watch for pests, as I note further on in the post.
Caring for the Dahlia Tubers Once They are Planted
Do dahlias like dry soil? Dahlias like well-drained soil, you don't want the tubers to rot. They do need to be watered regularly. My favorite way to water is with a watering wand to keep an eye on any problems in the dahlia bed. In addition to our designated dahlia bed, we also left some dahlias up by our orchard. The ones by the orchard do not get watered as thoroughly as the dahlias in our designated bed. They are too far away from the house for the watering wand to reach. I have to carry a watering can up a hill to get to them, so they definitely get less water than their counterparts nearer the house. When the weather is hot, I water every day in the morning when I water the container plants and the vegetable garden. In Oregon, we have quite a few cloudy days. Most of the time, I can stick to an every other day watering schedule.
Keeping the Pests Away
How do you protect dahlias from getting eaten by garden pests? Where I live, I'm constantly on slug patrol. How do I stop slugs eating my dahlias? I use slug bait. As a general gardening rule, I try organic methods first. We have tried many strategies to keep slugs off of our plants. Do coffee grounds sprinkled on top of the soil keep slugs away? Anything that is rough or sharp will help deter slugs. Some people use eggshells. We have tried many options, and the most effective is Corey's Slug and Snail Killer. This is one instance when I have just had to use a non-organic approach.
I do have another way of dealing with slugs, but if you are a sensitive soul STOP READING. If slugs cross my path while I am out in the garden, I stomp on them with my rubber boots. I often don't want to go to the garden shed to get the slug bait, and it's a quick process. Now you know my dirty little slug-killing secret. Does that count as an organic method? I hope you don't think less of me. I know of one gardener who regularly used scissors to dispatch slugs. Okay, on to another topic!
Should I Deadhead Dahlias?
Deadheading dahlias is one way to get the plants to produce more blooms. I try to deadhead the dahlias about once a week during the heaviest bloom time in late summer. I am generally a low-maintenance gardener, so I'm not always very vigilant about deadheading spent blooms from other plants. For dahlias, I take the time.
Storing for the Winter
Some people do dig up their dahlias every fall and store them in a safe place for the winter. That didn't work well for us before, but that's because we had them stored in the wrong place. Our unheated garden shed was not a good choice. Now we know better. We have had good luck the past few years by storing the tubers in sawdust (which we have in abundance) in our garage. One of our friends, who is very generous about sharing his extra tubers, assures us that packing the dahlia tubers in vermiculite is the way to go. If you try it and that works well for you, please let me know!
Wondering What to Wear When Planting Dahlias?
There is no guarantee that the weather will be nice when planting dahlias. How can you be prepared no matter what the weather holds? Get some tips about what to wear for gardening in any type of weather!
Inspired to Start a Garden Notebook
As a result of needing to keep track of what kind of dahlia we planted where, I decided to begin a garden planner notebook. It will have a page for each month, along with notes pages. We also recently unearthed our list of irises, which are in another area of our yard. I need to be better organized. If a garden planner notebook seems like a good idea to you, good news! I'm adding the 16 master pages to the free resource library for subscribers to the Fluxing Well blog. You can get it here!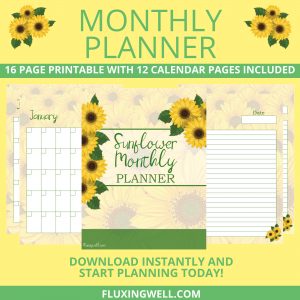 What About Your Dahlia Experiences?
Have you had prior dahlia experience? Do you have any advice for me? Obviously, I'm hoping this latest garden venture is a success, and I need all of the help I can get. So please, if you have any tips or hints, please let me know.
If you like what you've read today, and would enjoy receiving the free garden planner, please consider subscribing. You will also gain access to my free resource library for bloggers, teachers, gardeners, and cooks. Have a wonderful week, and thank you for taking the time to visit my site today!
Related Posts: