The blueberries and raspberries are hanging thickly on their branches, waiting to be picked, and the radish row is starting to go to seed. It is the time of the summer when I am often hit hard with GARDEN GUILT (it's much more ominous when the words are written in capital letters). I have a great time planting seeds and seedlings. I also enjoy watering and watching sprouts develop into thriving garden plants. Then, when everything, including the weeds, seems to be under control, suddenly something needs to be harvested. At this point, I am often overcome with guilt because I don't always take the time to pick all that I should pick. Low-maintenance gardening ideas to the rescue!
***Disclaimer: This post contains affiliate links, which means as an Amazon Associate I earn from qualifying purchases at no additional cost to you.*** Already know what you'd like to get from Amazon? Here's a handy way to get to the website, linked to one of my favorite gardening books. Just click on the link, then browse around and do your shopping.
Take Me To Amazon!
Do You Suffer From Garden Guilt?
It's sad to see vegetables and fruit go to waste, but it used to happen in my garden far too often. Does this happen to anyone else? I could not keep up with the harvest, even when there were four of us at home. I froze, I canned, I made jam, gelato (see my other blog about using berries from the freezer), and in recent years, I even dehydrated some garden produce. We were very fortunate to have more produce than we needed in the garden, but it was such an awful feeling to see it withering away, not being used. A couple of years ago, knowing that there would soon be just two of us at home most of the time, I decided to make some changes. Here is what I did, and I recommend these low-maintenance gardening ideas to you.
Plant Crops That Don't Need to be Eaten
I switched from growing regular green beans that needed to be harvested to ornamental scarlet runner beans. Scarlet runner beans have bright red blossoms. They are edible, but I prefer to think of the plants as annuals similar to the ones in our decorative planter arrangements. I don't harvest them, I just enjoy their colorful blooms.
I also planted more rows of flowers and fewer rows of vegetables. We now have a wildflower row that is outside of the rototiller boundary that has come back to bloom for the second time. It's the first part of the vegetable garden that people see when they drive down our driveway. Guess what? I don't need to harvest anything from it! The flowers would be great in a bouquet, but they look just as pretty when left to bloom in their row. I don't feel any guilt about leaving them in the garden to go to seed.
We also had a spectacular row of hollyhocks this past year. The great thing about hollyhocks is that they are perennials. When the blooming season was over, I transplanted them throughout the yard. I'll hope to see them again this coming summer.
Create Low-Maintenance Garden Accents That Can be Used Repeatedly
Did the garden towers in the picture of the scarlet runner beans catch your eye? They are super easy to make and can be constructed from reclaimed deck wood. We have had ours for about 10 years, and they are still holding up well. They fold for easy storage and provide a nice vertical accent to the vegetable garden. For the directions and more details, go to the post about DIY pole bean towers.
What if there is still excess produce from the vegetable rows? I can't believe I didn't know about this until a couple of years ago, but it makes a lot of sense. Let's move on to the next low-maintenance gardening idea.
Find a Local Food Bank to Take Your Excess Produce Donations
In my town, we have an Action Center with a food bank that is locally run and takes any garden produce, even the kind that my family is not especially keen on, such as squash. This is such a blessing because if anything thrives in my garden, it is usually the vegetables that are disliked by one or more members of my family. Some of the vegetables are grown with a single person in mind. I grow radishes for my husband and kale for myself. I always end up with extra of something (usually zucchini, but I have a plan for that).
Fortunately, the people at the Action Center are happy to take whatever I bring in. Even if they have had 50 other zucchini squashes donated the very same day, they are still glad to take mine. Thank you, Action Center, for helping me overcome my garden guilt. Now, here is my final guilt-free gardening idea for you today.
Plant a Smaller Vegetable Garden
Our vegetable garden has changed over the years. The trees at the south end have made that part of the garden too shady to grow many things. The reduction in garden size happened rather naturally. I probably would not have made the garden smaller willingly. The trees just got too big. I still plant a few, more cool-weather vegetables, but I decided to just let the lower part of the garden lapse into a mainly empty patch of dirt with a few squash plants. We still use the rototiller on it in the spring, to keep the weeds down. It's a great space to let those vines ramble. You can't get lower maintenance than that.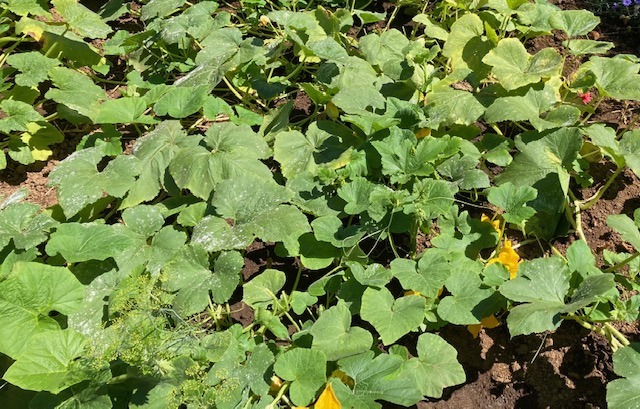 I also planted fewer seeds, combining two or three types of vegetables into one row. Then each type of seed takes up just a partial row. If you end up with a lot of extra seeds, you might find a seed exchange to donate them to. Our local library has one available to the public, housed in the old card catalog.
Invest in the Right Gardening Tools
One thing that helps these low-maintenance gardening ideas happen is having the right tools. Good quality tools are crucial to getting garden tasks done quickly and easily. Here are some of my favorites, and they need to be sturdy because they get used so often. First on the list are my handy Felco pruners. I use these for cutting flowers for bouquets, trimming spent blooms, cutting bean vines when cleaning up the fall garden, and harvesting squash. I have had mine for about 20 years. They still cut marvelously well.
My next, most-used garden tool is a hand trowel. I have gone through many, many trowels in my quest to find one that will last. I use my trowel for planting seeds, digging small holes when transplanting seedlings, and for the dreaded task of weeding. Get the sturdiest one you can find.
My third recommendation is a good quality watering wand. This tool saves me a lot of time and energy when watering container plants and the vegetable garden. Since the layout of the vegetable/cut flower garden changes every year, it would be a lot of work to put a drip system out each growing season. The next best thing is watering with a wand. It goes quickly, and it helps me to keep a closer eye on any areas that might need weeding. If you get one that extends to a longer length and has an adjustable head, that is a definite plus.
If a Plant Isn't Working, Try Something Else
For years we tried to grow hybrid tea roses in a sunny location in our yard. The poor plants were always diseased, got nibbled on by the deer, and had aphids. We live in a wet climate, and they just did not thrive. They barely limped along. We reluctantly decided to pull them out and replaced them with dahlias. We also planted old garden roses, which are much more disease and pest resistant. Even though it was a tough decision, we are glad we did it. If you want a low-maintenance garden, plant something that is going to do well. As I have written before, I learn by trial and error (and error and error).
What Are Your Favorite Low-Maintenence Gardening Ideas?
What about you? Do you have any gardening ideas for me? I'm not too keen on having just an empty patch of dirt. Do you have garden favorites which like shade that might do well in my lower garden? Better yet, garden favorites which like shade that do not need to be harvested? Are there any annual flowers that might do well in a shady spot that would be good for cut-flower arrangements? If you have any ideas, please take the time to share your thoughts. I'd sure enjoy it.
If you like what you've read and would enjoy access to free printable garden planner pages for a garden notebook, among other free resources in the Fluxing Well Resource Library, please consider subscribing. Happy low-maintenance gardening!