Get the best watering wand for your garden. One of the best ways I keep updated on what is happening in the garden is by hand-watering with a watering wand. In this post, you will learn why I choose to hand-water, how to save time when hand-watering, and the best watering wands to use for hand watering. What is a watering wand (some people call it a gardening wand or garden wand) and what is the best watering wand? Stick around to find out about the best water wands out there.
***Disclaimer: This post contains affiliate links, which means as an Amazon Associate I earn from qualifying purchases at no additional cost to you.*** Already know what you'd like to get from Amazon? Here's a handy way to get to the website, linked to one of my favorite gardening books, perfect for beginning or veteran gardeners alike. Just click on the link, then browse around and do your shopping.
Why Water with a Watering Wand?
Even though we have an automatic sprinkler system set up for watering the lawn, I choose to hand-water the container plants, the flower beds and the vegetable garden. Why? I do much better at spotting weeds when I water by hand. Slugs, deer and rabbits are notorious for damaging plants in our vegetable garden. When I hand-water, I can easily spot any damage that has occurred and take action. I know some people are big fans of drip systems, and I agree that they can be a very effective way to water. The main problem is that we rototill our vegetable garden spot every year. We haven't discovered an efficient way to gather up the drip system then lay it back out again when the garden is ready. If you have an efficient way to do this, please let me know.
How to Save Time When Using a Watering Wand
When I water the container plants, flower beds and vegetable garden with a watering wand, I only have to change to a different hose once. Save time when hand-watering by using a long hose. I use our hose to its maximum capabilities to get it to stretch all the way across the front lawn to the dahlia bed (I'm a great fan of dahlias). I then switch to a different hose for the vegetable garden. There are a few container plants in our backyard that I water with a large metal farmhouse-style watering can, then I'm done.
Important Features to Look for in a Garden Watering Wand
I really like the watering wand I have right now. Even though its tag had the name Sprout on it, the name it is listed under online is Melnor. It came from our local one-stop-shopping-center, and the only identifying brand name was located on the removable tag. I removed the tag long ago, but I was recently in the same store and checked to see if it was still there. It is, and I'm thinking I might want to purchase five of them, just to be safe. It has done well so far, but it's the third garden watering wand I've had, so when it gives out, I need to be prepared with a replacement. Just in case they are all sold out (already out of stock at Walmart) and I have to purchase a different kind, here are a few features I'm looking for. A heavy duty watering wand would be best, and it's important that I have a watering wand that doesn't leak. I'd like to get the longest watering wand I can find, so a telescoping watering wand is a must. I occasionally adjust the spray settings, so a turret wand with adjustable spray options would be desirable. Will I be able to find all of these features in just one garden watering wand? Let's find out!
Using the Correct Search Terms
When shopping for a watering wand, different search terms might get you different results. Some people use the term best garden hose wands when searching. Others might use the term long rod spray sprinkler. I also encountered the terms garden hose nozzle and rain wand. Sometimes, when I just used the term watering wand, the results included watering wands for washing cars, which was not what I was looking for. I had better results when I made sure to include the word garden in my search. Whichever term you use, I hope you will find this post about the best garden watering wands (or best hose nozzle wands, yet another variation) helpful.
A Note About Pricing
Prices vary and change. Instead of giving an exact figure, I'm going to just use a key. $=less than $30, $$=$30-$50, $$$=$50-$100, and $$$$=more than $100. Prices change constantly, so this way I will avoid giving you outdated information.
Most-Used Watering Wand Settings to Save Time
Even though my watering wand can be compressed to be shorter, why would I do that? Mine is always in the extended position, and I leave the spigot in the on position. Since I can control the flow of the water with a trigger, I see no need to mess around with the on/off spigot at all. I also usually have mine remain on the Shower setting on the nozzle. When I need to water, I just turn on the hose and press the trigger to be efficient.
Best Heavy Duty Watering Wand
As previously noted, I am on my third watering wand. I really like the one I have now, but I'm fully prepared for it to break. I try to be gentle with my watering wand, but during the summer it gets used almost daily. Any watering wand I purchase must be able to withstand frequent use without wearing out quickly. After performing extensive searches online, here are the watering wands that received praise for being sturdy, rugged, and heavy-duty. To find results, I had to use search terms like hose sprayer wand heavy-duty, just in case you try to replicate my results.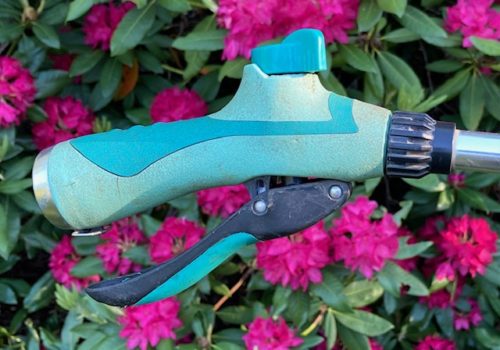 Best Watering Wand That Doesn't Leak
One feeling I'm really not fond of is the sensation of water running down my arm when I am trying to water hanging plant baskets. That is what happens when I am working with a leaky watering wand. I've also worked with watering wands that were so leaky I had to wear my rain jacket every time I watered the garden. In an effort to avoid the unpleasant results of leaky watering experiences, finding a watering wand that doesn't leak is high on my list of water wand priorities. Most of the time, leakage occurs at the joint where the rod extends, where the host connects to the wand, and at the nozzle head itself. For the record, mine only leaks a little bit at the extension joint when the trigger handle is compressed. When the trigger is not being compressed, there is no leakage. I'll take it! If your watering wand does start to leak, it's great to have a product with a lifetime warranty. What are the best watering wands that don't leak? Often, you won't know until after you purchase and try it out. So, let's find out which garden watering wands have warranties in case of leakage.
Best Telescoping Watering Wand
A telescoping (extending handle) watering wand might be important to you if you have to water some hard-to-reach places, like hanging baskets. In my case, I sometimes need to water hanging baskets, but I mainly like to make the watering wand stretch as far as it possibly can so I don't have to fill up the watering can very often. Is a watering wand with a telescoping handle important to you? Let's see how some other garden watering wands compare to my watering wand. Note about measuring: In most descriptions, it is not specified if the measurement includes the handle and head, or just the metal extension rod. I included just the metal rod portion for my extended length measurement. Also, when wielding an extended watering wand, a trigger handle for water flow is much easier to manage than fiddling with a spigot switch, in my humble opinion. The trigger handle itself did not warrant its own section in this post. A watering wand either has one or not, so I included the trigger handle in this table.
Best Turret Watering Wand
What is a turret wand? If you think of a turret on a tank or the ball turret on a classic B-17 bomber airplane, you can see why the rotating part of a watering wand is called a turret. Sometimes the rotating head is referred to as a pattern turret because of the different spray patterns it emits. Spray patterns that are commonly used are the shower, mist, soaker settings. Personally, I usually just leave mine on the shower setting and rarely switch it to something else. It's nice to know that I could switch the setting if I wanted to. Another important turret feature is whether or not the angle of the head can be adjusted. If you are watering hanging baskets, you might want to adjust the nozzle head of the wand to point down into the basket. When I am watering my vegetable garden, I don't want to walk in the rows if I can help it. I set the turret head to point more in an outward direction to increase the reach of the garden wand. In the descriptions of watering wands, this feature is described as a ratcheting head. Let's compare the different settings on the turret watering wands.
Best All-Around Watering Wand
After taking all of the qualities and specifications into consideration individually, let's compare all of the above-listed garden watering wands together. It might be easier to see which might be the best overall fit for your needs. Your top priorities might not be mine. Everyone's garden is unique. Here are all of the features for you to peruse. *If you are on a mobile device, swipe left to see all of the categories.
The Watering Wand Verdict
After comparing the various features of these garden watering wands, I discovered that the one I have now has a lot of positive qualities, including a 7-year warranty. Although it's a little shorter than some of the other extension watering wands, it's the absence of leakage (other than a slight drip at the extension joint) that is a huge plus. I hope my current watering wand lasts for a few more seasons. If it breaks soon, I will revise my good opinion and contact the company for a replacement. If the product has been discontinued, I think I might go with the Melnor 65044-AMZ RelaxGrip and try to get used to a thumb switch.
Huge Lesson When Looking for Products Online
I discovered that it pays to read the reviews. Some of the watering wands that looked good at first were not even compatible with a standard garden hose! How disappointing that would be. Customer reviews are generally worth reading. I know it can be time-consuming, but try to choose at least three that have gotten different customer ratings and find out why.
How About You?
Has this been helpful? If you are in the market for a new garden watering wand, I hope this will smooth the way for a well-informed decision. Have you had a garden watering wand for years that you are extremely pleased with? If you have a watering wand with different pattern settings, which one is your favorite? It would be great to get some first-hand recommendations.
More Great Gardening Ideas
Looking for more than just a garden watering wand? I've got you covered. Check out this list of what to wear for gardening in all kinds of weather. Need some extra cushioning when kneeling to weed? Check out this list of best garden kneelers for comfort and support. Know a gardener who seems to have everything? A beginning gardener? Here's a list of creative gardening gifts for all of the gardeners you know.
Need to Get Organized?
I need to be better organized as a gardener. When I only perform certain garden tasks once a year, I forget how and when to do them unless I take some notes. Where can I keep all of my garden plans and ideas? In a garden planner notebook! If a garden planner notebook seems like a good idea to you, good news! I'm adding the 16 master pages to the free resource library for subscribers to the Fluxing Well blog. You can get it here!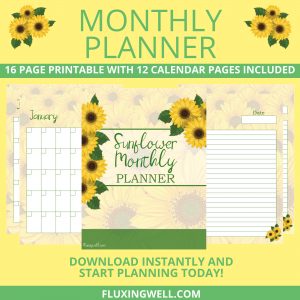 Other Gardening Ideas
If you like what you've read today, you might enjoy reading about planting dahlias, old garden roses, or creating the perfect garden container. If you enjoy cooking with fresh-from-the-garden produce, you might enjoy making easy homemade salsa, applesauce, dill pickles, or rhubarb jam. Wherever you are in your gardening journey, may you have success with all your gardening endeavors!
Lisa Mitchell is a wife, mom, and school librarian who likes to grow fruit, vegetables, and flowers on her family's small Pacific Northwest farm. To learn more about what this website has to offer gardeners, click on over to the Garden page.
Like what you read here? Please give it a share!