When my parents invited me to accompany them on their 50th wedding anniversary tour of Europe, I didn't realize I would be visiting the oldest city in Britain. Colchester, in Essex, boasts ancient Roman walls and remnants of a famous English Civil War battle fought during the 1600s. Despite its rich history, we were drawn to Colchester, England and the surrounding area for an entirely different reason. Here are some amazing things we found there.
Why Colchester?
My dad is a huge fan of the British painter John Constable, an artist who depicted life in and around Dedham Vale, a rural region near the Essex-Suffolk border, during the early 1800s. One of his most famous works, The Hay Wain, was painted in a tiny village called Flatford Mill.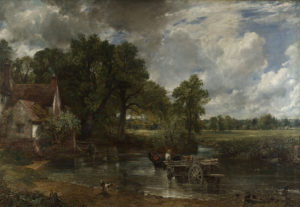 Flatford Mill was our true destination, and Colchester just happened to be the nearest city. My dad had always dreamed of paying a visit to Flatford Mill, and the time had finally arrived.
Getting There
Colchester was to be our first overnight stay after arriving in England on the train from Paris. We disembarked at St. Pancras station, then took the subway to the Liverpool Street Station. From there, we journeyed northeast by train through Wivenhoe to the Colchester Town rail station. Just a short distance away was our lodging for the next two nights.
1. The Historic Red Lion
My dad (travel planner extraordinaire) had made reservations at a place called the Red Lion. This historic inn was located in the middle of the oldest part of the city.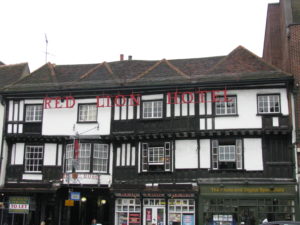 Built in 1465, it was the most interesting hotel I had ever stayed in. Where I come from, the west coast of the United States, anything 200 years old is rare. I even got to stay in my own cozy little room. That first evening, I snuggled up in bed with a cup of tea and a biscuit. I watched lovely British television shows (Call the Midwife was on) to my heart's content. In the hotel lobby the next morning, I read that Oliver Cromwell's body had been stored in the hotel cellar for a few days after his death in 1658. Amazing! Kudos to my dad for choosing such an interesting place for us to stay.
2. Hopping on the Hopper Bus in John Constable Country
We were up early the next morning to venture out into John Constable country. We took a taxi to the Manningtree train station so we could board the Dedham Vale Hopper bus. What a fun experience that was! Everyone was so friendly and informative. After giving us helpful details about the local area, the taxi driver promised to be available to pick us up later in the day.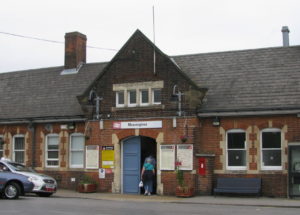 The bus driver was a wealth of information. There was only one other passenger, so the driver asked some friendly questions. I shared my anxiety about driving on the left side of the road, which I knew I would be doing in a few days when we rented a car. (If you would like to see a photo of the enormous Vauxhall station wagon I ended up driving, check out the post about my visit to Downton Abbey.)  The driver was very reassuring as she patiently answered my queries about British road signs and symbols. Before we knew it, we arrived at Flatford Mill. It was so tucked away in the countryside, we would have had difficulty locating it on our own.
3. Finding Our Way Around Flatford Mill
Flatford Mill was surprisingly quiet. The sky was overcast, which was perfect for the pictures my dad wanted to take.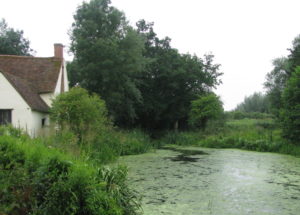 After walking around the village, I meandered along some marked trails, climbing over stiles, venturing around the countryside.
When it was time to depart, we boarded the Hopper with the same driver, and headed to the town of Dedham.
4. Dedham Discoveries
In Dedham, we wandered around the village high street, peeking into shops. We ate a picnic lunch in front of Dedham Parish Church, which is featured in a number of Constable paintings. While there, we encountered two energetic ladies from the Netherlands who were biking around England. I think they were both grandmothers. It was inspiring to hear of their adventures.
5. Ancient History
After returning to Colchester, we had some time to explore the old town area. Colchester Castle was closed, but the lovely gardens were open.
I explored the castle gardens, then walked to the ancient Balkerne Gate, built in the first century. (The first century!) It's the largest remaining Roman gate in England from that era, and I was the only one there visiting it at the time.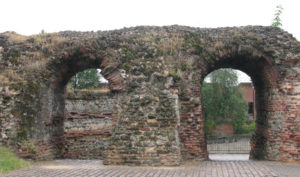 I touched the stones and wondered about the many people who had walked through the gate all those centuries ago.
6. Humpty Dumpty and the Battle of Colchester
St. Mary's by the Wall, an old church, was my next destination. I wanted to visit this particular edifice, built in the 15th century, because of a nursery rhyme. Many people associate the Humpty Dumpty rhyme with an egg, but Humpty Dumpty was actually a large cannon. Yes! During the Battle of Colchester in 1648, the cannon was sitting on top of the church tower, ready to defend the city. After a devastating blow to the tower from opposing cannon fire, Humpty Dumpty had a great fall and tumbled down, irreparably damaged. Here is a picture showing the tower today. If you look closely, you can see the difference in the brick color showing where the tower was rebuilt.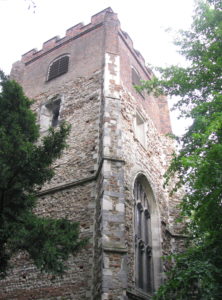 Humpty Dumpty is not the only nursery rhyme associated with Colchester. "Twinkle, Twinkle Little Star" was written by a young lady named Jane Taylor in 1806.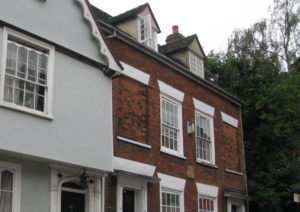 I read the plaque on the building where she lived and composed the song. It was one of my many discoveries as I traversed the streets of the old part of town. What else would I find?
7. Hidden Gems
Dusk was falling, and I was on my way back to our hotel when I chanced upon a second-hand shop. I love visiting second-hand shops when I am traveling. It's a great way to acquire some unique souvenirs. I peeked in the window of a shop after hours, and I saw something surprising. There, beside a photograph to prove its authenticity, was a lovely outfit which had been worn by Sarah Ferguson, former wife of Prince Andrew. The formal photograph looked like a christening picture with one of her daughters. Fun!
8. The Ketchup
One other thing I enjoyed about Colchester was the ketchup. Maybe all of the ketchup in England has the same delicious, tangy-sweet flavor I tasted in Colchester. It was a familiar brand, one which we have in the States, but there was something different about it. I almost brought a bottle back home with me in my suitcase. What a disaster that might have been. Crazy American tourist moment!
Might Colchester, England Make it Onto Your Bucket List?
Has this made you want to plan a visit to Colchester, England? Do you have your own tales of British tourism to share? I'd love to learn about your experience or any other fabulous travel experiences you have had. I have many fond memories of my visit to Colchester, Flatford Mill, and Dedham Vale. If you like what you've read today, you might also like reading about the scenic northern Oregon coast or my visit to Highclere Castle (aka Downton Abbey). For some simple travel wardrobe ideas, you can check out my post listing Wardrobe Essentials for the Savvy Traveler.
Wherever your journeys take you, I hope you make wonderful memories. Thanks for visiting the Fluxing Well site. If you would like to receive the latest posts before they are shared anywhere else, consider subscribing. Happy travels!