What is slightly crispy on the outside, yet light, moist and buttery on the inside? A freshly baked scone! I enjoy making many types of scones, always with an easy basic scone recipe as my starting point. For some reason, white chocolate raspberry scones stuck a chord with me the other day. I went home, checked the pantry, and discovered a bag of white chocolate chips. Looking in the freezer, I found a bag of dried raspberries. I was in business! The result was a lovely, buttery creation which I call easy white chocolate raspberry scones. Here's the recipe, with some ideas for variations.
The History
I found this basic scone recipe years ago in the FoodDay section of The Oregonian newspaper. The problem was it called for buttermilk, which I never buy. I made a few tweaks, then added some mix-ins. The basic scone recipe which I adapted is fine by itself, without any added goodies. I just like to have variety. Also, I'm trying to use up the leftover odds and ends from last summer's fruit-drying sessions. This was a perfect way to do that. If you would like to read about drying fruit for recipes such as this, check out my food dehydrator tips.
Ingredients for Easy White Chocolate Raspberry Scones
1 cup milk or buttermilk (if you have buttermilk, omit the lemon juice)
1 tablespoon lemon juice (bottled is fine)
3 cups flour
1/3 cup granulated sugar
2 and 1/2 teaspoons baking powder
1/2 teaspoons baking soda
1/2 teaspoon salt
3/4 cup firm butter (1 and 1/2 sticks, cut into chunks)
3/4 cup dried raspberries (fresh or frozen may be used as well, but will be more messy)
1 cup white chocolate chips
Directions for Easy White Chocolate Raspberry Scones
Preheat the oven to 400 degrees. Lightly grease a baking sheet. Mix the lemon juice and the milk together to make faux buttermilk and set aside.
In a large bowl, whisk together the flour, sugar, baking powder, baking soda and salt until blended. Using a pastry blender or two butter knives, cut the butter into the flour mixture until the butter is about the size of small peas.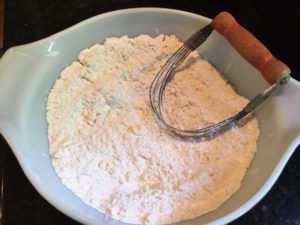 Stir in the raspberries and white chocolate chips.
Make a well in the center of the butter-flour mixture and add your faux buttermilk all at once. You may stir the mixture with a fork until the dough pulls away from the side of a bowl, if you wish. Since there are so many chunks of fruit and white chocolate chips in the mixture, I prefer to use my hands. This is when I am very glad to be using dried fruit. (Although, as I note below, frozen berries may be used.) After initially stirring the mixture with a fork, once the liquid has been absorbed, I turn and press the dough down into the bowl a few times. This gathers up all of the loose butter-flour mixture.
While the dough is still in the bowl, I divide it into four parts. I shape each part into a ball and place on a lightly floured board. I use an old bread board. Lightly pat each ball into a circle. Cut each circle into four parts and place the wedges on the prepared baking sheet. Yes, I know my baking sheet has been well-used.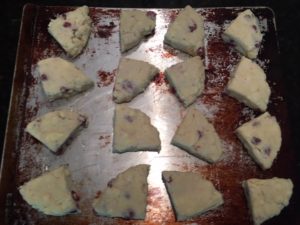 Bake until golden, about 15 minutes. Serve warm. I like to top mine with homemade raspberry blueberry jam.
Optional White Chocolate Drizzle
Since I had one more cup of white chocolate chips left from the bag I had opened, I decided to melt the chips in the microwave.
My goal was to drizzle the white chocolate over the scones to make them look fancy. One sad fact about me is that when I try to make something look fancy, I usually run into problems.
First, I put the white chocolate chips in the microwave for too long. I should have stopped after two forty-five second sessions. The white chocolate turned into a solid mass instead of melting further.
If this happens to you, just drizzle in some vegetable oil and stir. It works, I promise. I finally got the white chocolate back to a smooth consistency.
My next mistake was using a sandwich bag which was too flimsy to hold up to the melted white chocolate. I placed the melted white chocolate in a cheap fold-over sandwich bag and snipped off a corner. After drizzling the white chocolate onto just a few scones, the bag split. I squirted the rest of the white chocolate into a sturdier storage-type quart freezer bag, snipped off a corner, and had much more success. Here are the results of my attempt at fancy scone decoration. Yours will probably turn out much better if you try this.
Variations
Of course, you may choose to just make the easy scone recipe without adding any extra ingredients. Other goodies I have added include dried blueberries or strawberries. I've also mixed in semi-sweet chocolate chips. You might discover other favorite combinations, like these decadent chocolate orange scones.
What About Using Frozen Berries?
Certainly, frozen berries may be used. I'm always trying to find ways to use frozen berries. Just bear in mind that frozen berries, especially frozen raspberries, are a bit messy to work with at times. Frozen berries would be a delicious addition to this recipe, though.
A Brief Note About the Pastry Blender
Years ago, in a second-hand store,  I happened upon a sturdy vintage pastry blender with a faded red wooden handle. The words "Androck Made in the U.S.A." were engraved on the metal sides. I had never had a pastry blender before, so I eagerly put it to use. It was a wonder, and I even used it to chop hard boiled eggs, as noted in my kitchen shortcuts post. I was a little embarrassed by it's worn appearance ( it was from the 1950s), so I purchased another, brand-new pastry blender. It broke after just a few uses. I returned to using my trusty little vintage pastry blender, and have never looked back. If you ever see a vintage Androck pastry blender, as long as the handle is fastened on securely, I encourage you to snap it up.
Where and When to Serve Scones
Scones are so versatile, they can be eaten at any time of the day. They are a delicious breakfast treat, and may be served as part of a breakfast buffet. These easy white chocolate raspberry scones may be served as part of a tea party menu alongside savory morsels like mini sausage rolls. They look great on one of those tiered tea party trays. Have a scone for an afternoon or evening snack, along with a cup of your favorite hot beverage. For a delicious beverage option, you could serve the scones with tea or hot mulled cider (wassail).  Curl up with a cozy book if you like. There are many possibilities!
Are You Now Craving Freshly Baked Easy White Chocolate Raspberry Scones?
Are freshly baked scones calling your name? If you decide to try this recipe, I'd love to know how it turns out. If you like what you've read today, please consider subscribing and becoming part of the Fluxing Well tribe. You will receive fresh ideas every week, plus access to a library of free printable resources, including a free cookbook filled with the best easy recipes from the Fluxing Well website.
Have a fabulous day, and have fun baking scones!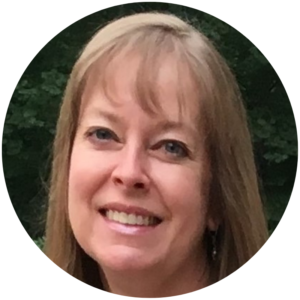 Related Posts: