Learn how to create a colorful work of art with this easy pointillism project. Not confident in your artistic skills? No problem! Get the tips and steps you need to complete a beautiful masterpiece of your own or teach a pointillism art lesson to students. Pointillism is a simple technique to learn, and can be adapted to any age or skill level. Read on to learn how easy a pointillism project can be.
My Pointillism Backstory
Whenever I see blossoming cherry or plum trees, I think of my favorite art project. As some of you know, I am rather artistically challenged. That's why this pointillist painting activity is so terrific. Whether you are doing a pointillism art project with preschool students, a pointillism lesson plan with middle school students, or a pointillism painting as part of an adult art class, learning the pointillism technique is easy and requires only a few simple supplies. People always admired the results when I displayed student pointillism art on the bulletin board. It's a snap to be successful with this pointillism project!
What is Pointillism?
According to the Britannica website, pointillism is "the practice of applying small strokes or dots of colour to a surface so that from a distance they visually blend together." The movement was most popular during the late nineteenth and early twentieth century and was invented by French artist Georges Seurat. Whenever I teach a pointillism art lesson, I try to have an art print of Seurat's for students to observe.
I have students observe the art print from a distance, then observe the print from about one foot away. They are always astonished at the difference.
***Disclaimer: This post contains affiliate links, which means I earn from qualifying purchases at no additional cost to you.*** Already know what you'd like to get from Amazon? Here's a handy way to get to the website, linked to a book about pointillism. Just click on the button below, then browse around and do your shopping.
A Primary Grades Project
Supplies:
White drawing paper cut into 6 inch squares (or light blue for very young children, to eliminate having to paint the sky)
Sharpened pencils for sketching
Unsharpened pencils with brand new erasers for making the dots of paint
Tempera paint in red, blue, green, brown and white (or you could have students mix yellow and blue to make different shades of green)
Brown marker (if you don't have brown paint)
Paper plates to use as palettes
Paper towels for blotting
I usually have a discussion with students about lines. If the weather is nice, I like to take the students outside to observe the straight and curved lines in nature, specifically a blossoming tree, if there is one nearby. Then we go inside, and I have the students create a simple line drawing along with me.
I have the students draw a series of straight lines in the shape of the letter Y for the tree trunk and branches. Then I have the students draw a curved line for the ground. If students wish, a sun may be sketched in, or clouds, but nothing too complex. After creating a simple sketch, each student uses the brand new eraser end of an unsharpened pencil to dip into tempera paint.
Painting Pointillism with Patience
Each student should have squirts of paint in desired colors, with enough room on the plate for mixing colors, if desired. I always demonstrate how to load the paint on the eraser, blot on a paper towel if needed, then press straight down with the eraser onto the paper until more paint is needed. I have students put dots on the tree trunk and branches first, with either a marker or paint. Then I have students add dots to the sky and the ground. Later, maybe even after a short break, students may add the pointillism blossom dots to the tree.
When I display the student artwork, I like to place the art print by George Seurat nearby. Students seem to enjoy having their work displayed alongside that of a famous artist.
An Upper Elementary Project
The basic concept is the same for an upper elementary pointillism art lesson, with the same supplies. Mainly, the difference is in the number of details in the sketch as well as the size of the painting. This example was created on nine inch by twelve inch paper. Older students may wish to add other landscape elements, such as a mountain.
A More Advanced Project
On a recent visit to see my parents, I noticed that my dad had created his own pointillism painting. He had taken an art class, and had used Georges Seurat artwork as his inspiration as well! Here's my dad's painting:
Although the supplies are different, the basic concept is the same.
Supplies:
One 1/2 inch flat brush
One little round brush with short bristles
One wider brush for painting a base coat of light color
One 12 inch by 18 inch canvas, pre-treated with sizing, available at most craft stores
Acrylic paint
As with the previously-described pointillism projects, begin by sketching a landscape or other design, then fill in with dots of paint. My dad's best tip: To speed up the painting process, use a wide brush to paint a light base coat of color for each area of the painting. That way, the dots do not have to be painted so densely. Thanks for the tip, Dad!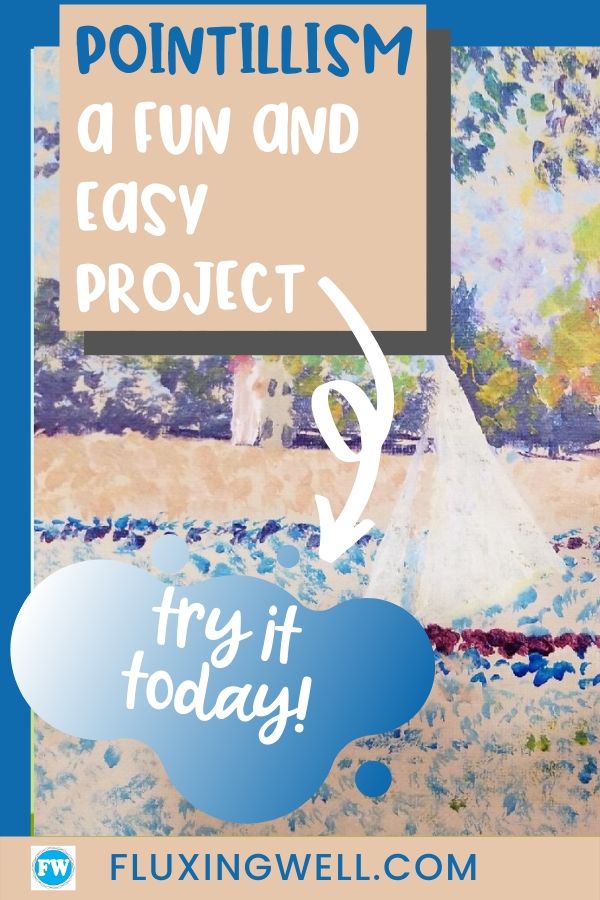 Planning to Teach a Pointillism Art Lesson?
Do you think you might like to try pointillism? Perhaps teach a pointillism art lesson? Whatever your level of artistic expertise, a marvelous creation will result. That's my kind of art project, and maybe it's yours as well. It's always nice to have a place to jot down ideas and schedules for projects. With this 16-page planner, all of your art lessons, appointments and lists can be in one well-organized place. Just download and print the file to get started.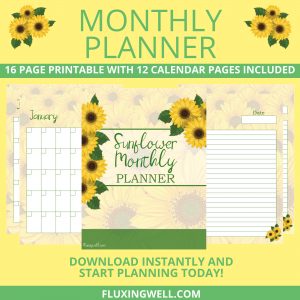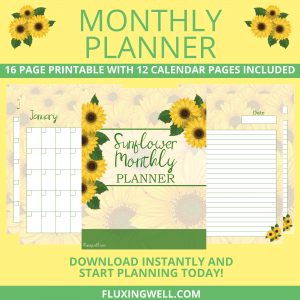 Have a wonderful week, and may all of your artistic endeavors meet with success!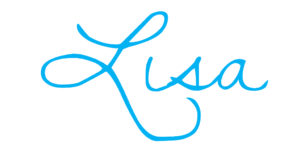 Lisa Mitchell is a wife, mom, and teacher who gets inspiration for art projects from the beautiful outdoors surrounding her family's small Pacific Northwest farm. To learn more about what this website has to offer, click on over to the Welcome page.
Like this post? Please give it a share! =)
Related Posts: