Looking for the best rhubarb companion plants? You're in the right place. Learn what you can plant next to rhubarb and what you should not plant near rhubarb. Get ideas about which vegetables grow well with rhubarb, which flowers grow well with rhubarb, which herbs grow well with rhubarb, and which fruit grows well with rhubarb. It's all here, along with tips about the best place to plant rhubarb, the best fertilizer for rhubarb, and whether rhubarb needs a lot of water. I've been growing and harvesting rhubarb for over 20 years, and it's one of the most easy-care, reliable plants in our garden. If you are looking for a low-maintenance, edible, deer-resistant addition to your collection of perennial plants, read on to learn how simple it is to grow fabulous rhubarb.
The Rhubarb Planting Backstory in Our Garden
My husband planted our rhubarb plant many years ago from a crown. I didn't pay much attention to it, but I liked the large leaves, and it seemed to do well next to the raspberries. In the past few years, I have relied upon rhubarb as an essential ingredient in a variety of rhubarb recipes ( more about those further on down). Why the interest in good rhubarb companion plants? As a result of trees that have grown too tall, the rhubarb and other plants in the southern half of our garden are probably going to have to be relocated. They no longer get as much sun exposure as they used to. Since our rhubarb plant is such a favorite, you can guarantee I've done my research and know exactly which are the best rhubarb companion plants possible. If you are asking yourself, "What can I plant next to rhubarb?" read on!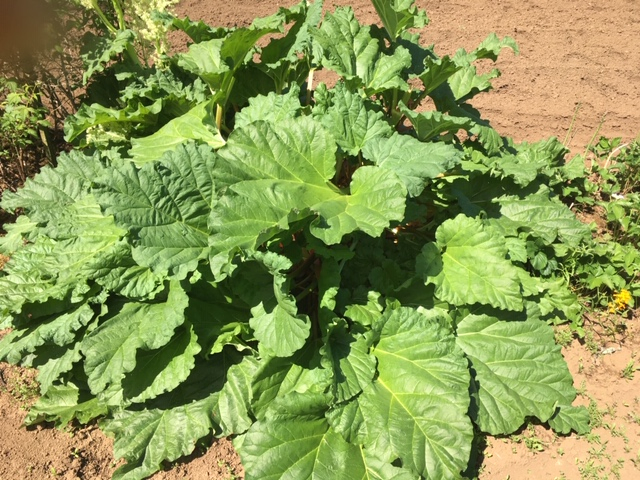 ***Disclaimer: This post contains affiliate links, which means as an Amazon Associate I earn from qualifying purchases at no additional cost to you.*** Already know what you'd like to get from Amazon? Here's a handy way to get to the website, linked to one of my favorite specialty garden books. Just click on the link, then browse around and do your shopping.
Where is the Best Place to Plant Rhubarb?
Does rhubarb like full sun? According to multiple sources, rhubarb does best in full sun, which is why we need to find a new location. Although rhubarb will tolerate partial shade, it's not the ideal situation. The soil must also be well-drained, and can be amended with compost periodically. So if you are wondering, "Can you plant rhubarb in the shade?" the answer, unfortunately, is no.
Which Flowers Grow Well with Rhubarb?
Since they attract predatory insects that can harm the leaves of other plants, marigolds are a terrific flower to plant near rhubarb. Other flowers that make good companions for rhubarb include nasturtiums, roses, and columbine. In our zone 8 garden in the Pacific Northwest, we have in the past planted old garden roses around our garden border. They are deer-resistant, disease resistant, and form a natural blooming type of fence.
Which Vegetables Grow Well with Rhubarb?
While the flowers listed above are beneficial to the rhubarb plant, the rhubarb plant can be beneficial to other plants as well. The fruity fragrance given off by the rhubarb plant is known to deter whiteflies. This can be beneficial to plants such as broccoli (a favorite of mine), cabbage, cauliflower, kale and other plants in the brassica family. Beans, garlic, onions and turnips offer the rhubarb protection from some garden pests like weevils, aphids, and leaf beetles. Since the leaves of the rhubarb plant are so large, keeping leaf beetles from attacking is a great benefit.
Which Fruits Grow Well with Rhubarb?
Strawberries have become one of my favorite ground cover plants, because they are so effective at keeping the weeds down. That is one of the main benefits they offer rhubarb. As long as the rhubarb leaves don't overshadow the strawberries, both plants make excellent companions. In addition, they are harvested at the same time, so picking the strawberries and harvesting rhubarb stalks, if both plants are grown in the same area, can also be very convenient. We have had success growing raspberries and blueberries near rhubarb, although the harvest times differ.
Which Herbs Grow Well with Rhubarb?
Catnip, chives, dill, oregano, parsley, rosemary, sage, tarragon and thyme are all good companion herbs for rhubarb. Each has a different fragrance that repels pests or attracts beneficial insects. Chives (one of my favorite garden perennials) will repel aphids and beetles. Rosemary can drive away cabbage moths. Fragrant herbs are also an excellent natural mosquito repellent, which makes gardening and harvesting rhubarb a more pleasant task.
What Should You Not Plant Near Rhubarb?
I was surprised to learn that melons, cucumbers, and pumpkins should not be planted near rhubarb. Basically, those plants have a tendency to grab as much sunlight as possible. In the process, the leaves and vines might invade a rhubarb plant's space. When melons, cucumbers or pumpkins are located too close to a rhubarb plant, the rhubarb might become deprived of sunlight and growth might be inhibited.
I would never plant a black walnut in my garden, but just in case you were thinking about planting a black walnut tree near rhubarb, don't. The black walnut secretes a chemical into the soil that might prevent the rhubarb plant from thriving. No one wants that to happen.
Another plant to avoid planting near rhubarb is dock. Dock is a plant that can be used for medicinal purposes, but most people treat it like a weed. It tends to attract the dreaded Rhubarb Curculio (otherwise known as the snout beetle). This beetle can damage the stalks of rhubarb plants. Other plants that attract and harbor these beetles are the thistle plant (not that your would plant thistles on purpose) and, sadly, sunflowers.
Quick Rhubarb Companion Plant Reference Chart
| | |
| --- | --- |
| Best Rhubarb Companion Plants | Worst Rhubarb Companion Plants |
| Flowers | Black Walnut |
| Columbine | Cucumbers |
| Marigolds | Dock |
| Nasturtiums | Melons |
| Roses | Pumpkins |
| Vegetables | Sunflowers |
| Beans | |
| Broccoli | |
| Cabbage | |
| Cauliflower | |
| Garlic | |
| Kale | |
| Onions | |
| Turnips | |
| Fruit | |
| Strawberries | |
| Herbs | |
| Catnip | |
| Chives | |
| Dill | |
| Oregano | |
| Parsley | |
| Rosemary | |
| Sage | |
| Tarragon | |
| Thyme | |
How Many Rhubarb Plants Do I Need?
We have only had one trusty rhubarb plant, and it has provided plenty of stalks for our family of four, but some people may want to grow even more rhubarb plants. Whether you are planting one rhubarb plant or many, you should allow for a space of 3 to 4 feet between rhubarb and the plant next to it. Does rhubarb spread on its own? Most rhubarb plants are not invasive. Ours has not spread. There is one species (Gunnera Tinctoria) called Giant Rhubarb that is considered invasive, but that is not the kind of rhubarb you will typically find in garden stores.
Can Rhubarb be Divided?
Rhubarb can be divided, and the best time to do this is in the spring. The crowns can be divided by a knife or spade as soon as the ground can be worked. Each section should have one to three buds and part of the root system. Need more details? Perhaps it would be a good topic for another post. It leads right into the next question.
Does Rhubarb Transplant Well?
Since rhubarb can be divided easily, it makes perfect sense that rhubarb can be transplanted easily as well. The size of the plant may necessitate dividing when transplanting, which is best done in the spring. If you are not going to divide the rhubarb plant, then the transplanting process may be done in the early fall as well.
What is the Best Fertilizer for Rhubarb?
Once your rhubarb is planted, it can be fertilized each year in the early spring. There is no need to purchase a special rhubarb fertilizer. A simple application of an all-purpose garden fertilizer may be worked into the soil around the plant.
This is one area I have neglected. Our rhubarb plant has done fine without a yearly fertilizer application, but I am determined to do better.
Does Rhubarb Need a lot of Water?
If you have brand new rhubarb seedlings, they need to be kept moist. Since rhubarb has always been located on the edge of our vegetable garden, it has gotten watered just as the rest of the vegetable garden has. If you have your rhubarb plant in a location where it might not be part of your regular vegetable garden watering routine, you will want to water at least once a week if you haven't gotten any rain. If the leaves on the rhubarb plant start to turn brown, more water is needed. My favorite way to water and keep an eye on what is going on in the garden is to use a watering wand.
How Do You Winterize Rhubarb?
In our Zone 8 Pacific Northwest garden, there is no need to dig up rhubarb for the winter. Since our rhubarb plant is so well-established, we don't even cover it with anything. If you want to neaten up the garden space, the leaves and stalks can be cut back. Sometimes we forget to do even that. (Our plant really does thrive on neglect.) The stalks just die back naturally when the cold weather hits. What a nice, low-maintenance plant!
Other Deer-Resistant Plants
One of rhubarb's best qualities is that it is deer resistant. If you are seeking more deer-resistant plants, check out my list of the best deer-resistant vegetables, flowers, and herbs. Avoid the disappointment of seeing your garden chewed to bits by planting things that deer avoid.
Need More Planting Ideas?
Check out the tips for the best companion plants for eggplant to learn what to grow with those beauties. If you like the idea of companion planting, you might be interested in reading about the best companion plants for pumpkins, lavender, hydrangeas, sunflowers, blueberries, or rosemary. Get tips for growing stunning dahlias. Are you a beginning gardener? Try planting some foolproof, easy-care perennials, or learning about the best companion plants for columbine. There are so many exciting plants to grow!
Ways to Use Rhubarb
In recent years, we have expanded our rhubarb recipe repertoire. A great favorite is the amazing rhubarb jam recipe passed down to us from my dear, late mother-in-law. Other fabulous ways to use rhubarb include tangy rhubarb orange jam, a blueberry rhubarb crisp and a rhubarb blueberry coffee cake. For year-round rhubarb availability, we just freeze 1-inch chunks of it in freezer bags for use in the off-season.
Free Online Garden Planner Layout Template
Now that you know which are the best companion plants for rhubarb, you might need a way to plan your garden layout. Whether you are planting vegetables, flowers, or herbs near your rhubarb plant, this online garden planner can help you visualize your design and bring it to life. With garden tasks that need your attention, this is one way to save time.
It's fully customizable when you make your own copy and includes two editable chart pages for noting planting specifications.
Organize Your Garden Tasks with a Free Garden Planner Notebook
As a result of needing to keep track of garden tasks throughout the year, I decided to begin a garden planner notebook. It has a page for each month, along with notes pages. If a garden planner notebook seems like a good idea to you, good news! You can get it here!
Have a wonderful week, and may all of your rhubarb-growing endeavors meet with success!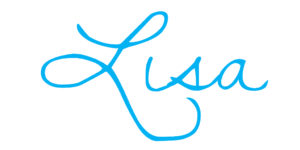 Lisa Mitchell is a wife, mom, and school librarian who likes to grow fruit, vegetables, and flowers on her family's small Pacific Northwest farm. To learn more about what this website has to offer gardeners, click on over to the Garden page.
Like what you read here? Please give it a share!