Get essential tips about places to see, fun things to do, where to eat, and places to stay in this ultimate guide to visiting Wichita Falls, Texas. We learned a lot about Wichita Falls when our son was stationed at nearby Sheppard Air Force Base. Not to be confused with Wichita, Kansas, Wichita Falls, Texas has a population of approximately 105,000. It is situated in northern Texas and got its name from some falls along the Wichita River, which flows through the city.
Getting to Wichita Falls, Texas
If you are flying to Texas, the closest international airport to Wichita Falls is the Dallas/Fort Worth International Airport. The closest regional airport is the Wichita Falls Regional Airport, which offers daily domestic flights. If you are driving to Wichita Falls, you will most likely use I-44 or US 287.
What is Wichita Falls, TX Known For?
What are the top attractions to visit in Wichita Falls? It turns out that Wichita Falls has quite a few interesting and fun attractions. There are many fascinating things to do in Wichita Falls. When we visited, we enjoyed our stay immensely. We also heard some intriguing stories and learned many fascinating facts. Here are some of the top sights in Wichita Falls, and the first five are free. Find a comfy spot and prepare yourself for a heap of information. Enjoy!
***Disclaimer: This post contains affiliate links, which means I earn from qualifying purchases at no additional cost to you.*** Already know what you'd like to get from Amazon? Here's a handy way to get to the website, linked to a book about the history of Wichita Falls. Just click on the link, then browse around and do your shopping.
Tour the Museum of North Texas History
The Museum of North Texas History is fascinating. Located in downtown Wichita Falls, It's a great place to begin a visit to this small city. The facts we learned about different historical buildings, locations, and events helped shape the rest of our visit.
Many area residents have donated interesting artifacts or collections to this well-organized facility. We were intrigued by one room devoted to cowboy boots and a vast display of cowboy hats in another location. Some of the items had been worn by celebrities in the rodeo world or well-known locals. Other items in the museum had been owned by regular folks. Like-new and well-worn were displayed side-by-side, and I enjoyed reading the information provided about some of the owners.
Where Are the Falls in Wichita Falls?
Are there falls in Wichita Falls? If so, where are they? Our questions were answered in a continuously playing video production recounting the history of Wichita Falls that was shown to us in a theater area. Overhead views of the layout of the area were shown via impressive drone photography. We learned about the original waterfall of Wichita Falls, which was destroyed by a storm in 1886. The residents of the city became tired of everyone asking, "Where are the falls?" So in 1987, replacement falls were constructed. I'll write more about that later. All along the hallway walls of the museum are well-organized photo collections from different eras. The captions and explanations are very interesting.
Military Memorabilia
Due to the rich military history of the area, there are many collections of military memorabilia, dating back to the Civil War. Specific rooms are dedicated to different battles and wars. We actually went through the museum twice during the course of our stay in town and learned more new facts on the second visit. I highly recommend a leisurely tour of this museum if you are ever in Wichita Falls. It's amazing!
Hunt for Vintage Treasures Galore
Armed with our historical facts, we ventured onto Lamar Street, which houses a variety of warehouses full of vintage items. We visited Heritage Antiques and Collectibles, three whole floors of reasonably-priced stock from about 70 vendors. There is also a very cool freight elevator. We had so much fun exploring! I came away with some vintage Pyrex. Woo hoo! I probably would have purchased more, but I had to keep in mind our return flight home.
Our next stop was just next door at Alley Cat Vintage Mercantile. While there, I encountered the largest collection of vintage Pyrex I have ever seen in a shop. I didn't have room in my carry-on for anything else, so I had to be satisfied with just looking.
I had hoped to have time to visit the charming-looking Down the Rabbit Hole Vintage Collectibles on Lamar Street as well. We ran out of time. On to our next Wichita Falls destination!
View the "Falls" in Wichita Falls
After learning about the new Falls at Wichita Falls, of course we had to visit them. We took a walk along the Wichita River to find them in Lucy Park. As noted previously in this post, the residents of Wichita Falls were constantly being asked "Where are the falls?" Finally, in 1987, new falls were constructed.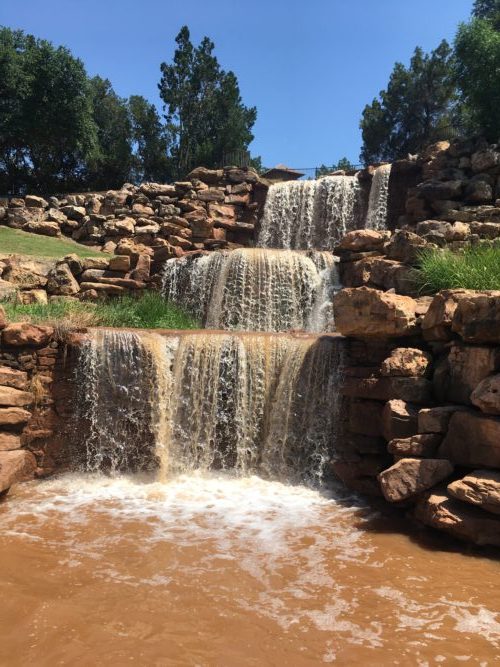 According to the official website for The Falls, the height of the three-tiered falls is 54 feet. I was intrigued by a plaque affixed to a stone near the falls. It was given to the citizens of Wichita Falls by the citizens of Niagara Falls, New York, to commemorate the return of the falls to the city. What a kind gesture!
Visit a Historic Cemetery
We didn't have time to visit the Wichita Falls historic Riverside Cemetery, which you can see by looking through the fence up above the falls at Lucy Park. A local resident alerted me to the site, and according to her, the cemetery "can be accessed from 6th Street. It features our founding fathers Joseph Kemp and Frank Kell and their family plots as well as several historical markers that help tell the story of Wichita Falls. There are headstones from the early 1800s too." I am a huge fan of old cemeteries, so next time I visit Wichita Falls, this cemetery will be on my list!
Visit the "World's Littlest Skyscraper"
A tour of Wichita Falls would not be complete without a stop at the "World's Littlest Skyscraper". It's currently part of a chic decor consignment boutique called "Hello Again!" The owner was quite friendly and happy to share the story of the tower. In 1919, so the story goes, a man named J.D. McMahon collected $800,000 from investors to construct a building 480 feet tall. When the investors approved the plans for the structure, they failed to notice that the specifications were labeled in inches, not feet. The resulting building was only 480 inches tall, not 480 feet!
The investors tried to sue McMahon, but lost the lawsuit. The judge ruled in McMahon's favor because the investors had approved the plans. When Ripley's Believe It Or Not dubbed the building the "World's Littlest Skyscraper", the name stuck. We were able to venture up into the four-story tower, which is listed on the National Register of Historical Places. Another fun, free feature of Wichita Falls!
Catch a Concert
Historic Memorial Auditorium in the heart of the city has a storied past. The venue has hosted celebrities such as Bob Hope and Jerry Seinfeld. On April 9, 1956, the auditorium was the site of a performance given by Elvis. You can listen to the interview he gave to the host of the "Hillbilly Hit Parade" to mark the occasion. Today, the concert hall is home to the Wichita Falls Symphony Orchestra. For a schedule of performances, check out the city's Multi-Purpose Events Center website.
Get Inspired by Classical Ballet
The Memorial Auditorium is also home to the Wichita Falls Ballet Theatre. The ballet company performs throughout the year, offering classics like the Nutcracker each December. Other offerings include new interpretations of familiar family favorites. If you are looking for an artistic cultural experience, the ballet is an inspiring option.
Theater on a Smaller Scale
Located in the heart of downtown Wichita Falls, the Backdoor Theatre offers performances year round. The organization provides a variety of activities in addition to shows, including improv workshops and youth programs. Visitors to Wichita Falls can view a play, then visit one of the many downtown eateries for a complete entertainment experience.
Places to Eat
If you're walking around downtown Wichita Falls, stop in at the atmospheric 8th St. Coffee House to have a refreshing beverage and maybe a tasty treat.
We also enjoyed visiting many of the local restaurants, including the wonderful Highlander Public House.
We went there on a recommendation from a nice guy from the Heritage Antique warehouse. He told us we had to get the BLT. We did, and it was amazing! Another popular place to dine is McBride's Land and Cattle. Just as the name implies, it's a steak house. For our son, a nice, juicy steak was a welcome change from his usual meals on base.
Other Unique Wichita Falls Dining Experiences
Other Wichita Falls eateries appeal to specific cravings. In the mood for barbeque? Head for the RibCrib. Looking for some Greek food? The Hibiscus Cafe has got your covered. For a classy farm-to-table experience, check out the local, seasonal offerings of Fox Hill. Mia's Italian Bistro offers much more than pizza. They offer a wide selection of traditional Italian food as well. Start with a lovely caprese and end with decadent tiramisu!
Watch a Free Air Show
For our final freebie stop of the day, we journeyed out to the Wichita Falls Regional Airport. The airport shares a runway with Sheppard Air Force Base, so spectators may often witness T-38 Jet Trainers landing or taking off. In addition to the military flyovers, an exploration of the terminal building reveals another free attraction.
Carefully restored vintage aircraft and automobiles occupy the "Jenny to Jet Exhibit". One half of the exhibit commemorates the first military training facility in the area, Call Field. The Curtiss Jenny biplane on display is one of only five in existence which can still take to the air. Vintage Model-T military vehicles are displayed as well, along with helpful narration and a variety of artifacts from the World War 1 era.
On the other side of the exhibit is the portion devoted to the modern era. A restored T-38 Jet Trainer is displayed, along with a jet engine and other modern military items. Information about the history of Sheppard Air Force Base is provided in a narrated video presentation.
Although our visit to the airport was free, we did have to pay for parking. Since we were only there for a brief time, we used a parking meter. Technically, our visit cost us 50 cents. In the interest of full disclosure, I needed to let you know about that small detail.
Quick Tip for Military Families, Fun and Games
Many of the attractions around Wichita Falls that aren't free offer military discounts. All you have to do is ask. We laughed our way through Lunar Mini-Golf in the Sikes Senter Mall.
For more family fun, pay a visit to the Family Fun Zone. With 12 different Zones to choose from, there's bound to be something for everyone in your group to enjoy. For the gamers, there is Maniac's Mansion, an arcade complete with a cereal snack bar and board games. It's the perfect place for some friendly competition! You will also find more gaming fun at The Deep End arcade.
Other Fun Attractions
Feel like cooling off? Castaway Cove waterpark is a great place to go for fun in the Texas sun. Another interesting place is the Professional Wrestling Hall of Fame and Museum. Before learning about Wichita Falls, I had no idea there was such a place. If you would like to get an education about the natural environment of Texas, the River Bend Nature Center offers many items of note, including a butterfly conservatory.
If you have time, you could create an art project and explore the free exhibits at the Kemp Center for the Arts. While you're exploring, take a stroll by the historic Kell House Museum. Another unique attraction is the Wichita Falls Railroad Museum.
If you are there on a Saturday, you can take in the nearby farmer's market as well. In fact, Saturdays are a great day to visit Wichita Falls, because you can also take in the free P's Crazy Car Museum. Filled with classic cars, trucks, tractors, and more, it's only open on Saturdays.
Explore the Great Outdoors
What are the best outdoor activities in Wichita Falls or near Wichita Falls? Lake Arrowhead State Park, located 15 miles from Wichita Falls, provides excellent opportunities for fishing, hiking, swimming, horseback riding, and more. Wichita Falls has extensive hiking trails that comprise the Circle Trail System. Existing trails are well-marked, and new trails are proposed to be added to complete a circle around the city.
Where to Stay in Wichita Falls, Texas
We stayed in the Comfort Inn Wichita Falls North, which was about 3 miles from Sheppard Air Force Base. It had a swimming pool (a must for us in the Texas heat) and was within easy distance of a few restaurants. If you are a fan of Choice Hotels, there is also a Quality Inn and Suites a convenient distance from the base. If you aren't in Wichita Falls because of the airbase, there are a few hotels in the downtown area.
The Essential Handbag
When traveling in cities, train stations, bus stations, airports, or wherever there are crowds, a secure handbag that will confound would-be thieves is a must. My favorite travel handbag has been with me inside Buckingham Palace, the Vatican, the Louvre, and Wichita Falls. It's the Travelon Anti-Theft Cross-Body Bucket Bag, and I have witnessed firsthand its effectiveness.
When traveling to Wichita Falls, I wasn't as worried about theft. I did appreciate the roomy side pockets for water bottles. This amazing handbag has traveled to more places than I have, as it has been borrowed. My mom has the same handbag in brown, and her bag was put to the test while traveling on the Paris Metro, where she thwarted some would-be thieves.
Did the pickpockets give up because of the security features such as the locking zippers or the slash-resistant cable inside the shoulder strap? Theft happens, and the Travelon bag is the best way I know to be prepared. The main compartment is roomy (I fit an iPad in it) and the side mesh pockets are perfect for an umbrella or, as previously noted, a water bottle or two. A small compartment has RFID-blocking organization spots for credit cards and a passport. I could go on and on. It's a phenomenal bag, and I hope to take many more trips with it.
Other Travel Essentials
Keep track of all of your belongings (even your kids) with Apple air tags. These handy devices come with a battery and are even water-resistant. Just use a simple one-step process to connect the tag to your iPhone or iPad, then use the Find My app to locate your item. Get a 4-pack and use for tracking luggage, pets, and more.
Whether you are camping or staying in a hotel, be safe with a portable carbon monoxide detector. This one has an AC-adaptor with battery backup. It's only 2.75 by 1.5 by 4.5 inches, and could save your life.
Never Overpay for Flights Again
That is the motto of Scott's Cheap Flights. If you want to get in on amazing deals to incredible destinations like Texas or anywhere else in the world, sign up for free flight alerts. You can save up to 90%. Try a favorite travel trick and book a flight to an interesting destination, then find all of the great reasons to visit that locale.
Streamline Your Packing Strategy
Whether you travel to Wichita Falls or some other location, it's always nice to be organized. Do you want to avoid overpacking on your next trip? Never check a bag again when you use this Capsule Wardrobe Packing List. It's digital, customizable, printable, and FREE!
Do You Have Any Free Travel Attractions to Share?
What about you? Do you have favorite fun, free activities you would like to recommend where you live? Have you encountered any memorable free attractions on your travels? If you like what you've read today, you might also like reading about scenic Newport on the Oregon coast or my visit to the historic and beautiful Wallowa Valley. For some simple travel wardrobe ideas, you can check out my post listing Wardrobe Essentials for the Savvy Traveler. Here are some other posts you might enjoy:
Ready to see some Wichita Falls scenery? If you ever find yourself in Wichita Falls, Texas, you now have some ideas about sights to see. Wherever your adventures take you, I hope you make wonderful memories. Thanks for joining me on a virtual visit and exploring fun things to do on a visit to Wichita Falls, Texas. May you have many happy travel experiences!