Learn how to divide dahlia tubers in spring or fall. No matter what the season, you will be able to divide your dahlias with confidence after reading this post. I've been growing dahlias for over 25 years, and have three different dahlia gardens around my house. Can you tell I'm a huge fan? Dahlias are terrific, low-maintenance, summer-blooming flowers. They are also budget-friendly because you can divide them to get more each year. If you have too many for your garden, you can share your dahlia tuber bounty with others by splitting dahlia tubers. Some people are not sure what to look for when dividing dahlias. How do you separate dahlia tubers? When is the best time to divide dahlias? Do you have to divide dahlia tubers? What happens if you don't divide dahlia tubers? Read on to get the simple tips and have your questions answered in this comprehensive guide!
***Disclaimer: This post contains affiliate links, which means as an Amazon Associate I earn from qualifying purchases at no additional cost to you.*** Already know what you'd like to get from Amazon? Here's a handy way to get to the website, linked to one of my favorite gardening books. Just click on the link, then browse around and do your shopping.
Are They Called Dahlia Tubers or Dahlia Bulbs?
Have you been wondering how to split dahlia bulbs, and not having much success with your search? It might be because dahlias actually grow from tubers. If you type in "separating dahlia bulbs" the results will be different than if you type in "separating dahlia tubers". What's the difference? Dahlia tubers look a little like sweet potatoes, but are brown instead of orange. Dahlia tubers can be different sizes, and if you scroll down a bit, you will see pictures of them. They are definitely shaped differently than bulbs.
When to Divide Dahlias
When should I divide my dahlia tubers? If you are learning how to divide dahlia tubers, the first decision you need to make is when to divide them. Some gardeners divide their dahlias in the fall before storing the tubers away for the winter. Some people divide dahlias in the spring. There are advantages and disadvantages to both.
Advantages of Dividing Dahlia Tubers in the Spring
Can you divide dahlia tubers in the spring? I prefer to divide dahlias in the spring. Here is the main reason: I can spot the dahlia eyes more easily. When dividing dahlia tubers, it's important to look for an "eye" or a little place where a nub or sprout is growing. If you wait until the spring to divide, the eyes will usually be obvious. There may be a sprout already growing. I am always relieved when I can tell for sure there is an obvious eye on the tuber.
Disadvantages of Dividing Dahlia Tubers in the Spring
Sometimes dividing dahlia tubers in the spring takes more muscle power. If the dahlias are in a large clump, dividing can be tricky. Learning how to divide a clump of dahlia tubers in the spring isn't difficult. You just need the right tools. If you want to know about dividing and planting dahlia tubers in the spring, here's what you need to know.
How to Divide and Plant Dahlia Tubers in the Spring
When spring rolls around, it's time once again to remove the dahlias from storage and take stock of what survived. If all has gone well, you'll be able to increase your dahlia tuber supply if you divide in the spring. Remember those tubers you marked back in the fall? It's time to see if the labels are still readable after a winter in storage.
Removing Dahlia Tubers From Storage
Just as in the fall, the spring weather where I live is often cold and rainy. I am not deterred! Even though the weather sometimes isn't great for planting dahlias, I can still use the time to inspect the dahlias we have had stored in our garage.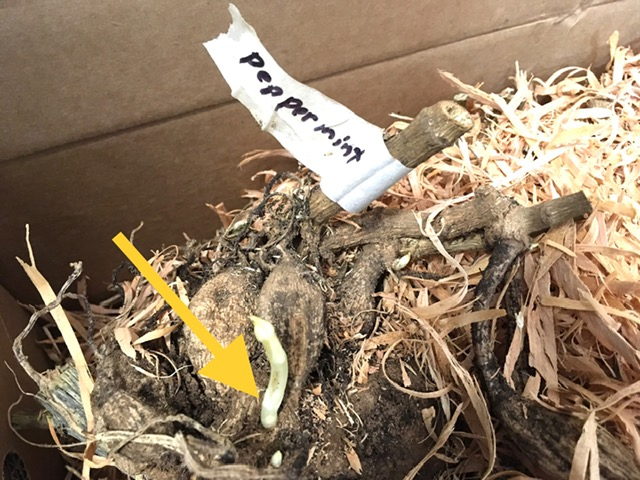 So far wood shavings have worked well for us. We have a lot of them around due to woodworking projects, so it's an economical choice. Maybe we will use vermiculite if we are ever short of wood shavings.
Location, Location, Location
As far as a location to store the dahlia tubers, the garage seemed to work well. In the past, we have stored dahlia tubers in the garden shed, but they froze. We also leave a few in the ground, taking our chances with rot. So far, we've been lucky. Our Pacific Northwest temperate rain forest climate has not been too harsh the past few winters. According to the garden zone map on the Arbor Day Foundation website I reside in gardening zone 8. The coldest winter temperatures can range from 15 to 20 degrees Fahrenheit.
Unpacking the Portable Dahlia Storage Boxes
This year, I have something new to make unboxing dahlias go even better. Portable, custom-made dahlia boxes! These versatile, handy dahlia storage crates were designed and constructed out of simple materials.
They can be stacked in your garage (or wherever you store your dahlia tubers) if you are short on space. Stack them with their custom-made lids or use wooden slats when you stack them for more ventilation. Due to the mesh-covered holes on the sides of the boxes, the tubers did not rot. It was easy to unpack the dahlia tubers when the crates were set out near the dahlia bed.
Tools for Dividing When You Are Learning How to Separate Dahlia Tubers
I am the kind of person who likes to use what is on hand rather than going out to buy something won't use very often. The tool I like to use for splitting dahlia tubers (other than my hands, of course) is my trusty pair of pruning shears by Felco.
We use these for trimming roses and cutting flowers for bouquets. When dividing dahlia tubers, the shears snip through the connections between tubers quite easily.
What Does a Dahlia Tuber Eye Look Like?
A dahlia tuber eye, where the dahlia sprouts will grow, looks like a little white or pink bump. In some ways the eyes look similar to the little bumps on a potato that has gotten old. If you look closely at the photo above, you will see the arrow pointing to the eye on the tuber.
How do you split large dahlia tubers?
Sometimes, the clump of dahlia tubers is too dense and thick to cut through easily with the pruning shears. Learn how to divide difficult dahlia tubers the easy way. It's all in the tools you use. When I have to deal with difficult dahlia tubers, I turn to our little pruning saw. The one we have is collapsible and has a safety lock, like this one.
The serrated edge cuts right through dense clumps of tubers, and it's also handy for cutting small pieces of wood when camping. If dividing dahlia tubers with a pruning saw seems harsh to you, I agree. The first time I tried it, I cringed. However, I do not have a lot of upper body strength, and none of the other, gentler methods of dividing the large tuber bundles was effective. You don't need to saw all the way through the bundle. Once you get part way through, you can usually grab the two sides of the bundle and pry it apart. The tubers separate quite nicely once they are helped along a bit with the saw blade. This is what dividing a large tuber bundle with a pruning saw looks like.
Marking What You Divide
To keep track of the dahlia tubers when dividing, have a Sharpie marker on hand. The gardening friend I previously mentioned recently gave us some tubers he had divided. He very considerately wrote on each one the name of the variety.
He also provided us with a descriptive list including colors and height. He is very thorough, and we are so grateful to be the beneficiaries of his generosity. Our friend had just a few dahlias to divide, but some people, if they have a large quantity of dahlias, give each variety a number. When marking the tubers, the number is written instead of the variety name to save time.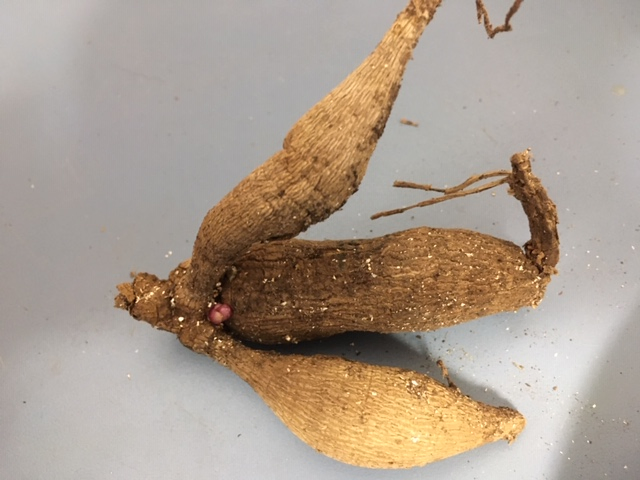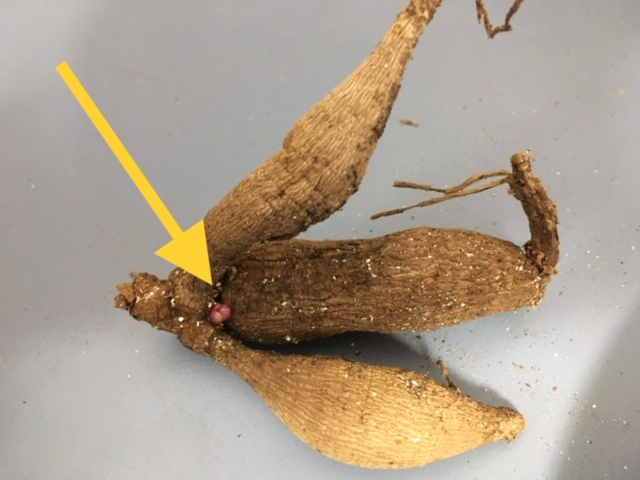 Ready to Plant
Once your dahlia tubers are divided and you have decided which you are going to keep or give away, you're ready to plant them. In my detailed post about planting dahlias, I provide a step-by-step guide to this process. Should dahlia tubers be soaked before planting? Find out in the guide to planting dahlias. One great thing I learned recently is if you mix used coffee grounds in with the soil, slugs are deterred from eating the dahlia leaves. Yes! Anything to deter the slugs around here is a bonus. If you have a coffee drinker in your house, you have a ready supply of grounds. No coffee drinkers where you live? Good news! Starbucks has a free coffee grounds for gardeners program you can take advantage of. Not all stores participate, so check with your local shop to see if they offer this freebie to the community.
Advantages of Dividing Dahlia Tubers in the Fall
One big advantage to dividing dahlia tubers in the fall is the clumps of tubers are soft and pliable. They come apart easily. If you get a good grip on the stalks where they emerge from the tubers, you can sometimes pull the tuber clumps apart with minimal effort. Sometimes the tubers separate with no effort at all. So, why wouldn't everyone divide dahlia tubers in the fall if it's so easy? Well, there is another side to the story.
Disadvantages of Dividing Dahlia Tubers in the Fall
Where I live, fall is often cold and rainy. By the time I get around to digging up the tubers, the ground is usually muddy. The dahlia tubers are wet, messy, and tough to label. We usually have to set our tubers in a dry spot, like the garage, on newspaper to dry. If none of these things bother you, then you may want to divide your dahlia tubers in the fall.
How to Dig, Divide, and Store Dahlias in the Fall
You may be reading this post in the fall because you are dividing your dahlia tubers in the fall instead of the spring. In that case, you may want to know how to dig, divide, label, and store your dahlias for the winter. When do you dig up dahlias? When your dahlias look like the picture below, it's time to dig them up. Another good guide is to determine if the tubers have been in the ground for at least 120 days. If so, then you are okay to dig. I always tell myself that I will make notes about each dahlia before they get to this point. I would like to write down the characteristics of each bloom, whether it's good for cutting, and whether I need to give some of the tubers away. Now that I have a handy garden planner notebook, I might just get this done!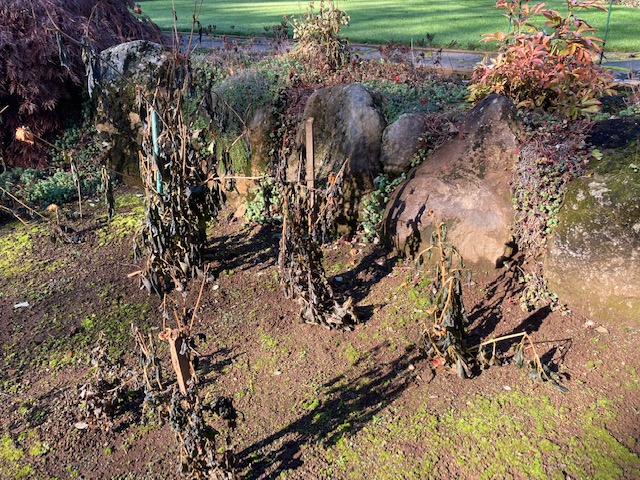 Cutting the Stalks of the Dahlias
The dahlia stalks in the picture above look pretty sad, don't they? Just the week before, I had made some lovely cut flower arrangements. Suddenly, we had a cold snap and bam! The dahlias were done. To cut the dahlia stalks, I have to use a heavier tool than a hand pruner. Some of the stalks are as big around as a silver dollar. For heavier cutting, I use some loppers, like this pair.
When I lop off the stalks, I leave a few inches of the stalk, or stalks, above the ground. That way, I have something to tie the labeling tape onto. Before labeling, I have to get those tubers out of the ground. Most years, the day that I dig the dahlia tubers is wet and soggy. This year, the weather was gorgeous.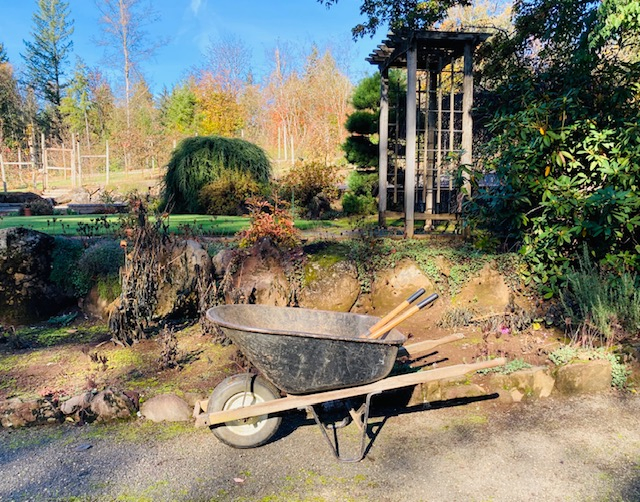 Digging Up the Tubers
Once the stalks are cut off, I use a large round shovel to dig around the plant. I try to stay at least one foot away from the stalk so I don't accidentally slice into a tuber. When the soil is loosened, I use the stalk to lift the mass of tubers slightly, then I place my hands down in the dirt to lift the bundle of tubers out of the dirt. I set the tuber bundle beside the hole and fill it in. When I have all of the dahlia tubers dug up, I refer to my garden planner notebook for labeling the tubers. If you would like your own garden planner pages for free, see the offer at the end of the post.
Labeling the Dahlia Tubers
Since the tubers are covered in dirt, I can't write on them. I have to tie something around the stalks to label them and keep them in order. I like to use pink flagging tape. It's easy to cut or tear, and I can write on it with a permanent marker.
Here is one of the plants after labeling. I can clearly see which dahlia it is, so there will be no confusion.
My favorite pen to use for marking is a handy one for gardeners. It's a retractable Sharpie marker, and it's a great thing to have when my hands are grubby. I don't want to be messing around with capping and uncapping a pen, so this works really well. I can store it in the pocket of my jacket without worrying about it marking anything.
When you are handling the dahlias, some of the clumps may come apart and sort of divide themselves. As long as you have a stalk coming out of each divided tuber (or tuber cluster) you know you have a viable dahlia. That's how easy it is to divide the tubers in the fall. You just don't have any eyes on the tubers to guide you. If some of the tuber clumps come apart, just make sure to label each dahlia so you don't have any mysteries.
Letting the Tubers Dry Out
Where I live, in the rainy Pacific Northwest, our ground is damp. The dahlias need to dry out after being dug. I take them to our garage and set them on newspaper for a few days. Once they are dry, I have a method for getting the extra dirt off without making too much of a mess.
How Do You Get All of the Dirt Off?
To get the remaining dirt off of the dahlia tubers, I bring the wheelbarrow into the garage, put each tuber in the wheelbarrow, and brush off the dirt. As you can see, there is a lot of dirt in this wheelbarrow. Also, this particular tuber is quite large and needs to be divided. I grabbed two of the large stalks and tried to pry apart the clump that way, but the clump didn't separate. I'll tackle this one in the spring when I can see where the eyes are on the tubers.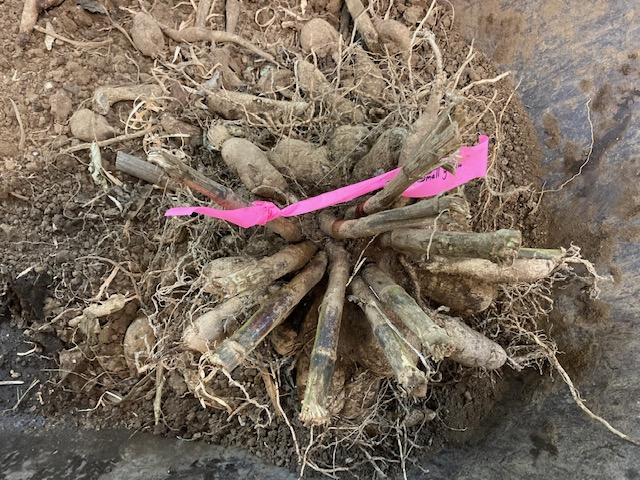 Over-Wintering Dahlias
What is the best way to store dahlia tubers? Can you store dahlia tubers in sawdust? We usually do store our tubers in sawdust or wood shavings, since we have a good supply from projects. One of our friends, an avid dahlia-lover, assures us that packing the dahlias in vermiculite is the best way to over-winter the tubers.
Dahlia Storage Boxes
This past winter, my husband constructed some amazing, stackable dahlia storage boxes. As you can see in the photo below, the boxes have ventilation holes. To keep packing material from escaping, a piece of thin wire mesh is attached to the inside of each side of the box. Genius!
Whatever packing method you choose, make sure you find a spot that's not too cold. We stored our tubers in our garden shed one winter and lost them all, due to cold temperatures. Now we store our tubers in boxes in the garage. If you have a favorite way to over-winter dahlias, I'd sure appreciate knowing about it. It's interesting to learn about the strategies of different gardeners.
What Happens if You Don't Divide Dahlias?
Do you have to divide dahlia tubers? Economically, it makes sense to divide dahlias. Over the years, with repeated dividing, you can get many lovely dahlias for the price of one tuber. In addition to propagating the dahlias for your own garden, you might like to divide dahlias to have some plants to share. In my experience, the plants that grow from divided tubers are healthier. We have a row of dahlias that have not been divided. They grow in soil that is hard and rocky. Years ago, we decided to just leave them where they are just to see what would happen. Most of them do come back every year, but they are less colorful and vigorous-looking than their counterparts which have been divided.
Wondering What to Wear When Dividing Dahlias?
There is no guarantee that the weather will be nice when dividing dahlias. Whether you divide them in the spring or fall, how can you be prepared no matter what the weather holds? Get some tips about what to wear for gardening in any type of weather!
Unique Gifts for Dahlia Lovers
Looking for the perfect dahlia gift for someone? If you have a dahlia-lover in your life, here are some fun gift ideas. Show an affection for dahlias with these creative dahlia-themed gifts.
Referring Back to My Garden Planner Notebook
Last year, as a result of needing to keep track of what kind of dahlia we planted where, I decided to begin a garden planner notebook. I planned to have tasks and notes for each month. I sort of kept up with it. One thing I definitely included in the notebook was the list and description of each dahlia variety we owned at the time. Now that we have a few more varieties, thanks to our generous gardening friend, I'm going to add them to the list as well. If a garden planner notebook seems like a good idea to you, good news! I added the 16 master pages to the free resource library for subscribers to the Fluxing Well blog.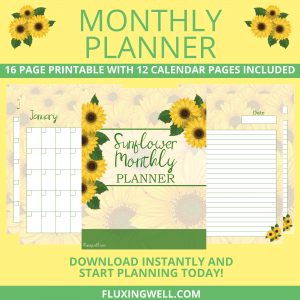 Free Online Garden Planner Layout Template
Now that you know how to divide dahlia tubers, you might need a way to plan your dahlia bed layout. This online garden planner can help you visualize your design and bring it to life. With garden tasks that need your attention, this is one way to save time.
It's fully customizable when you make your own copy and includes two editable chart pages for noting planting specifications.
What About Your Dahlia Experiences?
I hope this has helped you to learn how to divide dahlia tubers. Have you had prior dahlia experience? Do you have any advice for me? If you take the time to give me a tip, I'll even write it down in my garden notebook. So if you have any tips or hints, please let me know.
Other Gardening Posts You Might Enjoy
Do you struggle with knowing what to plant in flower containers? Get some great flower container ideas you can use, even if you're artistically challenged. Learn about easy-care perennials and fabulous flowering shrubs. Get some easy tips for growing fragrant old garden roses or make your own DIY pole bean tower. If you are looking for simple, low-maintenance gardening tips, I'm here for you!
Have a wonderful week, and may all of your dahlia endeavors meet with success!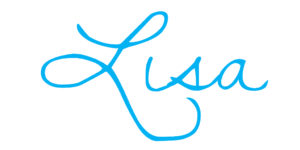 Lisa Mitchell is a wife, mom, and school librarian who likes to grow fruit, vegetables, and flowers on her family's small Pacific Northwest farm. To learn more about what this website has to offer gardeners, click on over to the Garden page.
Like what you read here? Please give it a share!