Anticipating some leftover ham in your fridge? Need an easy recipe? Here's my favorite way to use leftover ham. I also like to employ this recipe in my strategy for sneaking extra veggies into my family's diet. (I wrote about it in a previous blog post.) Do you have any shredded zucchini languishing in your freezer? This is an excellent way to use up some of that as well, if you like. Adapted from a recipe I found in The Oregonian newspaper years ago, I simplified the ingredients. Instead of having to chop up fresh peppers, I just chose to use frozen potatoes O'Brien, for example. I also added additional vegetables to the recipe, of course. Read on, friends, for the easy details.
***Disclaimer: This post contains affiliate links, which means as an Amazon Associate I earn from qualifying purchases at no additional cost to you.***
Crock Pot Convenience
Before listing the ingredients, I must give a nod to my trusty crock pot. Whether you call it a crock pot or a slow cooker, the result is the same. I always look forward to coming home at the end of a workday to know that dinner is ready to go. Also, the house usually smells amazing. That's why I use my crock pot at least once a week. I usually put the ingredients together on Sunday evening, refrigerate the crock pot overnight, then start the cooking process on Monday morning. It's one of my favorite organization strategies to help me start my week right. If you don't have a crock pot, this is a good choice.
I like to use one large enough to make extra, so we have leftovers for another meal, if possible, so I go with the 6-quart size. A programmable timer is also nice, for those recipes that don't need a full day to cook. Setting the crock pot to start cooking at noon, for example, is possible with this model.
Instant Pot Lovers: What's Your Recommendation?
This recipe would be suitable for the slow cooker setting on an instant pot, but I do not have an instant pot. I would like to get one sometime, because they seem so versatile. If you do have an instant pot, would the one shown below be a good choice? This one makes yogurt or rice. It's also a pressure cooker and slow cooker all in one. It seems like a very useful appliance. I've heard people rave about them. I'm just not sure I would use all of the features enough to justify the expense. If you have an instant pot and you love it, I'm open to being convinced to get one. If I were to buy one, I might get something like this:
For now, though, I'll be content with my trusty crock pot and yummy recipes like the easy ham and potato hash. Just thinking about it gives me a cozy, warm feeling. Here are the simple ingredients.
Easy Leftover Ham and Potato Hash Ingredients
1 32-ounce package frozen potatoes O'Brien (or you could add one large red bell pepper, chopped, to a bag of frozen hash browns)
1 15.25-ounce can corn, drained or 1 cup zucchini, shredded and drained
3 cups chopped cooked ham
1 8-ounce package cream cheese, softened
1 1/2 cups milk
2 1/2 tablespoons Dijon mustard
1 1/2 cups chopped green onions (divided)
1/2 teaspoon garlic powder
1/2 teaspoon pepper
Easy Leftover Ham and Potato Hash Directions
In crock pot (4 quart or larger), combine potatoes O'Brien with corn (or zucchini) and ham. Stir to mix well
In a 1-quart glass dish, blend cream cheese and milk. Heat in microwave 1 to 1 1/2 minutes, then whisk together. Stir in mustard, 1 cup green onions, garlic powder and pepper until blended. Pour cream cheese mixture evenly over potatoes, vegetables and ham; do not mix.
Cover and cook on low heat setting for 5-6 hours or until potatoes are tender. Stir gently. Sprinkle remaining 1/2 cup green onions over top and serve.
What Are Your Favorite Ways to Use Leftover Ham?
You may have a favorite delicious way to fix leftover ham that everyone loves. I'd enjoy reading about those ideas, if you would like to share them. I'm also always on the lookout for new crock pot recipes. Also, I'm serious about needing some reliable information about instant pots. Do you really use all of the features?
Thanks for reading about my favorite leftover ham recipe. If you like what you've read today, please consider subscribing and becoming part of the Fluxing Well tribe. You will receive fresh ideas every week, plus access to a library of free printable resources, including this cookbook filled with 25 of the best easy recipes from the FluxingWell site.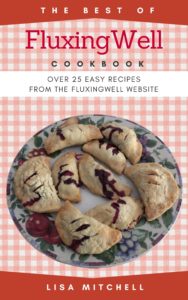 Have a wonderful week, and may you have success in all of your efforts to use up leftovers!