Have you ever eaten chocolate-covered potato chips? I have, on a trip to San Antonio, Texas. They were…interesting, and I probably would have some again, if given the opportunity. What are some other unusual items that might be covered in chocolate? I thought to myself. So I put my investigative librarian skills to work, and here's what I found. If you are on a quest for unique Valentine gifts, your search may be over.
***Disclaimer: This post contains affiliate links, which means as an Amazon Associate I earn from qualifying purchases at no additional cost to you.***Already know what you'd like to get from Amazon? Here's a handy way to get to the website, linked to my favorite Valentine's Day movie. Just click on the button below, then browse around and do your shopping.
I had heard of these, but assumed you needed to search far and wide to find some. Nope. With just a simple click they can be yours, delivered to your door. Since they come in a pack of three boxes, each box containing 2 grasshoppers and 2 worms, I just might get some for my whole family. How fun!
If there is someone in your life who likes to spice it up, here you go. I am personally a wimp when it comes to spiciness, but I do know at least two people in my family who might enjoy these. This gluten-free, kosher snack is made in the USA by a family-owned company.
More Spiciness awaits when you bite into a wedge of dark chocolate seasoned with hot pepper sauce. Give this gift to the person who is always counting Scoville units for fun. If you don't know what a Scoville heat unit is, then this gift is probably not for you. You might be able to think of someone it might appeal to, though.

These actually seem quite a-peeling! Groan…okay, bad pun intended. What's not to like? Imported from Tuscany, 3.52 ounces of lemon deliciousness covered in decadent dark chocolate bliss sounds amazing to me. If you know someone who likes lemon (I do) and chocolate (yes), then chances are quite good that these would be a hit.

Just when you thought I was veering into "normal" items, along comes a chocolate-covered scorpion. What better way to say "I love you" than to present someone you care about with one of these little beauties? Yes, I can tell you are thinking of the perfect person who would appreciate just such a gift.
When I was young, my Girl Scout troop sang a song that went, "Nobody likes me. Everybody hates me. I guess I'll go eat worms." Have you ever heard of that song? Well, it turns out you can actually get chocolate-covered worms. If that is appealing to you, have a great time eating them. Let me know how it goes!
Finally, here is the item that started me on this quest: chocolate covered potato chips. This one pound bucket contains 1/2 pound of dark chocolate covered chips and 1/2 pound of milk chocolate covered chips. It's a win-win. If you know someone who would enjoy these but is trying to cut back on sugar, there is also a diabetic-friendly, sugar-free variety available.
Continuing the Quest for Unique Valentine Gifts
Well, there you have it. My list of chocolate-covered unique Valentine gifts is complete (for now). I'm sure there are more out there, so if you have any unusual chocolate-covered goodies to tell me about, please feel free to comment below. Maybe you are quite ambitious and make your own chocolate-covered edible inventions. I'd love to hear about those, too! If you are a huge fan of Valentine's Day, here's something else you might enjoy.
Looking for a Fun Valentine's Day Game?
Add some more entertainment to your Valentine's Day celebration with virtual Valentine's Day bingo game. It's perfect for a Valentine's Day virtual gathering. Fully customizable! Learn how to make your own, or get one already made.
Get Some More Ideas!
If you like what you've read today, please consider subscribing and becoming part of the Fluxing Well tribe. You will receive fresh ideas every week, plus access to a library of free printable resources, including a free cookbook filled with the best easy recipes from the Fluxing Well website.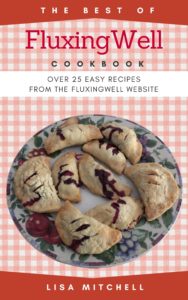 If you would like even more recipe ideas, you might like this eBook filled with easy dessert recipes, perfect for Valentine's Day.
Have a super week, and may you find just the right chocolate covered gift for that special someone. I think I'll go eat some chocolate now.