Looking for a special meal to enjoy with family or friends? In my family, now that the boys are away from home, it's rare to gather the entire family around the dinner table. When we do get together, I like to make the most of each moment. Having raclette is a fun way to create memories, and is one of the most-requested meals at our house when we are all in one place.
***Disclaimer: This post contains affiliate links, which means as an Amazon Associate I earn from qualifying purchases at no additional cost to you.*** Already know what you'd like to get from Amazon? Here's a handy way to get to the website, linked to some imported French Raclette Cheese. I've never been able to find real Raclette cheese in my area, so this is a great resource if you are interested in a true raclette experience.
What is Raclette?
What is a raclette dinner, and what is the difference between cheese fondue and raclette? Cheese fondue requires participants to dip food (usually bread) into hot, melted cheese. Raclette, which originated in Switzerland, is basically pouring melted cheese over a variety of ingredients. The name comes from the French word "racler", which means "to scrape". Raclette is also the name of the special cheese that was first used to create this meal. What makes raclette so much fun is that everyone gets to choose their own ingredients and builds their own custom combination to cover with bubbly, melted cheesy goodness scraped out of little trays. Also, just FYI, when referring to Raclette cheese, the name of the cheese is capitalized. When referring to raclette the meal, a lowercase letter is used. I'll try to keep that straight as I write this!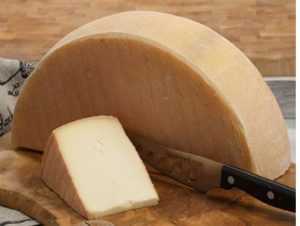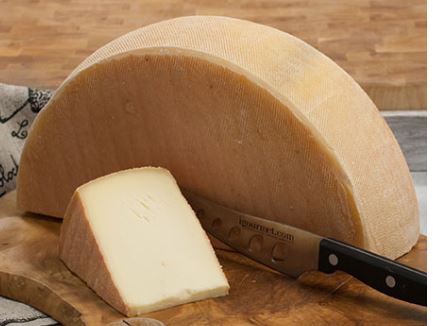 The Basic Traditional Ingredients
What do I need for a raclette dinner? The most important item is the cheese. What cheese is best for melting? If you can find authentic Raclette cheese, you are very fortunate. Never heard of or seen Raclette cheese in the grocery store? It's available online at stores such as Amazon, as previously noted. Why is raclette cheese so expensive? It has a lot to do with how raclette cheese is made. For an excellent overview of the process, you could look up a raclette cheese recipe. Once you do, you will probably be happy to pay someone else to make cheese. It's a tricky process!
Many people use fontina cheese as a substitute, which is available at grocery stores such as Trader Joe's, Winco and occasionally Grocery Outlet. Traditional ingredients other than the cheese include small boiled potatoes, pineapple chunks, small chunks of bread, gherkins or cornichons, cashews, and salami.
Which Cheese is Best for Melting?
In my family, we are not picky about the cheese we use in raclette. What is similar to Raclette cheese or fontina? For us, any semi-soft cheese, such as mozzarella, Monterey Jack, gruyere, provolone, or gouda will work just as well as fontina when having raclette. What do you serve with raclette? We have also expanded the list of other ingredients to cover with melted cheese. Our favorites include sliced tomatoes, thinly sliced onion rings, green peppers, and even small squash. What meat goes with raclette? We like to use sliced link sausage. We still have the traditional ingredients if we have them on hand (gherkins and cashews are favorites), but we don't let ourselves be bound by tradition. It's fun to try new combinations. Garden vegetables, like zucchini, also work well.
Directions for Basic Raclette
Put the raclette grill in the middle of the table where you will be eating. Depending upon your tabletop surface, you may want to put some trivets underneath the grill. We often put ours on a large wooden breadboard. Since the grill may only take about 15 minutes to heat up, you may not want to turn it on just yet.
Cook small, red potatoes in boiling water for about 20 minutes or bake in the microwave. Slice and chop the cheese, meat and other ingredients. We usually chop the cheese into 2-inch by 1-inch chunks. Place each ingredient in a separate bowl and set the bowls on the table. When the potatoes have about 15 minutes left to cook, turn on the raclette grill. We usually set ours to the medium heat setting on the dial. After the potatoes finish cooking, drain, and place in a bowl. Add the bowl to the selection of other ingredients on the table.
Gather your guests around the table. Place a few chunks of cheese in each raclette tray to melt. Place meat and vegetables on top of the grill to cook. When your meat and vegetables are cooked, place on your plate. Add other items you might not have had to cook, like pickles and cashews. Top everything with the melted cheese by scraping the cheese out of your tray (or trays) with a little spatula (included in raclette sets).
What is The Best Raclette Grill?
There are many types of raclette grills available. What is a raclette grill used for, besides melting the cheese? The cheese is melted under the heating element under the grill. The top of the grill is used for cooking the vegetables and meat the melted cheese will be poured over.
Most grills come with individual trays and scrapers so that each person has a separate container or two for melting their cheese. I've compiled a list of a variety of grills to give you an overview of the best raclette grills out there. There are a few important features to look for in a raclette grill. Is it easy to clean? How many trays for melting cheese are included? Is there an adjustable temperature control? What kind of grill surface does it have? With these questions in mind, here is my list of the best raclette grills. There's something for every occasion!
Romantic Raclette for Two
This first grill raclette can be taken anywhere because it doesn't require any electricity. What is the power source for the Zerodis portable two-person grill? Tealight candles! Yes, and the single tray on top is perfect for melting cheese or grilling ingredients. The steel top is sturdy, the size is compact, and the $15.00 price tag is very reasonable. The one drawback is there is no temperature control, so you need to keep a close eye on your food as it cooks.
You'll Flip Over This Raclette Grill
Next on our list is the Aroma Housewares Flip Grill, which has 6 melting trays. The ridged steel grill top flips over and may be used as a griddle. There is a handy removable drip base, and the temperature is fully adjustable. The non-stick surface cleans easily for a low-maintenance dining experience. Priced at $59.99, this versatile raclette grill is well worth a look.
Uniquely Shaped for Dining Convenience
The Swissmar Matterhorn 8-person raclette grill is included on this list for one main reason. It is an oval shape, rather than a rectangle. The oval shape is more convenient for people sitting at the ends of the table. With a rectangular grill, the view of the melting cheese is blocked for the people sitting at either end. The convenient oval shape of this grill offers a good view of the melting cheese to everyone at the table. Diners can all see when their cheese has reached the optimum state of meltiness in one of the eight grill trays, which is a big plus. In addition to the advantage of the oval shape, this grill has a cast aluminum grill top and an adjustable temperature control. For those who prefer a granite cooktop, a granite-topped version is also available.
There's a Reason This One is a Classic
I had to include on the list the raclette grill that we own. It's an 8-person rectangular grill by Swissmar, and we could not be more pleased with it. I know first-hand that its cast aluminum grill top is a breeze to clean. It has an adjustable temperature control and has served us well. The grill top can be flipped over and used as a griddle. It cooks the sausage, tomatoes, and veggies evenly while the cheese is melting in the trays underneath the heating element below.
Which is a Better Surface for Cooking Raclette: Granite or Aluminum?
The Artesia Electric raclette grill has a high-density granite cooktop. Some people prefer cooking on a granite surface rather than an aluminum cooktop. Granite is very durable and does not warp with the heat, as is the case with some aluminum cooktops. This model has a thermostat dial to control the temperature and comes with 8 melting trays.
The Best Raclette Grill for Feeding a Crowd
The Artesia 10-Person Large Raclette Grill is the only grill I found that had 10 cheese-melting trays. One additional feature is the dual interchangeable cooking surfaces. This model comes with a granite cooktop and an aluminum cooktop. The aluminum cooktop is reversible and may be used as a griddle. A rotary dial controls the temperature and may be adjusted as needed. If you need to feed a crowd, this is the grill!
To compare prices and features all in one place, here is a handy chart with all of the models listed:
So, which raclette grill is the best? It depends upon the size of your group, your grill top preference and your seating arrangement. I hope you have fun comparing the different models available.
How Long Does a Raclette Grill Take to Heat up?
This will depend upon the model you choose. Ours heats up in about 15 minutes, but other models may take longer. Anyone out there tried a tealight candle grill? It would be interesting to find out how long one of those takes to heat up. Important note: The raclette grill will warm up a room quite nicely. It's the perfect meal to serve on a chilly evening.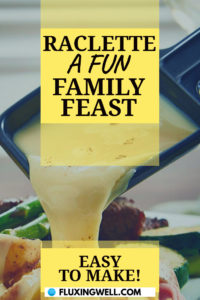 Do You Put Oil on a Grill?
Some people might like to put oil on a grill, and even sprinkle a little salt to prevent sticking. In our family, we have never used oil or salt on our grill. The non-stick cast aluminum surface of our Swissmar model keeps most things from sticking. Tomatoes might get a little sticky at times, but it hasn't been a big problem. You certainly may put oil and salt on if you wish. We just never have felt the need for it, and our grill cleans up quite nicely.
Can You Cook Steak on a Raclette Grill?
Yes! A raclette grill is perfect for an indoor grilled steak experience because it's so compact. It's best to cut the steak into small pieces, and the cut of meat should not be too thick. You don't want the cheese to be melted long before your steak is ready. Just imagine grilled steak bites, a few pieces of potatoes, and melted cheese. You could be adventurous and try something like blue cheese or gorgonzola.

How Much is Raclette per Person?
The total cost per person depends upon the type of ingredients you choose to use. If you purchase the authentic Raclette cheese from France, your cost will be a lot higher than if you use fontina cheese from Winco Foods.
For a family on a budget, you could use fresh ingredients from your garden for zero dollars. Most of the time when we make raclette for a family of four, our main costs are as follows: small potatoes ($2.00 per 5-pound bag), sweet pickles ($3.00 per jar), the cashews ($5.00 for 3/4 pound from the bulk food section), canned pineapple chunks ($1.00 per can), sausage or salami ($4.00 per package) and the Fontina cheese ($16.00 for 2 pounds). Two pounds of cheese was enough to feed our family of four when our boys were hungry teenagers. If you are able to shop at Winco Foods for the ingredients, your cost will be about $7.75 per person for a group of four people.
Which Desserts go with Raclette?
After your meal of delicious, cheesy goodness, you might feel like a light, fruity dessert. Berry gelato, from the 10 Best Ways to Use Frozen Berries post would be a great choice. Another light, fruity, and easy dessert is Pea-Pickin' Cake.
Other Recipes to Warm You Up
Interested in other cozy, comfort food recipes? Try these!
Are You Now Craving the Delicious Melted Cheesiness of Raclette?
Now that you have read about what raclette is and how to make it, maybe you will want to try it on your own. For a fun, versatile, interactive and memorable meal, raclette is a top-notch choice. My family is already looking forward to sharing some raclette meals over the holidays when we hope to be together this year. What are some of your memorable family meals? I'd love to hear about your family traditions.
If you like what you've read today, please consider subscribing and becoming part of the Fluxing Well tribe. You will receive fresh ideas every week, plus access to a library of free printable resources, including a free cookbook filled with the best easy recipes from the Fluxing Well website.
Have a fabulous day. I hope you get to try the raclette experience on your own.