Learn how to make a super simple jingle bell reindeer ornament, perfect for kids to make as a party activity. It's also a great gift for teachers to make for students. The supplies are inexpensive, and the ornament comes together quickly. As a teacher and mom, I'm always looking for fun, easy holiday crafts. Get the tips for making this ornament part of your holiday celebrations!
The Jingle Bell Reindeer Ornament Backstory
Every year, I wanted to give my students something fun and memorable for the holidays, but it was difficult to decide what that would be.Some celebrated Christmas, some celebrated Hanukkah, and some did not celebrate. What could I give that was festive? That's when this easy reindeer ornament craft came into my life. One of my teaching colleagues suggested it, and I made it every year after that before I became a school librarian. So, how do you make a reindeer ornament? Here's the easiest way I know. If I can make these, you know you've got this.
***Disclaimer: This post contains affiliate links, which means as an Amazon Associate I earn from qualifying purchases at no additional cost to you.*** Already know what you'd like to get from Amazon? Here's a handy way to get to the website, linked to some of my favorite Christmas shows for kids. Just click on the link, then browse around and do your shopping.
In Search of a Creative, Budget-Friendly Idea
When you have a class of about 30 students, the gifts can't be too expensive. I'd usually save my book club points and get each child a book. I'd also buy a big pack of felt-tipped markers and give each student one or two. I needed something to add that was unique. I wanted something I could personalize with the year. The easy reindeer ornament craft met all of these requirements. There was another challenge, though. Maybe, if you have read my other posts about being artistically challenged, you might have guessed the answer. The craft needed to be extremely simple, with little artistic talent required. Guess what? This reindeer ornament craft met that requirement as well!
Reindeer Ornament Craft Supplies
I'm fortunate in that my school district gives teachers and students the whole week of Thanksgiving off from school. It was the perfect time to make 30 cute little reindeer ornaments. I went shopping in a nearby town for my supplies. If you don't feel like leaving the comfort of your own home, you can have these supplies delivered to your door. Here's what you will need for 30 easy reindeer ornaments. You will have some supplies left over.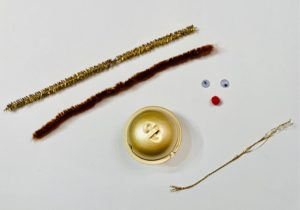 4 9-count packs of gold or bronze jingle bell ornaments (available at Dollar Tree, but if you order online, you have to buy 36 boxes) Cost: $4.00 ($0.11 per bell)
All of the supplies below are available at Michael's Craft Stores:
Brown pipe cleaners (search for Brown Chenille Pipe Cleaners 100 pack) Cost: $2.99 ($0.03 per pipe cleaner, but only need 1/2 a pipe cleaner per student, so $0.02 per student, approximately)
Wiggle eyes (search for 6mm 300 count pack) Cost: $2.99 ($0.01 per eye, two needed per student, so $0.02 per student)
Red pom-poms (search for 80 count 5mm Mini Pom Poms by Creatology) Cost: $1.49 ($0.02 per student)
*Optional: Black sharpie marker (search for black retractable Sharpie)
*Substitution: Sometimes I use brown thread if there aren't enough gold ornament ties in the box of jingle bells
*Substitution: Sometimes I substitute gold pipe cleaners for the brown ones. (search for glitter chenille pipe cleaners 100 pack) Cost: $4.99 ($0.05 per pipe cleaner, each student needs only half, so about $0.03 per student, approximately)
The total cost per student, assuming you already have a hot glue gun, a Sharpie, and brown thread is $0.18.
Equipment You Will Need
A hot glue gun (available at Michael's Craft Stores and Amazon)
Reindeer Ornament Craft Directions
Plug in the hot glue gun and place it on a piece of cardboard to catch drips.
Cut one of the brown pipe cleaners in half.
Get a jingle bell and a piece of gold string (usually comes in the box with the jingle bells). Thread the gold string through the hole in the top of the jingle bell.
Take the cut half of a pipe cleaner and thread it through the same hole as the thread. Be sure to put the gold string through the hole first.
Bend the pipe cleaner so it looks like antlers.
Mark some small black dots on the jingle bell where you want the eyes and nose to go.
Glue the eyes and the nose onto the jingle bell by placing small dots of hot glue on the jingle bell.
Write the year somewhere on the underside or back of the jingle bell, if you wish.
That's it! Your reindeer ornament craft is now finished.
Would This Be a Good Craft for a Kids Party?
Aside from the use of the hot glue gun, kids can easily complete this project. If you decide to have kids do this activity at a party, you could station an adult at a table and use it as an activity station. Kids could rotate through and do everything except gluing the eyes and nose on the jingle bell.
Are You Now in the Mood to Make this Easy Reindeer Ornament?
Can you think of someone who might enjoy receiving one of these easy reindeer ornaments? I hope you'll be inspired to go ahead and try this simple project. If you do make reindeer ornaments using this idea, take a picture and tag me on Instagram!

@lisa_fluxingwell
More Easy and Fun Holiday Ideas
Looking for other fun, easy activities and recipes for the holidays? In addition to these cute Nutter Butter reindeer, Santa and snowman cookies, check out a super simple way to make a gingerbread house out of graham crackers. In keeping with the reindeer theme, learn how to make some cute Nutter Butter reindeer, Santa, and snowman cookies with inexpensive supplies. Get into the holiday spirit with this list of books to read to kids. So many ideas to choose from!
If you like what you've read today, you might be interested in this free cookbook filled with even more fun and easy recipes. It's perfect for anyone who likes to keep things simple and get delicious results. Grab your copy today!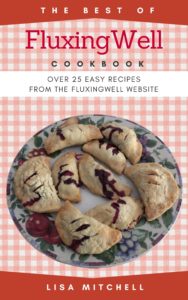 If You Liked This Easy Craft, Here Are Some More Projects You Might Enjoy:
I hope you decide to give this easy reindeer ornament craft a try. Thanks for visiting the Fluxing Well site, and may all of your craft endeavors turn out well!