During my teaching career, I've had many opportunities to celebrate Valentine's Day with kids. I've taught a variety of different grade levels, from high school to first grade. In fact, one of my most memorable Valentine's Day activities came about because of moving from teaching high school alternative education students to teaching first graders. It was quite a transition. I desperately needed some engaging, memorable Valentine's Day party ideas. Usually, a class Valentine's Day party has the built-in activity of opening Valentine cards, but I wanted something unique and special to go along with that. As I was browsing through the public library's collection of Valentine's Day offerings, I came across a fun book that was very silly but included a fabulous art idea. Thus, my tradition of making Valentine potato prints began.
***Disclaimer: This post contains affiliate links, which means as an Amazon Associate I earn from qualifying purchases at no additional cost to you.***Already know what you'd like to get from Amazon? Here's a handy way to get to the website, linked to my favorite Valentine's Day movie. Just click on the button below, then browse around and do your shopping.
A Fun Valentine's Day Book and a Creative Art Project
Big Bob and the Magic Valentine's Day Potato by Daniel Pinkwater is a delightfully quirky book. In addition to the entertaining story, it's a beginning reader, so young children might be able to read it themselves. My favorite part is the potato printing that takes place as part of the plot. As some of you might recall, art is not my strength. I am artistically challenged. I think that's why this art project appealed to me. As long as I could successfully wield a paring knife (which is something else I sometimes struggle with), potato prints were something I could have my students do to get in the festive Valentine's Day mood.
Materials for Making Valentine Potato Prints
One thing I love about this project is the simplicity of the materials. Here's the list if you are making these with a class of students:
2 or 3 medium-sized russet potatoes
A paring knife (not for the kids to use)
2 or 3 pie tins or mini pie tins
Paper lunch bags (enough for a class of students)
Of course, the quantity of supplies may be adjusted to fit the number of people participating. If you are just doing the potato prints with your own kids, you may only need one potato.
Directions for Cutting the Potato Stamps
How do you make a potato stamp? Do you need cookie cutters? No, you can make heart potato print stamps without cookie cutters. Here's how! First, wash and dry the potatoes. Cut each potato in half.
With a paring knife, carefully slice one side of the heart, then the other, to make a pointed tip. This will be the bottom of your potato heart stamp. Slice a notch to form the "V" at the top of the heart. Make a curved slice on either side of the "V" to connect with the straight sides you have already cut. I had to practice a few times before getting the shape I wanted, but you might get yours just right the first time. You can make some hearts wider and some narrower. If you are very adept, try to carve out a heart shape in the middle of the potato. You might also try an initial shape if you are just making the prints with your family.
Directions for Making the Potato Prints
How do you make prints with the potatoes? Pour a small quantity of red tempera paint into a pie tin or small dish. Dip the cut side of the potato into the paint.
Blot the potato stamp on a paper towel to get the excess paint off.
When you think you have just the right amount of paint on the stamp, press the stamp down onto the paper bag. Make sure the surface you have the bag laying on is nice and flat.
Reload your potato print stamp with paint as needed.
Have fun trying different designs!
Can you Keep Potato Stamps?
If you are working with a class of students, you may not have time for all of your students to rotate through this activity in one day. Although this activity generally goes pretty quickly, you might need to save your potato print stamps for another day. If that happens, just rinse off any excess paint, dry the potato stamps, then wrap in plastic or place in a plastic bag. Potato print stamps keep in the refrigerator for 3 or 4 days. The potatoes might turn brown and look unattractive, but they will still print well.
What Else Can I Make a Stamp Out of?
I have seen interesting stamps made out of a variety of different vegetables. The cut end of okra makes a nice floral-shaped stamp. If you slice off the base of a head of leaf lettuce, the base end makes a rosette-shaped stamp. Other fresh produce that makes great stamps includes peppers cut in half, citrus fruit cut in half, mushrooms and broccoli florets. You can dip just about any type of fresh produce in paint and make a stamp. Potatoes are an excellent choice for stamping because they can be cut into many different shapes. There are all kinds of possibilities, such as potato print stars, potato print circles, squares, or other shapes.
Other Creative Valentine's Day Ideas
If you are looking for some creative Valentine's Day gift ideas, read my post about unique chocolate-covered oddities. I also enjoy the fun Valentine's Day children's books that are out there. My list of books is a little different. The titles are not necessarily new. Rather, they are unique. I had a great time putting the list together. If you are planning a class Valentine's Day party, this virtual Valentine's Day Bingo would be a fabulous addition to your celebration.
Enjoyed Making Potato Prints? Here are More Activities
Are You Now in the Mood to Try Making Potato Prints?
Do you have some potatoes in your pantry that might make good candidates for potato printing? Potato prints can be used for many occasions. If you do make Valentine's Day potato prints, take a picture and tag me on Instagram!

@lisa_fluxingwell
If you like what you've read today, please consider subscribing and becoming part of the Fluxing Well tribe. You will receive fresh ideas every week, plus access to a library of free printable resources. I'm a big fan of keeping things simple, just like this potato print craft. The library of resources includes many other simple ideas, including a garden planner notebook and a cookbook filled with the best easy recipes from the Fluxing Well website.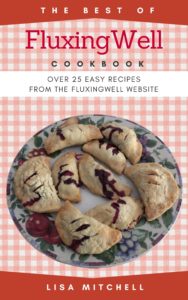 I hope you decide to give this project a try. Thanks for visiting the Fluxing Well site, and may all of your creative endeavors turn out well!